Τhe impact of Covid-19 on Better Regulation agenda
---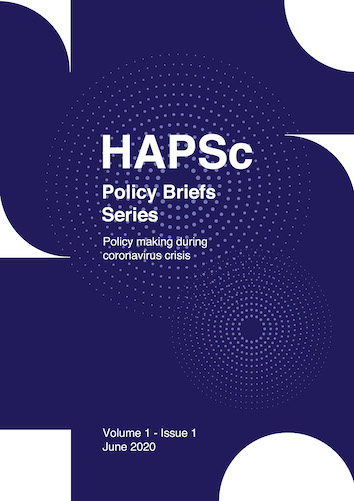 Abstract
The outbreak of the Covid-19 has had a negative impact on Governance systems. According to the recent literature, the pandemic should be understood as one more step towards Autocracy. Governance systems have reacted to the coronavirus pandemic through a series of decisions, which suffer both in terms of their issuing significant faults as far as it concerns both their process of issuing and their content. The vast majority of the commented decisions are violating the legality principle and have been issued on a "state of emergency" basis.
In fact, what has been happening during the pandemic, is a systematic cancellation of the Better Regulation Agenda. Recent surveys have shown that the poorest the quality of Governance, the heaviest (negative) impact of the coronavirus on regulatory policies. In Greece there was an intensification of corporatistic regulation and decisions during the crisis. Covid-19 has functioned as an alibi: Many agencies and public organizations followed an extralegal procedure, when it came to the recruitment of personnel as well as public procurement. What does change during a crisis like the pandemic, is the people's attitude towards government, which offers an opportunity to push some reforms forward. But as long as the governance system remains unchanged those reforms are bound to fade out soon after the crisis is over.
Article Details
How to Cite

Karkatsoulis, P. (2020). Τhe impact of Covid-19 on Better Regulation agenda. HAPSc Policy Briefs Series, 1(1), 100–106. https://doi.org/10.12681/hapscpbs.24954
This work is licensed under a Creative Commons Attribution 4.0 International License.
Authors retain copyright and grant the journal right of first publication with the work simultaneously licensed under a Creative Commons Attribution License that allows others to share the work with an acknowledgement of the work's authorship and initial publication in this journal.
Downloads
Download data is not yet available.
References
Agamben, G. (2020, February 26). The state of exception provoked by an unmotivated emergency. (i. manifesto, Interviewer).
Berge, v. d. (2020). Biopolitics and the Coronavirus: Foucault, Agamben, Žižek. Netherlands Journal of Legal Philosophy, 49 (1): 3-6.
Cepaluni, Dorsch, & Branyiczki. (2020). Political Regimes and Deaths in the Early Stages of the COVID-19 Pandemic.
Esposito, R. (2020, June 16). The Biopolitics of Immunity in Times of COVID-19: An Interview with Roberto Esposito. (A. online, Interviewer)
Gessen, M. (2016, November 10). Autocracy: rules for survival. The New York Review of Books.
Government, G. S. (2020). Law-making methodology manual. Athens.
Habermas, J. (2020, April 10). Never before has so much been known about what we do not know. (F. van Gelder, Interviewer)
Kavanagh, M., M., & Singh, R. (2020). Democracy, Capacity, and Coercion in Pandemic Response—COVID 19 in Comparative Political Perspective. Journal of Health Politics, Policy and Law, May 28; 8641530.
Latour, B. (2020, June 6). This is a global catastrophe that has come from within. (T. Guardian, Interviewer)
Mbembe, A. (2019). Necropolitics. 2019: Duke University Press.
Nygren, G., Olofsson, A., & Olofsson, K. (2020). Giritli Nygren, Katarina, and Anna Olofsson. "Managing the Covid-19 pandemic through individual responsibility: the consequences of a world risk society and enhanced ethopolitics. Journal of Risk Research: 1-5.
Rhodes, R. A. (1994). The hollowing out of the state: The changing nature of the public service in Britain. The Political Quarterly, 65(2): 138-151.
Schmitt, C. (1934). Der Führer schützt das Recht. Deutsche Juristen-Zeitung, pp. 945-950.
Schmitt, C. (1978). Die Diktatur. Duncker et Humblot.
Short, J. (2020). Biopolitical Economies of the COVID-19 Pandemic. TOPIA, Canadian Journal of Cultural Studies.
Zizek, S. (2020). PANDEMIC!: Covid-19 Shakes the World. John Wiley & Sons.