COVID-19 and Leisure: Directions for Policy Makers
---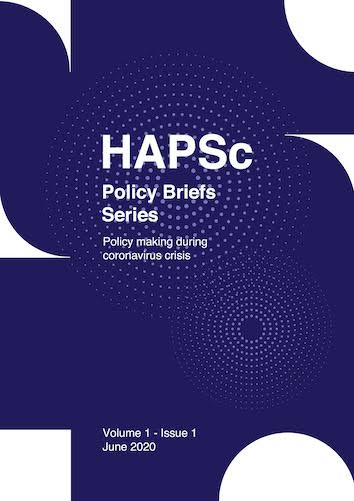 Δημοσιευμένα: Jun 30, 2020
Λέξεις-κλειδιά:
covid-19 pandemic coronavirus social rights political rights civil rights economic benefits policy making public policy social cohesion reforms leisure WHO
Περίληψη
Epictetus, the Greek Stoic Philosopher, once said "Happiness and freedom begin with a clear understanding of one's principle. Some things are within your control; and some things are not". In adopting Epictetus quote for the current COVID-19 world, it has become more important than ever to realize that freedom and happiness can be intrinsic states that come from within the individual. Leisure, also an intrinsic state, is linked with freedom and happiness, and when leisure, freedom and happiness are experienced, a healthy lifestyle can be under your control and achieved.  The current paper presents the importance of experiencing leisure, freedom and happiness for physical and mental health during the COVID-19 pandemic era.   COVID-19 is not only political, social and economic challenge, but also a citizen's well-being challenge. For this reason, three directions for policy making from the current and post COVID-19 era are presented: 1) the promotion of a healthy lifestyle, 2) individual and community activation and 3) empowering people.
Λεπτομέρειες άρθρου
Πώς να δημιουργήσετε Αναφορές

Kantartzi, I. M., & Karlis, G. (2020). COVID-19 and Leisure: Directions for Policy Makers. HAPSc Policy Briefs Series, 1(1), 115–122. https://doi.org/10.12681/hapscpbs.24956
Οι συγγραφείς των άρθρων που δημοσιεύονται στο περιοδικό διατηρούν τα δικαιώματα πνευματικής ιδιοκτησίας επί των άρθρων τους, δίνοντας στο περιοδικό το δικαίωμα της πρώτης δημοσίευσης. Άρθρα που δημοσιεύονται στο περιοδικό διατίθενται με άδεια Creative Commons 4.0 και σύμφωνα με την άδεια μπορούν να χρησιμοποιούνται ελεύθερα, με αναφορά στο/στη συγγραφέα και στην πρώτη δημοσίευση με δικαίωμα τροποποίησης μόνον με παρόμοια διανομή (αν αναμείξετε, τροποποιήσετε, ή δημιουργήσετε πάνω στο υλικό, πρέπει να διανείμετε τις δικές σας συνεισφορές υπό την ίδια άδεια όπως και το πρωτότυπο).
Λήψεις
Τα δεδομένα λήψης δεν είναι ακόμη διαθέσιμα.
Αναφορές
Cerna, L. (2013). The nature of Policy Change and Implementation: A Review of Different Theoretical Approaches. Organization for Economic Co-Operation and Development.
Chen C., Y., Lin, Y.H., Lee, C.Y., Lin, Y.K., Chen, Y., I., Shih, J., R. (2019). Family leisure and subjective well-being: Do patterns and timing matter? Social Behaviour and Personality, 47(9):1-8.
Choi, C., Bum, C., H. (2019). Physical leisure activity and work for quality of life in the elderly. Journal of Physical Education and Sport, 19(2): 1230-1235.
Coalter, F. (2010). Leisure studies, leisure policy and social citizenship: the failure of welfare or the limits of welfare? Leisure Studies, 17(1): 21-36.
Havighurst R., J., Feigenbaum, K. (1959). Leisure and Lifestyle. American Journal of Sociology, 64(4): 396-404.
Karlis, G. (2004). Leisure & Recreation in Canadian Society. An Introduction. Thomson Educational Publishing, Inc.
Kim H., H., Part, I., Bae, J.S. (2019). Happy campers? The relationship between leisure functioning, serious leisure, and happiness. Social Behaviour and Personality, 47(11): 1-10.
Mannell, R., C. (2013). Personality in Leisure Theory: The Self-As-Entertainment Construct. Loisir et Societe/Society and Leisure, 7: 229-240.
Marshall, T.H. (1963). Sociology at the Crossroads, Heinemann, London.
Merrill, R., M. (2020). Leisure-Time Physical Inactivity's Association with Environmental, Demographic, and Lifestyle Factors in the United States. Journal of Physical Activity and Health, 17: 412-422.
Paggi, M., E., Jopp, D., Hertzog, C. (2015). The importance of Leisure Activities in the Relationship between Physical Health and Well-Being in a Life Span Sample. Behavioural Science Section, 62: 450-458.
Pieper, J. (2009). Leisure, The Basis of Culture. Including the Philosophical Act. Ignatius Press, San Francisco.
Specht, J., King, G., Brown, E., Foris, C. (2002). The Importance of Leisure in the Lives of Persons with congenital Physical Disabilities. American Journal of Occupational Therapy, 56: 436-445.
Stebbins, R., A. (1992). Amateurs, professionals, and serious leisure. McGill-Queen's University Press.
Trenberth, L. (2005). The role, nature and purpose of leisure and its contribution to individual development and well-being. British Journal of Guidance & Counselling, 33(1): 1-7.
Voss, J. (2013). The Definition of Leisure. Journal of Economic issues, 1(1/2): 91-106.
Zurawik, M., A. (2020). Moving through spaces- Leisure walking and its psycho-social benefits for well-being: A narrative review. Human Movement, 21(2): 1-8.