Diasporas engaging during the pandemic: international global exchanges in response to the Covid-19 crisis
---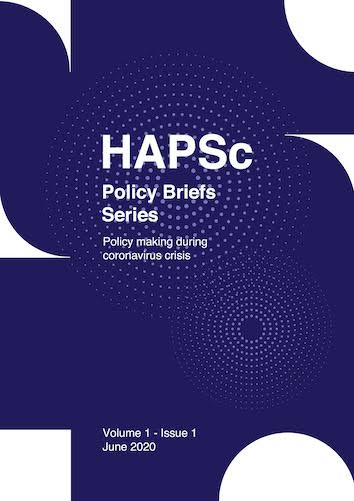 Δημοσιευμένα: Jun 30, 2020
Λέξεις-κλειδιά:
pandemic coronavirus covid-19 international organization of migration migration policy making mobility
Περίληψη
The Covid-19 pandemic is an unprecedented phenomenon that has challenged governments, international organisations, academics, and members of the civil society worldwide. In an effort to contribute to the alleviation of the pandemic and enhance the dialogue among diaspora experts, the International Organisation of Migration and iDiaspora organised three global exchanges. This policy brief argues that these platforms are particularly useful in times of crisis and restricted mobility because diasporas around the world have been able to share crucial information, give advice and create an open dialogue to inspire other migrants to develop their own initiatives against the pandemic.
Λεπτομέρειες άρθρου
Πώς να δημιουργήσετε Αναφορές

Lara-Guerrero, L. (2020). Diasporas engaging during the pandemic: international global exchanges in response to the Covid-19 crisis. HAPSc Policy Briefs Series, 1(1), 177–182. https://doi.org/10.12681/hapscpbs.24964
Οι συγγραφείς των άρθρων που δημοσιεύονται στο περιοδικό διατηρούν τα δικαιώματα πνευματικής ιδιοκτησίας επί των άρθρων τους, δίνοντας στο περιοδικό το δικαίωμα της πρώτης δημοσίευσης. Άρθρα που δημοσιεύονται στο περιοδικό διατίθενται με άδεια Creative Commons 4.0 και σύμφωνα με την άδεια μπορούν να χρησιμοποιούνται ελεύθερα, με αναφορά στο/στη συγγραφέα και στην πρώτη δημοσίευση με δικαίωμα τροποποίησης μόνον με παρόμοια διανομή (αν αναμείξετε, τροποποιήσετε, ή δημιουργήσετε πάνω στο υλικό, πρέπει να διανείμετε τις δικές σας συνεισφορές υπό την ίδια άδεια όπως και το πρωτότυπο).
Λήψεις
Τα δεδομένα λήψης δεν είναι ακόμη διαθέσιμα.
Αναφορές
Brubaker, R. (2005). 'The "diaspora" diaspora', Ethnic and Racial Studies, 28 (1): 1-19.
Gamlen, A. (2011). Diasporas in Betts, A. (2011). Global Migration Governance. UK: Oxford University Press.
Mandraud, I. (2020) 'Covid-19 Exode mondial avant confinement', Le Monde, 14 April 2020.
Smith, H. and Stares, P. (2007). Diasporas in conflict: Peace-makers or peace-wreckers? Tokyo: United Nations University Press.