Crisis of the Rule of Law in the EU through the Case Law of the ECJ: The Case of Poland
---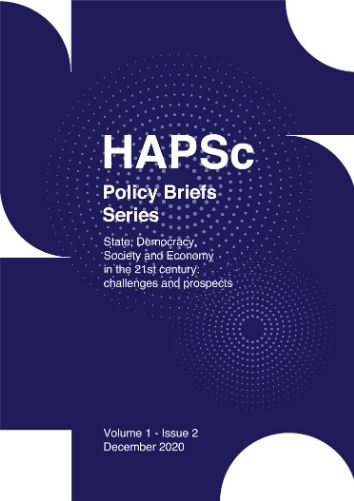 Δημοσιευμένα: Dec 29, 2020
Περίληψη
This article describes the rule of law crisis in Poland through the case law of the ECJ. In particular, the country in 2018 adopted the law on the Supreme Court, bringing about two changes; the reduction of the retirement age for judges and secondly, it gave the President of the Republic of Poland the discretion to extend the active judicial service of judges of the Supreme Court. This article concerns the case C-619/18 Commission v Republic of Poland, in which the Commission in 2018 pursuant to Article 258 TFEU appealed to the Court of Justice of the European Union, seeking to prove that this law violates the obligations of Article 19 (1) paragraph 47 TEU in conjunction with Article 47 of the Charter, with the Commission claiming that these provisions infringe both the principle of permanence and the principle of the independence of judges.
Λεπτομέρειες άρθρου
Πώς να δημιουργήσετε Αναφορές

Oikonomou, K. (2020). Crisis of the Rule of Law in the EU through the Case Law of the ECJ: The Case of Poland. HAPSc Policy Briefs Series, 1(2), 189–194. https://doi.org/10.12681/hapscpbs.26457
Οι συγγραφείς των άρθρων που δημοσιεύονται στο περιοδικό διατηρούν τα δικαιώματα πνευματικής ιδιοκτησίας επί των άρθρων τους, δίνοντας στο περιοδικό το δικαίωμα της πρώτης δημοσίευσης. Άρθρα που δημοσιεύονται στο περιοδικό διατίθενται με άδεια Creative Commons 4.0 και σύμφωνα με την άδεια μπορούν να χρησιμοποιούνται ελεύθερα, με αναφορά στο/στη συγγραφέα και στην πρώτη δημοσίευση με δικαίωμα τροποποίησης μόνον με παρόμοια διανομή (αν αναμείξετε, τροποποιήσετε, ή δημιουργήσετε πάνω στο υλικό, πρέπει να διανείμετε τις δικές σας συνεισφορές υπό την ίδια άδεια όπως και το πρωτότυπο).
Λήψεις
Τα δεδομένα λήψης δεν είναι ακόμη διαθέσιμα.
Αναφορές
Metaxas, Α. (2017). European Union. The basic normative texts. Athens-Thessaloniki: Sakkoula (in Greek).
Pech, L. and Scheppele, K. L. (2017). lliberalism Within: Rule of Law Backsliding in the EU. Cambridge Yearbook of European Legal Studies, 19: 3-47.
Χρυσομάλλης, M. (2018). Η αρχή του κράτους δικαίου στην έννομη τάξη της Ευρωπαϊκής Ένωσης. Αθήνα: Νομική Βιβλιοθήκη, σσ. 17-39.