Limitations to the Right to Freedom of Assembly in Poland during the COVID-19 Pandemic: The Case of Women's Strike
---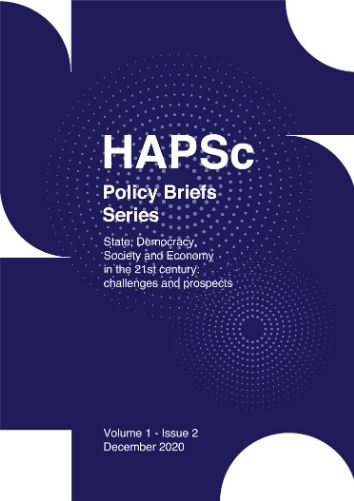 Δημοσιευμένα: Dec 29, 2020
Περίληψη
The ongoing COVID-19 pandemic poses a threat not only to public health and human life, but also to civil rights and freedoms. Such a claim applies not only to authoritarian states, but also to democratic political structures. Significant restrictions on civil liberties were introduced under the pretext of ensuring security in at least several member states of the European Union. One of them is Poland. The main purpose of this paper is to examine causes, developments, and consequences of the limitations to the right to freedom of assembly in Poland influencing the activities of the social protest movement Women's Strike (Strajk Kobiet) during the ongoing pandemic. The text concludes recommendations both for the Women's Strike social movement and for the government. Their implementation should reduce the current tensions in Poland and enable the opening of constructive social dialogue.
Λεπτομέρειες άρθρου
Πώς να δημιουργήσετε Αναφορές

Osiewicz, P. (2020). Limitations to the Right to Freedom of Assembly in Poland during the COVID-19 Pandemic: The Case of Women's Strike. HAPSc Policy Briefs Series, 1(2), 195–200. https://doi.org/10.12681/hapscpbs.26458
Οι συγγραφείς των άρθρων που δημοσιεύονται στο περιοδικό διατηρούν τα δικαιώματα πνευματικής ιδιοκτησίας επί των άρθρων τους, δίνοντας στο περιοδικό το δικαίωμα της πρώτης δημοσίευσης. Άρθρα που δημοσιεύονται στο περιοδικό διατίθενται με άδεια Creative Commons 4.0 και σύμφωνα με την άδεια μπορούν να χρησιμοποιούνται ελεύθερα, με αναφορά στο/στη συγγραφέα και στην πρώτη δημοσίευση με δικαίωμα τροποποίησης μόνον με παρόμοια διανομή (αν αναμείξετε, τροποποιήσετε, ή δημιουργήσετε πάνω στο υλικό, πρέπει να διανείμετε τις δικές σας συνεισφορές υπό την ίδια άδεια όπως και το πρωτότυπο).
Λήψεις
Τα δεδομένα λήψης δεν είναι ακόμη διαθέσιμα.
Αναφορές
Loewenstein, K. (1939). Legislative Control of Political Extremism in European Democracies I. Columbia Law Review, 4 (38): 725-774.
Malecki, M. (2020). Poland's coronavirus restrictions are unconstitutional, unlawful and risk years of legal chaos. Notes From Poland. Available at:
https://notesfrompoland.com/2020/04/18/polands-coronavirus-
restrictions-are-unconstitutional-unlawful-and-risk-years-of-legal-chaos/ (Accessed: November 18, 2020).
Rak, J. (2020a). Quasi-Militant Democracy as a New Form of Sacred in Poland during the Corona Crisis. Journal for the Study of Religions and Ideologies, 19 (57): 111-128.
Rak, J. (2020b). Conceptualizing the Theoretical Category of Neo-militant Democracy: The Case of Hungary. Polish Political Science Yearbook, 49: 61-70.
Rijpkema, B.R. (2018). Militant Democracy: The Limits of Democratic Tolerance. Abingdon: Routledge.
Teitel, R. (2007). Militating Democracy: Comparative Constitutional Perspective. Michigan Journal of International Law, 29 (1): 49-70.