Addressing Unpaid Work in Cambodia
---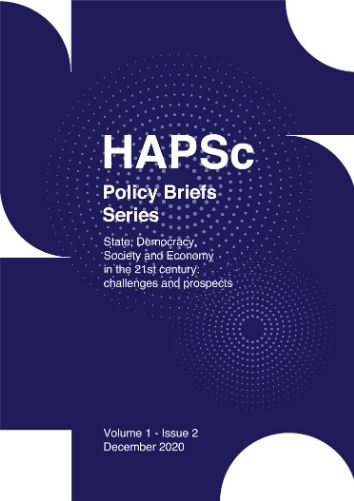 Δημοσιευμένα: Dec 29, 2020
Περίληψη
This paper presents an overview of development challenges related to promoting gender equality in Cambodia based on the available published evidence. To achieve gender equality objectives, Cambodia needs policy initiatives that address unpaid work and facilitate women's equal participation in labor and social development. This paper offers policy recommendations to address Cambodia's unpaid work issues, including the provisions of elderly care, enhancement of early childhood education coverage, promoting accessible and affordable childcare programs, pushing for parental leave, and increasing pension scheme coverage. The success of policy design and implementation requires political will to deliver the policies, accompanying efficient and effective public service delivery.
Λεπτομέρειες άρθρου
Πώς να δημιουργήσετε Αναφορές

You, S. (2020). Addressing Unpaid Work in Cambodia. HAPSc Policy Briefs Series, 1(2), 109–115. https://doi.org/10.12681/hapscpbs.26482
Οι συγγραφείς των άρθρων που δημοσιεύονται στο περιοδικό διατηρούν τα δικαιώματα πνευματικής ιδιοκτησίας επί των άρθρων τους, δίνοντας στο περιοδικό το δικαίωμα της πρώτης δημοσίευσης. Άρθρα που δημοσιεύονται στο περιοδικό διατίθενται με άδεια Creative Commons 4.0 και σύμφωνα με την άδεια μπορούν να χρησιμοποιούνται ελεύθερα, με αναφορά στο/στη συγγραφέα και στην πρώτη δημοσίευση με δικαίωμα τροποποίησης μόνον με παρόμοια διανομή (αν αναμείξετε, τροποποιήσετε, ή δημιουργήσετε πάνω στο υλικό, πρέπει να διανείμετε τις δικές σας συνεισφορές υπό την ίδια άδεια όπως και το πρωτότυπο).
Λήψεις
Τα δεδομένα λήψης δεν είναι ακόμη διαθέσιμα.