Democracy, Transformation and the Relational Economy: Prospects for a Successful Society
---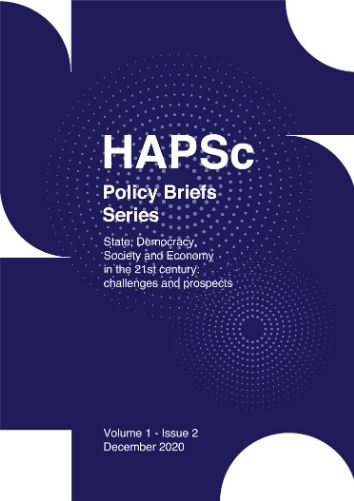 Δημοσιευμένα: Dec 29, 2020
Περίληψη
Not least because of existential crises such as climate change, poverty or social inequality, the transformation currently taking place is changing the way people live together in a sustainable manner. However, such challenges can only be overcome by humanity as a whole. Therefore, it is necessary to develop new collective problem solving modes that take into account the relationship of the individual to his environment. As a starting point for this, we propose the introduction of a systemic-relational economy which, starting from companies, establishes a holistic world view oriented towards the growth of good relationships. This is the preferable way to meet the changing demands of modern life and to achieve ecologically, economically and socially sustainable success.
Λεπτομέρειες άρθρου
Πώς να δημιουργήσετε Αναφορές

Messal, M., Dommes, M., & Schwunk, F. (2020). Democracy, Transformation and the Relational Economy: Prospects for a Successful Society. HAPSc Policy Briefs Series, 1(2), 257–263. https://doi.org/10.12681/hapscpbs.26499
Οι συγγραφείς των άρθρων που δημοσιεύονται στο περιοδικό διατηρούν τα δικαιώματα πνευματικής ιδιοκτησίας επί των άρθρων τους, δίνοντας στο περιοδικό το δικαίωμα της πρώτης δημοσίευσης. Άρθρα που δημοσιεύονται στο περιοδικό διατίθενται με άδεια Creative Commons 4.0 και σύμφωνα με την άδεια μπορούν να χρησιμοποιούνται ελεύθερα, με αναφορά στο/στη συγγραφέα και στην πρώτη δημοσίευση με δικαίωμα τροποποίησης μόνον με παρόμοια διανομή (αν αναμείξετε, τροποποιήσετε, ή δημιουργήσετε πάνω στο υλικό, πρέπει να διανείμετε τις δικές σας συνεισφορές υπό την ίδια άδεια όπως και το πρωτότυπο).
Λήψεις
Τα δεδομένα λήψης δεν είναι ακόμη διαθέσιμα.
Αναφορές
Acemoglu, D. and Robinson J. A. (2012). Why Nations Fail. The Origins of Power, Prosperity, and Poverty. London: Profile Books.
Berg, C. (2020). Sustainable Action. Overcoming the Barriers. Abingdon: Routhledge.
Elias, N. (2012). What is Sociology?. Dublin: UCD Press.
Doppler, K. and Lauterburg, C. (2013). Managing Corporate Change. Berlin: Springer-Verlag.
Frerichs, M. (2014). Innovationsprozesse und organisationaler Wandel in der Automobilindustrie. Eine prozesssoziologische Analyse betrieblicher Machtproben. Düsseldorf: Springer Fachmedien.
Hauschildt, J. and Salomo, S. (2007). Innovationsmanagement. Munich: Vahlen-Verlag.
Jetzkowitz, J. (2002). Die Modernisierungstheorie von Talcott Parsons. In: Stark, C. and Lahusen, C. (ed.), Theorien der Gesellschaft: Einführung in zentrale Paradigmen der soziologischen Gegenwartsanalyse. Munich: R. Oldenbourg Verlag, pp. 67-97.
Luhmann, N. (1995). Social Systems. Stanford: Stanford University Press.
Nefiodow, L. A. and Nefiodow, S. (2017). The Sixth Kondratieff: A New Long Wave in the Global Economy. North Charleston: CreateSpace Independent Publishing.
Raworth, K. (2017). Doughnut Economics: Seven Ways to Think Like a 21st-Century Economist. White River Junction: Chelsea Green Publishing.
Scharmer, C. O. (2016). Theory U: Leading from the Future as It Emerges: The Social Technology of Presencing. Oakland: Berrett-Koehler Publishers.
Schirmer, A. (1999). Widerstände gegen Innovationen: Erfahrungen aus der Einführung von Entscheidungsunterstützungssyteme. Manuskripte aus den Instituten für Betriebswirtschaftslehre der Universität Kiel, No. 507, Kiel: Universität Kiel, Institut für Betriebswirtschaftslehre.
Sennett, R. (1998). The Corrosion of Character: The Personal Consequences of Work in the New Capitalism. New York: W. W. Norton.
Tolkien, J. R. R. (1988). The Lord of the Rings: The Return of the King. Boston: Houghton Mifflin.