Making Indigenous Peoples' Rights in Canada Visible
---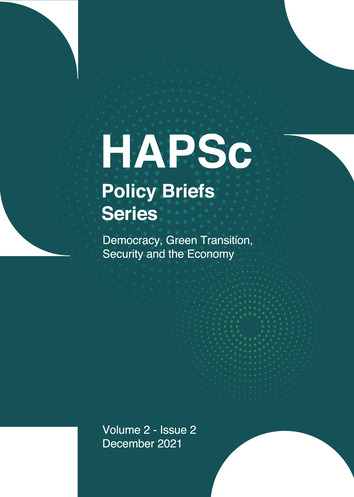 Δημοσιευμένα: Dec 29, 2021
Λέξεις-κλειδιά:
indigenous peoples land rights violation Canada United Nations civil society
Περίληψη
Although the United Nations have established mechanisms to exercise political authority and influence states' policies and the global civil society puts pressure on their actions, indigenous peoples continue to face discrimination and violations of their rights. Canada constitutes a great example of a democratic country that is supposed to respect and protect human rights but violates the aboriginal rights extensively. The massive energy projects, Coastal GasLink pipeline, Trans Mountain pipeline and Site C dam, being developed in North and West Canada, do not respect the traditional lands and resources of the indigenous populations that live in the region and have been strongly condemned by the First Nations, the actors of the global civil society and the UN. Nonetheless, the Canadian government continues to fully support their construction. This paper aims to analyse the violations conducted against indigenous populations' lands by the Canadian government and the reaction of the UN and global civil society, using a series of qualitative and quantitative data based on papers, analyses and reports of Institutes, Study Centers and Organizations.
Λεπτομέρειες άρθρου
Πώς να δημιουργήσετε Αναφορές

Ntalakosta, A.-M. (2021). Making Indigenous Peoples' Rights in Canada Visible. HAPSc Policy Briefs Series, 2(2), 14–23. https://doi.org/10.12681/hapscpbs.29487
Οι συγγραφείς των άρθρων που δημοσιεύονται στο περιοδικό διατηρούν τα δικαιώματα πνευματικής ιδιοκτησίας επί των άρθρων τους, δίνοντας στο περιοδικό το δικαίωμα της πρώτης δημοσίευσης. Άρθρα που δημοσιεύονται στο περιοδικό διατίθενται με άδεια Creative Commons 4.0 και σύμφωνα με την άδεια μπορούν να χρησιμοποιούνται ελεύθερα, με αναφορά στο/στη συγγραφέα και στην πρώτη δημοσίευση με δικαίωμα τροποποίησης μόνον με παρόμοια διανομή (αν αναμείξετε, τροποποιήσετε, ή δημιουργήσετε πάνω στο υλικό, πρέπει να διανείμετε τις δικές σας συνεισφορές υπό την ίδια άδεια όπως και το πρωτότυπο).
Λήψεις
Τα δεδομένα λήψης δεν είναι ακόμη διαθέσιμα.