Violence Against Women in Turkey and the Impact of Civil Society
---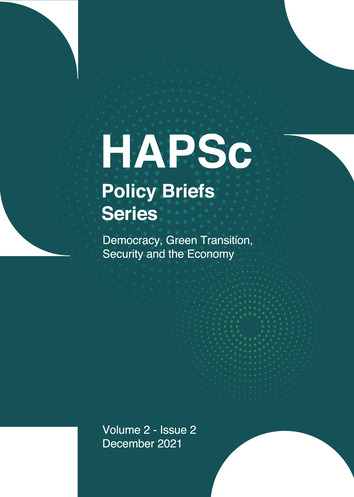 Δημοσιευμένα: Dec 29, 2021
Περίληψη
In recent years, gender equality and women's rights have been in the spotlight of international policymaking. However, in many cases, those efforts are not met with equal results. Women internationally continue to face discriminatory behavior and violence in all forms, both in socio-economic and political life. In Turkey, this issue remains largely unsanctioned, encouraging this type of violation of women's basic human rights. Civil society organizations in Turkey play a very important part in applying pressure on the government and raising awareness on the importance of protecting women's rights and eradicating gender-based violence. This policy brief examines the current situation of women rights in Turkey as well as the impact of civil society in the protection and empowerment of women.
Λεπτομέρειες άρθρου
Πώς να δημιουργήσετε Αναφορές

Ziabara, E., Mikroudaki, K., & Papazafeiropoulou, C. (2021). Violence Against Women in Turkey and the Impact of Civil Society. HAPSc Policy Briefs Series, 2(2), 24–30. https://doi.org/10.12681/hapscpbs.29489
Οι συγγραφείς των άρθρων που δημοσιεύονται στο περιοδικό διατηρούν τα δικαιώματα πνευματικής ιδιοκτησίας επί των άρθρων τους, δίνοντας στο περιοδικό το δικαίωμα της πρώτης δημοσίευσης. Άρθρα που δημοσιεύονται στο περιοδικό διατίθενται με άδεια Creative Commons 4.0 και σύμφωνα με την άδεια μπορούν να χρησιμοποιούνται ελεύθερα, με αναφορά στο/στη συγγραφέα και στην πρώτη δημοσίευση με δικαίωμα τροποποίησης μόνον με παρόμοια διανομή (αν αναμείξετε, τροποποιήσετε, ή δημιουργήσετε πάνω στο υλικό, πρέπει να διανείμετε τις δικές σας συνεισφορές υπό την ίδια άδεια όπως και το πρωτότυπο).
Λήψεις
Τα δεδομένα λήψης δεν είναι ακόμη διαθέσιμα.
Αναφορές
Gürsoy, A. (1996). Abortion in Turkey: A matter of state, family or individual decision. Social Science & Medicine, 42(4), 531–542.