Being a Woman under Taliban's Theocratic Regime
---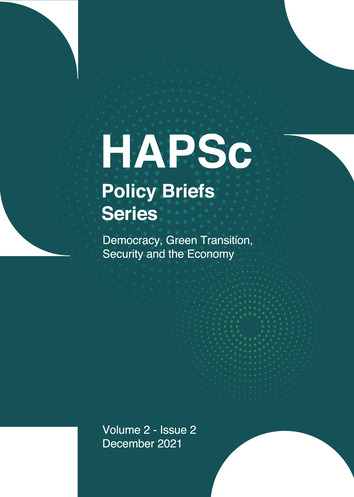 Δημοσιευμένα: Dec 29, 2021
Περίληψη
In the light of the recent events that have taken place in Afghanistan, the purpose of this policy brief is to turn back to the time when the Taliban were in power (1996-2001) and to explore the brutality of their theocratic regime against women. In particular, this policy brief examines the restrictions imposed by the Taliban on Afghan women, by depriving them of essential rights, as well as the changes that are claimed to have taken place in the post-Taliban era. It is concluded that the international community and NGOs should play a significant role in upgrading the position of women in Afghan society. 
Λεπτομέρειες άρθρου
Πώς να δημιουργήσετε Αναφορές

Kallini, S. X. (2021). Being a Woman under Taliban's Theocratic Regime. HAPSc Policy Briefs Series, 2(2), 31–38. https://doi.org/10.12681/hapscpbs.29490
Οι συγγραφείς των άρθρων που δημοσιεύονται στο περιοδικό διατηρούν τα δικαιώματα πνευματικής ιδιοκτησίας επί των άρθρων τους, δίνοντας στο περιοδικό το δικαίωμα της πρώτης δημοσίευσης. Άρθρα που δημοσιεύονται στο περιοδικό διατίθενται με άδεια Creative Commons 4.0 και σύμφωνα με την άδεια μπορούν να χρησιμοποιούνται ελεύθερα, με αναφορά στο/στη συγγραφέα και στην πρώτη δημοσίευση με δικαίωμα τροποποίησης μόνον με παρόμοια διανομή (αν αναμείξετε, τροποποιήσετε, ή δημιουργήσετε πάνω στο υλικό, πρέπει να διανείμετε τις δικές σας συνεισφορές υπό την ίδια άδεια όπως και το πρωτότυπο).
Λήψεις
Τα δεδομένα λήψης δεν είναι ακόμη διαθέσιμα.
Αναφορές
Ahmed-Ghosh, H. (2006). Voices of Afghan Women. International Feminist Journal of Politics, 8(1), 110-128.
Cole, J. R. I. (2003). The Taliban, Women and the Hegelian Private Sphere. Social Research, 70(3), 771-808.
Farhoumand-Sims, C. (2007). Unfulfilled Promises: Women and Peace in Post-Taliban Afghanistan. International Journal, 62(3), 642–663.
Goodson, L. P. (2001). Perverting Islam: Taliban social policy toward women. Central Asian Survey, 20(4), 415-426.
Riphenburg, C. J. (2004). Post-Taliban Afghanistan: Changed Outlook for Women? Asian Survey, 44(3), 401-421.
Skaine, R. (2003). Women in Afghanistan in the Post-Taliban Era: How lives have changed and where they stand today. McFarland & Company.
Tanner, R. E. S. (1996). Violence and Religion: Cross-cultural Opinions and Consequences. New Delhi: Concept Publishing Company.
Zoya, Follain, J. & Cristofari, R. (2002). Zoya's Story: An Afghan Woman's Struggle for Freedom. New York: HarperCollins.