Just Transition Mechanism and Lignite Phase-Out in Greece: Challenges and Prospects
---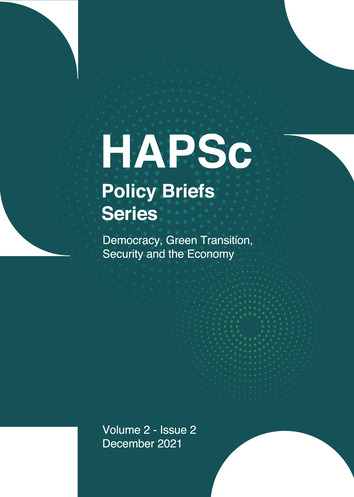 Δημοσιευμένα: Dec 29, 2021
Περίληψη
The guidelines for the future of the energy sector in Greece are largely determined by the relevant strategic decisions of the European Union. A key role in this context is played by the EU's Energy Union Strategy, which seeks to ensure secure, sustainable, competitive and affordable energy for EU citizens and businesses. Therefore, the radical transformation of the energy sector in Greece, as part of the European Union's strategy to achieve the long-term goal of climate neutrality by 2050, will require in the next few years significant investments for the just transition of the lignite-dependent regions, which will be disproportionately affected. In this paper, Greece's energy deficit is examined, as well as Just Transition Mechanism and its contribution to the ongoing green transition of the Greek energy sector. By attempting to identify the systemic inexpediencies of the energy sector in Greece, the aim of this paper is to paint a realistic picture of the country's lignite phase-out plan and the challenges it faces during the ongoing energy crisis. It is concluded that the green and just transition is a long process, which requires strategic planning and a policy framework with clear implementation objectives and timetables.
Λεπτομέρειες άρθρου
Πώς να δημιουργήσετε Αναφορές

Lypiridi, D. (2021). Just Transition Mechanism and Lignite Phase-Out in Greece: Challenges and Prospects. HAPSc Policy Briefs Series, 2(2), 75–84. https://doi.org/10.12681/hapscpbs.29493
Οι συγγραφείς των άρθρων που δημοσιεύονται στο περιοδικό διατηρούν τα δικαιώματα πνευματικής ιδιοκτησίας επί των άρθρων τους, δίνοντας στο περιοδικό το δικαίωμα της πρώτης δημοσίευσης. Άρθρα που δημοσιεύονται στο περιοδικό διατίθενται με άδεια Creative Commons 4.0 και σύμφωνα με την άδεια μπορούν να χρησιμοποιούνται ελεύθερα, με αναφορά στο/στη συγγραφέα και στην πρώτη δημοσίευση με δικαίωμα τροποποίησης μόνον με παρόμοια διανομή (αν αναμείξετε, τροποποιήσετε, ή δημιουργήσετε πάνω στο υλικό, πρέπει να διανείμετε τις δικές σας συνεισφορές υπό την ίδια άδεια όπως και το πρωτότυπο).
Λήψεις
Τα δεδομένα λήψης δεν είναι ακόμη διαθέσιμα.