Gender and Climate Change: Challenges and Opportunities
---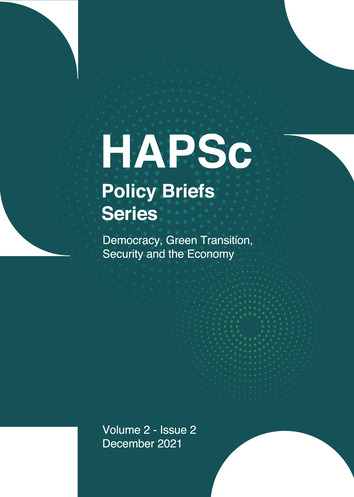 Δημοσιευμένα: Dec 29, 2021
Περίληψη
Women are more vulnerable than men to climate change. According to the literature, this vulnerability is the result of pre-existing gender inequalities, social marginalization, less access to education and knowledge, poverty, insecure land rights, heavy reliance on agriculture and lack of mobility. This paper focuses on rural women's vulnerability to climate change, through three case studies, and also on the empowerment and the involvement of them in the policy-making processes in order to combat the climate crisis. Women should participate and contribute with their knowledge and their life experience, which is a result of particular strengths, perspectives and priorities. The empowerment of these women is vital for successfully combating the impacts of climate change and for the mitigation and adaptation efforts to thrive.
Λεπτομέρειες άρθρου
Πώς να δημιουργήσετε Αναφορές

Senja, O. (2021). Gender and Climate Change: Challenges and Opportunities. HAPSc Policy Briefs Series, 2(2), 85–93. https://doi.org/10.12681/hapscpbs.29494
Οι συγγραφείς των άρθρων που δημοσιεύονται στο περιοδικό διατηρούν τα δικαιώματα πνευματικής ιδιοκτησίας επί των άρθρων τους, δίνοντας στο περιοδικό το δικαίωμα της πρώτης δημοσίευσης. Άρθρα που δημοσιεύονται στο περιοδικό διατίθενται με άδεια Creative Commons 4.0 και σύμφωνα με την άδεια μπορούν να χρησιμοποιούνται ελεύθερα, με αναφορά στο/στη συγγραφέα και στην πρώτη δημοσίευση με δικαίωμα τροποποίησης μόνον με παρόμοια διανομή (αν αναμείξετε, τροποποιήσετε, ή δημιουργήσετε πάνω στο υλικό, πρέπει να διανείμετε τις δικές σας συνεισφορές υπό την ίδια άδεια όπως και το πρωτότυπο).
Λήψεις
Τα δεδομένα λήψης δεν είναι ακόμη διαθέσιμα.
Αναφορές
Ajala, T. (2017). Gender discrimination in land ownership and the alleviation of women's poverty in Nigeria: A call for new equities. International Journal of Discrimination and the Law, 17(1), 51-66.
Appadorai, A. (2006). The substance of politics. New Delhi, India: Oxford University Press.
Arctic Council (2016). Arctic resilience report. Stockholm Environment Institute and Stockholm Resilience Centre. Available at:
http://hdl.handle.net/11374/1838
(Accessed: 28/10/2021).
Brody, A., Demetriades, J., & Esplen, E. (2008). Gender and climate change: Mapping the linkages: A scoping study on knowledge and gaps. Department for International Development (DFID) and Institute of Development Studies (IDS): University of Sussex, Brighton.
Cameron, E. (2011). Development, climate change and human rights from the margins to the mainstream?. World Bank, Social Development Paper, No. 123. Available at:
http://hdl.handle.net/10986/27308
(Accessed: 28/10/2021).
Croson, R. & Gneezy, U. (2009). Gender differences in preferences. Journal of Economic Literature, 47(2), 448–474.
Fasona, M., Fabusoro, E., Sodiya, C., Adedayo, V., Olorunfemi, F., Elias, P., & Oyedepo, J. (2015). Some dimensions of farmers-pastoralists conflicts in the Nigerian Savanna. Journal of Global Initiatives, 10(2), 87-108.
Flatø, M., Muttarak, R., & Pelser, A. (2017). Women, weather, and woes: The triangular dynamics of female-headed households, economic vulnerability, and climate variability in South Africa. World Development, 90, 41–62.
Food and Agriculture Organization (2010). Gender Dimensions of Agricultural and Rural Employment: Differentiated Pathways out of Poverty. Status, Trends and Gaps. Rome: FAO.
Gaard, G., (2015). Ecofeminism and climate change. Women's Studies International Forum, 49, 20–33.
Galia, F. & Zenou, E. (2012). Board composition and forms of innovation: does diversity make a difference?. European Journal of International Management, 6(6), 630–650.
Hellmuth, M. E., Moorhead, A., Thomas, M. C. & Williams, J. (eds) (2007). Climate risk management in Africa: Learning from practice. International Research Institute for Climate and Society. Columbia University: New York, USA.
Holy, M., Zeman, M. G., & Zeman, Z. (2021). From Ecofeminist Theories to Ecofeminist Practice: Women, Sustainability and Ethical Consumerism. In: Topić, M. and Lodorfos, G. (eds). The Sustainability Debate. London: Emerald Publishing Limited.
Kookana, R. S., Maheshwari, B., Dillon, P., Dave, S. H., Soni, P., Bohra, H. & Patel, A. (2016). Groundwater scarcity impact on inclusiveness and women empowerment: Insights from school absenteeism of female students in two watersheds in India. International Journal of Inclusive Education, 20(11), 1155-1171.
Kou, M., Zhang, Y. & Zhang, Y. (2020). Does gender structure influence R&D efficiency? A regional perspective. Scientometrics, 122: 477–501.
Kraus, S., Burtscher, J., Vallaster, C. & Angerer, M. (2018). Sustainable entrepreneurship orientation: a reflection on status-quo research on factors facilitating responsible managerial practices. Sustainability, 10(2), 444.
Le Loarne-Lemaire, S., Bertrand, G., Razgallah, M., Maalaoui, A. & Kallmuenzer, A. (2020). Women in innovation processes as a solution to climate change: A systematic literature review and an agenda for future research. Technological Forecasting and Social Change, 164, 120440.
Mellor, M. (2018). Feminism and ecology. London: John Wiley & Sons.
Meza, L. E. R. (2010). Climate change, poverty and migration processes in Chiapas, Mexico. International Journal of Labor Research, 2(2), 188-210.
Miranda, L. A. (2013). Introduction to indigenous peoples' status and rights under international human rights law. In Climate Change and Indigenous Peoples. Cheltenham, UK: Edward Elgar Publishing.
Nigerian Environmental Study Team (2011). Reports of research projects on impacts and adaptation. Building Nigeria's Response to Climate Change (BNRCC). Ibadan, Nigeria: Nigerian Environmental Study/Action Team (NEST).
Ogbuagu, S. (1997). Religion of the people of Nigeria. In: A. M. Uzoma, G. Nwizu, & D. Njoku (eds). Readings in social science: ABSU freshmen's course in citizenship education. Okigwe, Nigeria: Whytem Publishers, pp. 66-89.
Onwutuebe, C. J. (2019). Patriarchy and women vulnerability to adverse climate change in Nigeria. Sage Open, 9(1).
Paswan, J. & Singh, V.K. (2020). Gender and research publishing analyzed through the lenses of discipline, institution types, impact and international collaboration: a case study from India. Scientometrics, 123, 497–515.
Paul-Hus, A., Bouvier, R.L., Ni, C., Sugimoto, C.R., Pislyakov, V., & Larivi`ere, V. (2015). Forty years of gender disparities in Russian science: a historical bibliometric analysis. Scientometrics, 102(2), 1541–1553.
Prior, T. L., & Heinämäki, L. (2017). The rights and role of indigenous women in climate change regime. Arctic Review, 8.
Tanny, N. Z., & Rahman, M. W. (2016). Climate change vulnerabilities of women in Bangladesh. The Agriculturists, A Scientific Journal of Krishi Foundation, 14(2), 113-123.
Tyndall, J. (2008). A warmer world. In J. Garvey (ed.). The ethics of climate change: Right and wrong in a warming world. London, England: Continuum International Publishing.
UNGA (1979). Convention on the Elimination of All Forms of Discrimination against Women (CEDAW). UN Doc A/RES/34/180. UN General Assembly. Available at:
http://undocs.org/A/RES/34/180
(Accessed: 28/10/2021).
Van Aelst, K., & Holvoet, N. (2016). Intersections of gender and marital status in accessing climate change adaptation: Evidence from rural Tanzania. World Development, 79, 40–50.
Waris, V.S. & Antahal, P.C. (2014). Fuelwood scarcity, poverty and women: some perspectives. IOSR Journal of Humanities and Social Sciences, 19(8), 21-33.