Human Rights and the State of Exception in the Covid-19 Era: The Cases of Hungary and Poland
---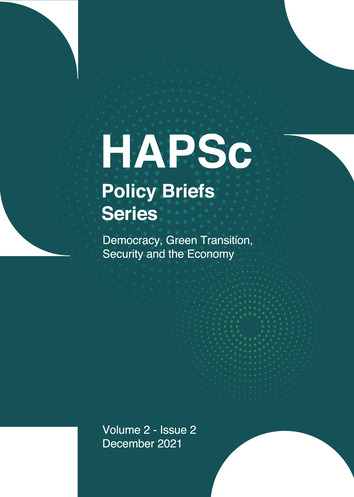 Δημοσιευμένα: Dec 29, 2021
Περίληψη
The present paper examines the ways in which the Covid-19 pandemic and the resulting declarations of emergencies posed great threats to the rule of law and human rights. Giorgio Agamben's narratives on exception were used and constituted the theoretical framework of this study. The study begins with the clarification of the idea of state of exception and the explanation of a certain phenomenon; the "medicalization of politics". Subsequently, the cases of Hungary and Poland are being presented. The study concludes that the extreme measures undertaken by states in order to counter the health emergency, pose a huge threat to the operational qualification of the rule of law, as democracies tend to abuse the state of exception as a way to diverge from its provisions.
Λεπτομέρειες άρθρου
Πώς να δημιουργήσετε Αναφορές

Moustou, A. (2021). Human Rights and the State of Exception in the Covid-19 Era: The Cases of Hungary and Poland. HAPSc Policy Briefs Series, 2(2), 39–49. https://doi.org/10.12681/hapscpbs.29499
Οι συγγραφείς των άρθρων που δημοσιεύονται στο περιοδικό διατηρούν τα δικαιώματα πνευματικής ιδιοκτησίας επί των άρθρων τους, δίνοντας στο περιοδικό το δικαίωμα της πρώτης δημοσίευσης. Άρθρα που δημοσιεύονται στο περιοδικό διατίθενται με άδεια Creative Commons 4.0 και σύμφωνα με την άδεια μπορούν να χρησιμοποιούνται ελεύθερα, με αναφορά στο/στη συγγραφέα και στην πρώτη δημοσίευση με δικαίωμα τροποποίησης μόνον με παρόμοια διανομή (αν αναμείξετε, τροποποιήσετε, ή δημιουργήσετε πάνω στο υλικό, πρέπει να διανείμετε τις δικές σας συνεισφορές υπό την ίδια άδεια όπως και το πρωτότυπο).
Λήψεις
Τα δεδομένα λήψης δεν είναι ακόμη διαθέσιμα.