Chinese Cultural Diplomacy towards Africa
---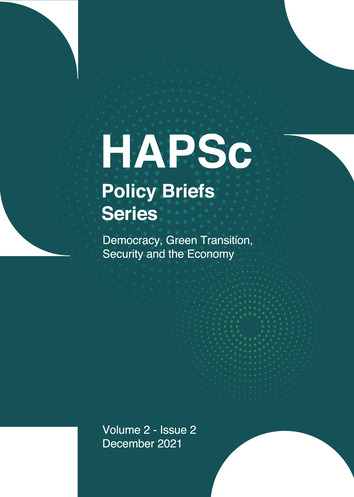 Δημοσιευμένα: Dec 29, 2021
Περίληψη
Within the international system, states focus on the realization of their national interests, evaluating their diplomacy, and regularly their cultural diplomacy. For instance, China exercises its cultural diplomacy, in order to promote its foreign policy's goals. The present paper initially attempts to define the complex notion of cultural diplomacy, which is a multifactor way of promoting intercultural dialogue and augmenting states' soft power. In particular, China's cultural diplomacy was the most suitable case study since the Chinese state, following the Beijing's Olympic Games, has been reintroduced in the international audience. Its reintroduction was achieved by practicing its cultural diplomacy successfully, mostly with Confucius Institutes' function, while being dominant in the international financial system. In the case of China's foreign policy towards Africa, Chinese cultural diplomacy was accompanied by financial diplomacy and led to a Sino-African rapprochement and to the creation of the Forum on China-Africa cooperation. It is vital though to consider if Chinese foreign policy towards the African continent is successful.
Λεπτομέρειες άρθρου
Πώς να δημιουργήσετε Αναφορές

Papachristou, M. (2021). Chinese Cultural Diplomacy towards Africa. HAPSc Policy Briefs Series, 2(2), 150–156. https://doi.org/10.12681/hapscpbs.29502
Οι συγγραφείς των άρθρων που δημοσιεύονται στο περιοδικό διατηρούν τα δικαιώματα πνευματικής ιδιοκτησίας επί των άρθρων τους, δίνοντας στο περιοδικό το δικαίωμα της πρώτης δημοσίευσης. Άρθρα που δημοσιεύονται στο περιοδικό διατίθενται με άδεια Creative Commons 4.0 και σύμφωνα με την άδεια μπορούν να χρησιμοποιούνται ελεύθερα, με αναφορά στο/στη συγγραφέα και στην πρώτη δημοσίευση με δικαίωμα τροποποίησης μόνον με παρόμοια διανομή (αν αναμείξετε, τροποποιήσετε, ή δημιουργήσετε πάνω στο υλικό, πρέπει να διανείμετε τις δικές σας συνεισφορές υπό την ίδια άδεια όπως και το πρωτότυπο).
Λήψεις
Τα δεδομένα λήψης δεν είναι ακόμη διαθέσιμα.
Αναφορές
Alden, C. (2005). China in Africa. Survival, 47(3), 147-164.
Ang, I., Isar, Y. & Mar, P. (2015). Cultural diplomacy: beyond the national interest?. International Journal of Cultural Policy, 21(4), 365-381.
Arndt, R. (2006). The first resort of kings. American cultural diplomacy in the twentieth century. United States of America: Potomac Books.
Bates, G., Yanzhong, H. (2006). Sources and Limits of Chinese soft power. Survival, 48(2), 17-36.
Bodomo, A. (2009). Africa-China Relations: Symmetry, Soft Power and South Africa. China Review, 9(2), 169- 178.
Caruso, D. (2019). China soft power and cultural diplomacy. The educational engagement in Africa. Cambio. Rivista sulle trasformazioni sociali, 9 (19), 47-58.
Chaponnière, J. (2009). Chinese aid to Africa, origins, forms and issues. In: Dijk, P. (ed.), The New Presence of China in Africa. Amsterdam: Amsterdam University Press.
Cummings, M. (2003). Cultural Diplomacy and the United States Government: A Survey. Washington: Center for Arts and Culture.
D' Hooghe, I. (2007). The Rise of China's Public Diplomacy. Netherlands: Institute of International Relations "Clingendael".
Fijałkowski, L. (2011). China's 'soft power' in Africa?. Journal of Contemporary African Studies, 29(2), 223-232.
Furtado, P. (2019). Histories of Nations: How their identities were forged. United Kingdom: Thames & Hudson Ltd.
Grincheva, N. (2010). U.S. Arts and Cultural Diplomacy: Post-Cold War Decline and the Twenty-First Century debate. The Journal of Arts Management, Law, and Society, 40(3), 169-183.
Haifaing, L. (2008). China- Africa Relations through the prism of Culture- The Dynamics of China's cultural diplomacy with Africa. Journal of Current Chinese Affairs- China aktuell, 37(3), 10-45.
Huntington, S. (1996). The Clash of Civilizations and the Remaking of World Order. United States: Simon & Schuster.
Hurn, B. (2016). The role of cultural diplomacy in nation branding. Industrial and commercial training, 48(2), 80-85.
Lioumpas, A. (2015). The Chinese paradigm: cultural diplomacy of China since 2005. University of Peloponnese [in Greek].
Nye, J. (2004). Soft power: the means to success in world politics. New York: Public Affairs.
Pasmatzoglou, A. (2016). Public Diplomacy and Governance: The depiction of Turkey and Greece in public rhetoric of G. A. Papandreou's and Recep Tayyip Erdogan's governance. University of Macedonia [In Greek].
Schneider, P. (2006). Cultural Diplomacy: Hard to Define, but You'd Know It If You Saw It. The Brown Journal of World Affairs, 13(1), 191-203.
Simon, M. (2009). A Greater Role for Cultural Diplomacy. Netherlands: Institute of International Relations "Clingendael".
Taylor, I. (2006). China's oil diplomacy. International Affairs, 82(5), 937-959.
Wenping, H. (2009). China's diplomacy in Africa. Institute of West Asian and African Studies.
Yunhee, K. (2018). China's public diplomacy towards Africa. Durham University.
Zamorano, M. (2015). Cultural diplomacy: definition, historical evolution and current tendencies. University of Barcelona.
Zhang, Y. (2014). Understand China's Media in Africa from the Perspective of Constructive Journalism. Chr. Michelsen Institute.