The Awakening of the Sleepy European Union: The Enigmatic Role of the EU Sanctioning System Against China
---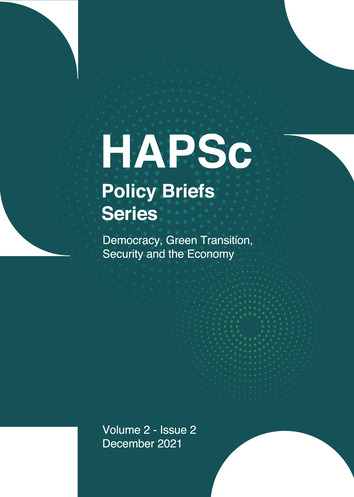 Δημοσιευμένα: Dec 29, 2021
Περίληψη
This paper aims at giving useful hints to understand the European hesitation to deliberately take a side in the debated odi et amo relationship between the Western countries (in particular the US) and the People's Republic of China, including the special administrative region of Hong Kong. It is a matter of fact that the EU has always been excellent with its dialectic showing pure resentment towards the autonomy dismantlement in Hong Kong, but it ended to be a mere "spectator". However, for the first time in 30 years, the EU seems to have acknowledged its "responsibilities" with the adoption of the Global Human Rights Sanctions Regime (GHRSR), a bell that, in metaphorical terms, seems to have woken up the Union. A Union now more willing to adopt restrictive measures in the promotion of human rights also against its economic partners.
Λεπτομέρειες άρθρου
Πώς να δημιουργήσετε Αναφορές

Brunelli, F. (2021). The Awakening of the Sleepy European Union: The Enigmatic Role of the EU Sanctioning System Against China. HAPSc Policy Briefs Series, 2(2), 217–222. https://doi.org/10.12681/hapscpbs.29508
Οι συγγραφείς των άρθρων που δημοσιεύονται στο περιοδικό διατηρούν τα δικαιώματα πνευματικής ιδιοκτησίας επί των άρθρων τους, δίνοντας στο περιοδικό το δικαίωμα της πρώτης δημοσίευσης. Άρθρα που δημοσιεύονται στο περιοδικό διατίθενται με άδεια Creative Commons 4.0 και σύμφωνα με την άδεια μπορούν να χρησιμοποιούνται ελεύθερα, με αναφορά στο/στη συγγραφέα και στην πρώτη δημοσίευση με δικαίωμα τροποποίησης μόνον με παρόμοια διανομή (αν αναμείξετε, τροποποιήσετε, ή δημιουργήσετε πάνω στο υλικό, πρέπει να διανείμετε τις δικές σας συνεισφορές υπό την ίδια άδεια όπως και το πρωτότυπο).
Λήψεις
Τα δεδομένα λήψης δεν είναι ακόμη διαθέσιμα.
Αναφορές
Finelli, F. (2020). A New EU Sanctions Regime Against Human Rights Violations. European Forum, 1-3.
Russell, M. (2020). EU human rights sanctions. Towards a European Magnitsky Act. European Parliamentary Research Service.
Ruys, T. (2021). The European Union Global Human Rights Sanctions Regime (EUGHRSR). International Legal Materials, 60(2), 298-318.
Wu, M., (2020). Managing the China Trade Challenge: Confronting the Limits of the WTO. Working Paper for the Penn Project on the Future of U.S.-China Relations.
Zarate, J. C. (2013). Treasury's War. The Unleashing of a New Era of Financial Warfare. PublicAffairs.