The Missing Link Between Investments and General Foreign Policy: European Discourse Towards China - The Cases of Germany and Hungary
---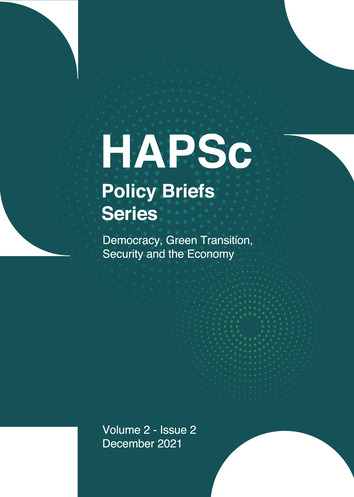 Δημοσιευμένα: Dec 29, 2021
Λέξεις-κλειδιά:
Foreign Investments Foreign Policy Discourse Analysis Germany Hungary China
Περίληψη
The aim of the present effort is to connect investment with general foreign policy. That is achieved through a qualitative analysis of the perceptions of Germany and Hungary towards China with special emphasis on the case studies of the Merger and Acquisition of Kuka and the announcement of Huawei's expansion of activities respectively. The findings show that there does indeed exist a link but continuity is too strong to greatly change general foreign policy. What does change however is the mixture of the aspects that lead to the same result. This brief closes by attempting to learn from the reactions of Germany and Hungary towards China and to make some suggestions on how Greece should act vis-à-vis China so as to become more important as an actor in the international system.
Λεπτομέρειες άρθρου
Πώς να δημιουργήσετε Αναφορές

Voulgaris, F. (2021). The Missing Link Between Investments and General Foreign Policy: European Discourse Towards China - The Cases of Germany and Hungary. HAPSc Policy Briefs Series, 2(2), 223–229. https://doi.org/10.12681/hapscpbs.29509
Οι συγγραφείς των άρθρων που δημοσιεύονται στο περιοδικό διατηρούν τα δικαιώματα πνευματικής ιδιοκτησίας επί των άρθρων τους, δίνοντας στο περιοδικό το δικαίωμα της πρώτης δημοσίευσης. Άρθρα που δημοσιεύονται στο περιοδικό διατίθενται με άδεια Creative Commons 4.0 και σύμφωνα με την άδεια μπορούν να χρησιμοποιούνται ελεύθερα, με αναφορά στο/στη συγγραφέα και στην πρώτη δημοσίευση με δικαίωμα τροποποίησης μόνον με παρόμοια διανομή (αν αναμείξετε, τροποποιήσετε, ή δημιουργήσετε πάνω στο υλικό, πρέπει να διανείμετε τις δικές σας συνεισφορές υπό την ίδια άδεια όπως και το πρωτότυπο).
Λήψεις
Τα δεδομένα λήψης δεν είναι ακόμη διαθέσιμα.
Αναφορές
Bian S. and Emons O. (2017) Chinese investments in Germany: increasing in line with Chinese industrial policy. In: Drahokoupil J. (eds.), Chinese investment in Europe: corporate strategies and labour relations. Brussels: ETUI, pp. 157-175.
Bickenbach, F., & Liu, W. (2018). Chinese direct investment in Europe– Challenges for EU FDI policy. CESifo Forum, 19(4), 15–22.
Bollhorn, K. (2015). Acquisitions of German companies by Chinese and Indian corporations – a threat to employment and knowledge retention?. DIE ERDE – Journal of the Geographical Society of Berlin, 146(1), 16-20.
Donges, J. B., Eekhoff, J., Franz, W., Fuest, C., Möschel, W., & Neumann, M. J. (2008). Staatsfonds: Muss Deutschland sich schützen?. Series of publications by the Stiftung Marktwirtschaft, Kronberger Kreis-Studien, 48, 5-41.
Éltető, A. & Szunomár, Á. (2016). Chinese investment and trade – strengthening ties with Central and Eastern Europe. International Journal of Business and Management, 4(1), 24–48.
Erber, G. (2013). Deutsch-chinesische Wirtschaftsbeziehungen: Chancen und Risiken für Deutschland. DIW Wochenbericht, 80(41), 9-15.
Federal Government of Germany (2016c). Im Wortlaut Regierungspressekonferenz vom 8. Juni (transcript of the conference). Federal Government. Available at: regierungspressekonferenz-vom-8-juni-846466 [in German] (Accessed: 23/09/2021).
Hanemann, T., & Huotari, M. (2018). EU-China FDI: Working towards reciprocity in investment relations. MERICS Papers on China, 3, 9-25.
Laclau, Ernesto, and Chantal Mouffe. ([1985] 2001). Hegemony and Socialist Strategy: Towards a Radical Democratic Politics. London: Verso.
Löchel H. & Sächtig J. (2019). Targets and Impacts of Chinese Direct Investment in Germany – An Empirical Analysis. Sino-German Center of Finance and Economics Association, Frankfurt School of Finance & Management. SGC Working paper, 1-14.
McCaleb, A., and Á. Szunomár. 2017. Chinese foreign direct investment in central and Eastern Europe. In: Drahokoupil J. (eds.), Chinese investment in Europe: Corporate strategies and labour relations. Brussels: ETUI, 121–140.
Szunomar, A., Volgyi, K. & Matura, T. (2014). Chinese investments and financial engagement in Hungary. Budapest, Institute of World Economics - MTA KRTK, Working Paper No 208, 1-22.
Vaccarini K., Nippa M. & Spigarelli F. (2021). Stakeholders' Perceptions of Chinese Takeovers: The Case of Germany and Italy (Evidence from the National Press). European Scientific Journal, 17(5), 1-20.