Diverse People in Diverse Businesses: Creating an Ecosystem around Inclusiveness
---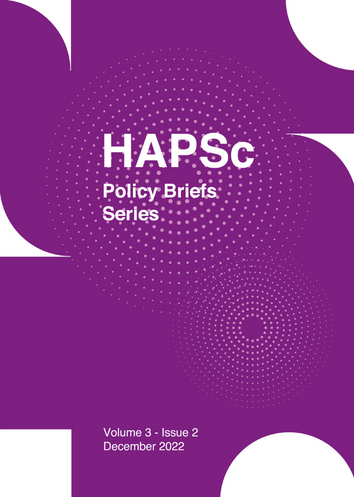 Published: Dec 29, 2022
Keywords:
People with Disabilities Inclusion Policy Disability Strategy Labor Market Social Entrepreneurship
Abstract
In Greece only one out of three people with difficulties in basic activities is employed (Eurostat, 2011). These significantly low employment rates among people with disabilities (PwDs) have negative implications regarding their living standards, making them economically dependent on social benefits and socially excluded. One of the main factors for that issue is the deficient rates of absorption of PwDs in the private sector, although multiple EU and Greek policies for the increase of these rates currently exist. This policy brief emphasizes on the existing situation, the reasons why disabled people are excluded from the private labor market and the potential of investing in all-inclusive work-systems for businesses. Finally, it provides policy recommendations, on both European and national level, for motivating enterprises to increase diversity in their workforce, through the creation of an EU Disability Inclusion Index and Regional Disability Projects. 
Article Details
How to Cite

Vasilopoulos, E. F. (2022). Diverse People in Diverse Businesses: Creating an Ecosystem around Inclusiveness. HAPSc Policy Briefs Series, 3(2), 52–60. https://doi.org/10.12681/hapscpbs.33781
This work is licensed under a Creative Commons Attribution 4.0 International License.
Authors retain copyright and grant the journal right of first publication with the work simultaneously licensed under a Creative Commons Attribution License that allows others to share the work with an acknowledgement of the work's authorship and initial publication in this journal.
Downloads
Download data is not yet available.