Greening International Trade: Unilateral Tendencies and the Role of International Institutions
---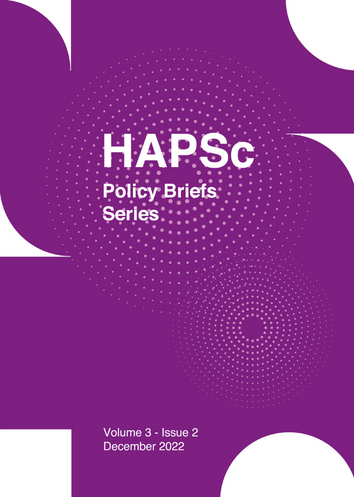 Published: Δεκ 29, 2022
Keywords:
Climate governance International trade regime Informal initiatives International Institutions
Abstract
International climate and trade regimes are becoming increasingly interchangeably linked to each other. Over the last months' discussions about greening the international trade have rapidly increased, aiming to take concrete steps towards climate mitigation. Some countries such as the EU have come up with courageous unilateral measures such as the Carbon Border Adjustment Mechanism (CBAM), and Germany forwarded by introducing to the G7 the idea of a Climate Club. Bypassing international institutions might be flexible to move forward, but at the same time may create fragmentation of the international regimes. This policy brief maps the new unilateral tendencies towards climate-related measures on trade policy and also examines the internal dynamic within the international organization. Firstly, it starts by analyzing how the regime complexity of climate change has left space for non-multilateral tendencies to emerge. Second, it maps the new tendencies and then explores how we got there. And lastly, it draws some insights into the potential risk of a more fragmented international climate regime may pose for international cooperation.
Article Details
How to Cite

Abedinaj, D. (2022). Greening International Trade: Unilateral Tendencies and the Role of International Institutions. HAPSc Policy Briefs Series, 3(2), 79–85. https://doi.org/10.12681/hapscpbs.33786
This work is licensed under a Creative Commons Attribution 4.0 International License.
Authors retain copyright and grant the journal right of first publication with the work simultaneously licensed under a Creative Commons Attribution License that allows others to share the work with an acknowledgement of the work's authorship and initial publication in this journal.
Downloads
Download data is not yet available.
References
Alter, K. & Meunier, S. (2009). The Politics of International Regime Complexity. Perspectives on Politics, 7 (1): 13–24.
Bulkeley, H., Betsill, M., Compagnon, D., Hale, T., Hoffmann, M., Newell, P. & Paterson, M. (2018). Transnational Governance: Charting New Directions Post-Paris. In: Jordan, A., Huitema, D., Van Asselt, H. & Forster, J. (eds.), Governing Climate Change: Polycentricity in Action? Cambridge: Cambridge University Press, 63–80.
Council of the EU (2021). Council Conclusions on Climate and Energy Diplomacy - Delivering on the External Dimension of the European Green Deal. Brussels, 25 January.
Doelle, M. (2016). The Paris Agreement: Historic Breakthrough or High Stakes Experiment. Climate Law, 6(1-2): 1-20.
Droege, S., van Asselt, H, Das, K. & Mehling. M. (2018). Mobilizing Trade policy for Climate Action under the Paris Agreement, Options for the European Union. Research Paper. German Institute for Foreign Policy and Security Studies.
Eicke, L., Weko, S., Apergi, M. & Marian, A. (2021). Pulling up the carbon ladder? Decarbonization, dependence, and third-country risks from the European carbon border adjustment mechanism. Energy Research and Social Science, 80: 102240.
Jones, B., Feltman, J. & Moreland, W. (2019). Competitive Multilateralism, Adapting Institutions to meet new geopolitical environment. USA: Brookings Report.
Laurens, N., Brandi, C. & Morin, J.F. (2022). Climate and trade policies: from silos to integration. Climate Policy, 22 (2): 248-253.
Parry, I., Black, S. & Roaf, J. (2021). Proposal for an International Carbon Price Floor among Large Emitters. IMF: Climate Staff Notes.
Tosun, J. & Lang, A. (2017). Policy integration: mapping the different concepts, Policy Studies, 38 (6): 553-570.
United Nations Environment Program (UNEP) (2021). Adaptation Gap Report 2021: The Gathering Storm – Adapting to Climate Change in a Post-Pandemic World. Nairobi: UNEP.
van Asselt, H. (2014). The Fragmentation of Global Climate Governance: Consequences and Management of Regime Interactions. Cheltenham: Edward Elgar.
van Asselt, H. & Zelli, F. (2014). Connect the dots: managing the fragmentation of global climate governance. Environmental Economics and Policy Studies, 16(2): 137–155.
Westerwinter, O., Abbott, K.W. & Biersteker, T. (2021). Informal governance in world politics. Review International Organizations, 16: 1–27.
World Trade Organization (2021). World Trade Report 2021: Economic Resilience and Trade. Geneva: WTO.
World Trade Organization (2022a). Climate change adoption and trade, Policy Brief, Geneva: WTO.
World Trade Organization (2022b). Trade report and climate change. Geneva: WTO.
Wouters, J. (2018). Global Governance, Volume I: Different Manifestations of and Perspectives on Global Governance. London: Edward Elgar Publishing.
Zurn, M. (2018). Contested Global Governance. Global Policy, 9 (1).