EUROPAMOBIL: A Vehicle for the European Union to Keep Moving
---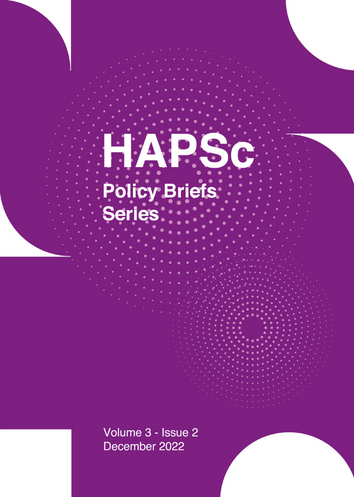 Published: Dec 29, 2022
Keywords:
European schools European education youth European identity
Abstract
The purpose of this paper is to highlight the necessity to increase the connection the European youth has with the European Union. Education policy might be a responsibility of the Member States, but the EU shall take upon more initiatives in order to bring the young Europeans closer to it. EUROPAMOBIL, is a project that can add educational value to the currently covered areas by the European school curricula, without intervening on national territories and can have a positive impact among the youth, which is an interval part for the continuation of the EU and the achievement of its goals.
Article Details
How to Cite

Charisi, M. (2022). EUROPAMOBIL: A Vehicle for the European Union to Keep Moving. HAPSc Policy Briefs Series, 3(2), 161–165. https://doi.org/10.12681/hapscpbs.33797
This work is licensed under a Creative Commons Attribution 4.0 International License.
Authors retain copyright and grant the journal right of first publication with the work simultaneously licensed under a Creative Commons Attribution License that allows others to share the work with an acknowledgement of the work's authorship and initial publication in this journal.
Downloads
Download data is not yet available.
References
Asderaki, F. (2017). Η Ευρώπη της γνώσης [Europe of knowledge]. Διεθνής & Ευρωπαϊκή Πολιτική, 40: 167–177.
Cankaya, S., Kutlu, N., & Cebeci, E. (2015, February). The Educational Policy of European Union. Procedia - Social and Behavioral Sciences, 174: 886–893.
Council of the European Union (2018). Resolution of the Council of the European Union and the Representatives of the Governments of the Member States meeting within the Council on a framework for European cooperation in the youth field: The European Union Youth Strategy 2019-2027. (2018, December 18). Official Journal of the European Union (ISSN 1977-091X), 61, C 456. Available at:
https://eur-lex.europa.eu/legal-content/EN/TXT/?uri=OJ:C:2018:456:FULL
. (Accessed: 29/09/2022).