Coralligenous formations dominated by Eunicella cavolini (Koch, 1887) in the NE Mediterranean: biodiversity and structure
---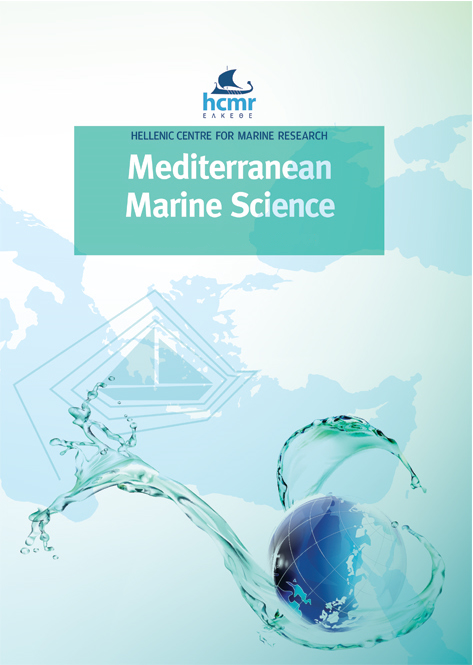 Published: May 10, 2019
Keywords:
Benthic communities Coralligenous Gorgonians Eunicella cavolini Biodiversity Conservation Mediterranean Aegean Sea Photoquadrat sampling.
Abstract
Coralligenous formations are biogenic structures typical of the underwater Mediterranean seascape. Their intricate, multi-layered species assemblages are composed of perennial, long-lived organisms, particularly vulnerable to natural or human-induced disturbances. Despite their high ecological role and conservation value, few studies have addressed the assemblages outside the NW Mediterranean. This is the first quantitative assessment of coralligenous in the N Aegean Sea (NE Mediterranean), specifically focusing at the upper bathymetric limit of assemblages that are dominated by the yellow gorgonian Eunicella cavolini. The number and percent cover of macrobenthic species were studied at depths of 18 to 35 m, using a photoquadrat method. A total of 99 benthic taxa were identified, out of which 89 perennial ones were used to investigate spatial patterns in assemblage structure, composition, and biodiversity. A mean number of 47 perennial taxa were recorded per site, with encrusting coralline algae and sponges being the dominant groups in percent cover and species number, respectively. Across the studied localities, structural complexity and community composition were overall similar, but assemblages presented distinctive differences at the level of sites highlighting the role of local abiotic and anthropogenic factors in the shaping of the coralligenous. Compared to the rest of the Mediterranean, assemblages hosted a similar number of taxa. However, the number and percent cover of erect bryozoans were generally low, while, apart from E. cavolini, other erect anthozoan species were absent. This work provides an important baseline for comparisons and monitoring at a local or Mediterranean scale level.
Article Details
How to Cite

SINI, M., GARRABOU, J., TRYGONIS, V., & KOUTSOUBAS, D. (2019). Coralligenous formations dominated by Eunicella cavolini (Koch, 1887) in the NE Mediterranean: biodiversity and structure. Mediterranean Marine Science, 20(1), 174–188. https://doi.org/10.12681/mms.18590
Authors who publish with this journal agree to the following terms:
Authors retain copyright and grant the journal right of first publication with the work simultaneously licensed under a Creative Commons

Attribution Non-Commercial

License that allows others to share the work with an acknowledgement of the work's authorship and initial publication in this journal.
Authors are able to enter into separate, additional contractual arrangements for the non-exclusive distribution of the journal's published version of the work (e.g. post it to an institutional repository or publish it in a book), with an acknowledgement of its initial publication in this journal.
Authors are permitted and encouraged to post their work online (preferably in institutional repositories or on their website) prior to and during the submission process, as it can lead to productive exchanges, as well as earlier and greater citation of published work (See The Effect of Open Access).
Downloads
Download data is not yet available.