Historicising the Metapolitefsi: A Review of the Three Publications of the Themelio Metapolitefsi Series
---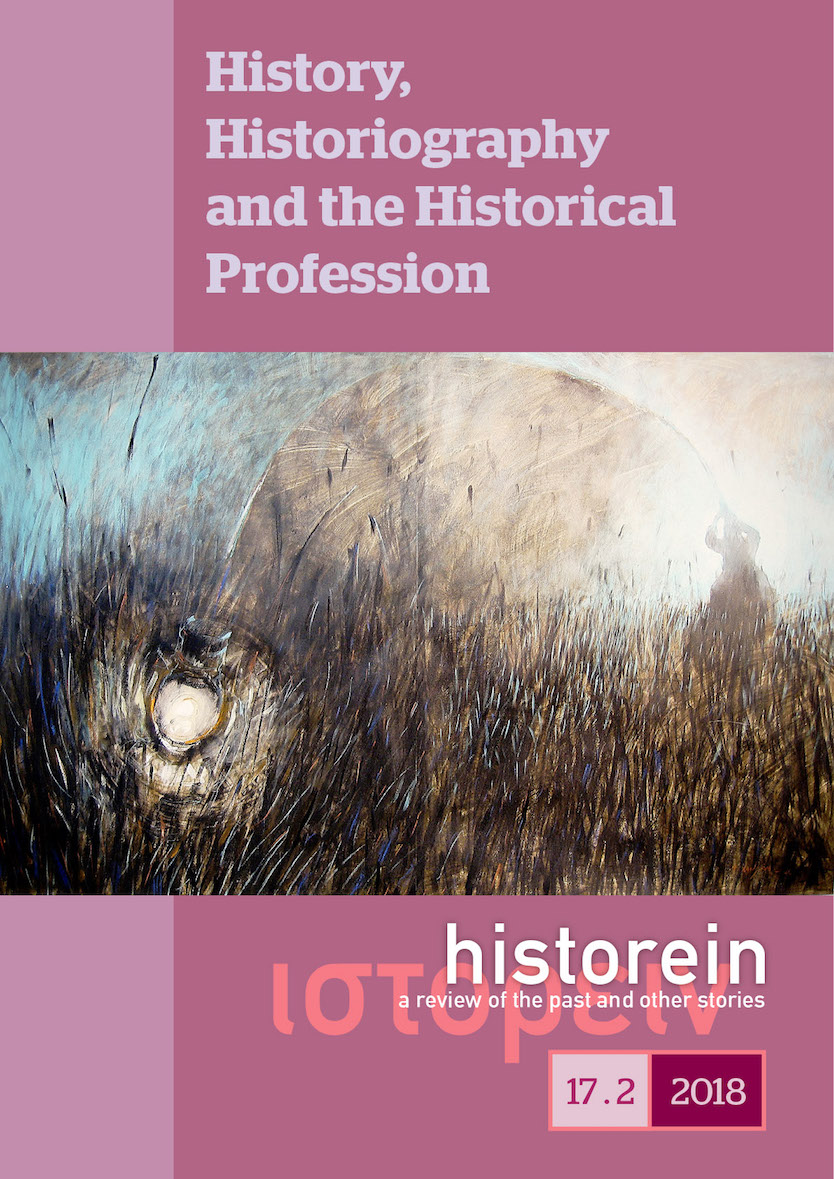 Published: Aug 21, 2018
Keywords:
Greek junta metapolitefsi dictatorship political transition
Abstract
Review of three publications:
Manos Avgeridis, Efi Gazi and Kostis Kornetis (eds.), Μεταπολίτευση: Η Ελλάδα στο μεταίχμιο δύο αιώνων [Metapolitefsi: Greece at the crossroads of two centuries]. Athens: Themelio, 2015. 448 pp.
Vangelis Karamanolakis, Ilias Nikolakopoulos and Tasos Sakellaropoulos (eds.), Η μεταπολίτευση '74-'75: Στιγμές μιας μετάβασης [The metapolitefsi, 1974–75: moments of a transition]. Athens: Themelio, 2016. 248 pp.
Leonidas Kallivretakis, Δικτατορία και μεταπολίτευση [Dictatorship and metapolitefsi]. Athens: Themelio, 2017. 280 pp.
Article Details
How to Cite

Markatos, K. (2018). Historicising the Metapolitefsi: A Review of the Three Publications of the Themelio Metapolitefsi Series. Historein, 17(2). https://doi.org/10.12681/historein.14623
This work is licensed under a Creative Commons Attribution-NonCommercial-ShareAlike 4.0 International License.
The copyright for articles in this journal is retained by the author(s), with first publication rights granted to the journal. By virtue of their appearance in this open access journal, articles are free to use (with the exception of the non-granted right to make derivative works) with proper attribution for non-commercial uses (licence
Creative Commons 4.0
). EKT/NHRF retains the worldwide right to reproduce, display, distribute, and use articles published in
Historein
in all formats and media, either separately or as part of collective works for the full term of copyright. This includes but is not limited to the right to publish articles in an issue of the Journal, copy and distribute individual reprints of the articles, authorize reproduction of articles in their entirety in another EKT/NHRF publication, and authorize reproduction and distribution of articles or abstracts thereof by means of computerized retrieval systems.
Downloads
Download data is not yet available.
References
Kalyvas, Stathis. "Η κουλτούρα της μεταπολίτευσης" [The culture of the metapolitefsi]. Kathimerini, 14 December 2008.
Kalyvas, Stathis. "Το μετέωρο βήμα της Μεταπολίτευσης" [The suspended step of the metapolitefsi]. Kathimerini, 30 August 2015.
Kornetis, Kostis. Children of the Dictatorship: Student Resistance, Cultural Politics, and the long 1960s in Greece. New York: Berghahn, 2013.
Papadogiannis, Nikos. Militant Around the Clock? Left-wing Youth Politics, Leisure, and Sexuality in Post-dictatorship Greece, 1974–1981. New York: Berghahn, 2015.
Voulgaris, Yannis. Η μεταπολιτευτική Ελλάδα 1974–2009 [Greece in the period of the metapolitefsi, 1974–2009]. Athens: Polis, 2013.