Dimitris Plantzos, Το πρόσφατο μέλλον: Η κλασική αρχαιότητα ως βιοπολιτικό εργαλείο [The recent future: Greek antiquity as a biopolitical apparatus]
---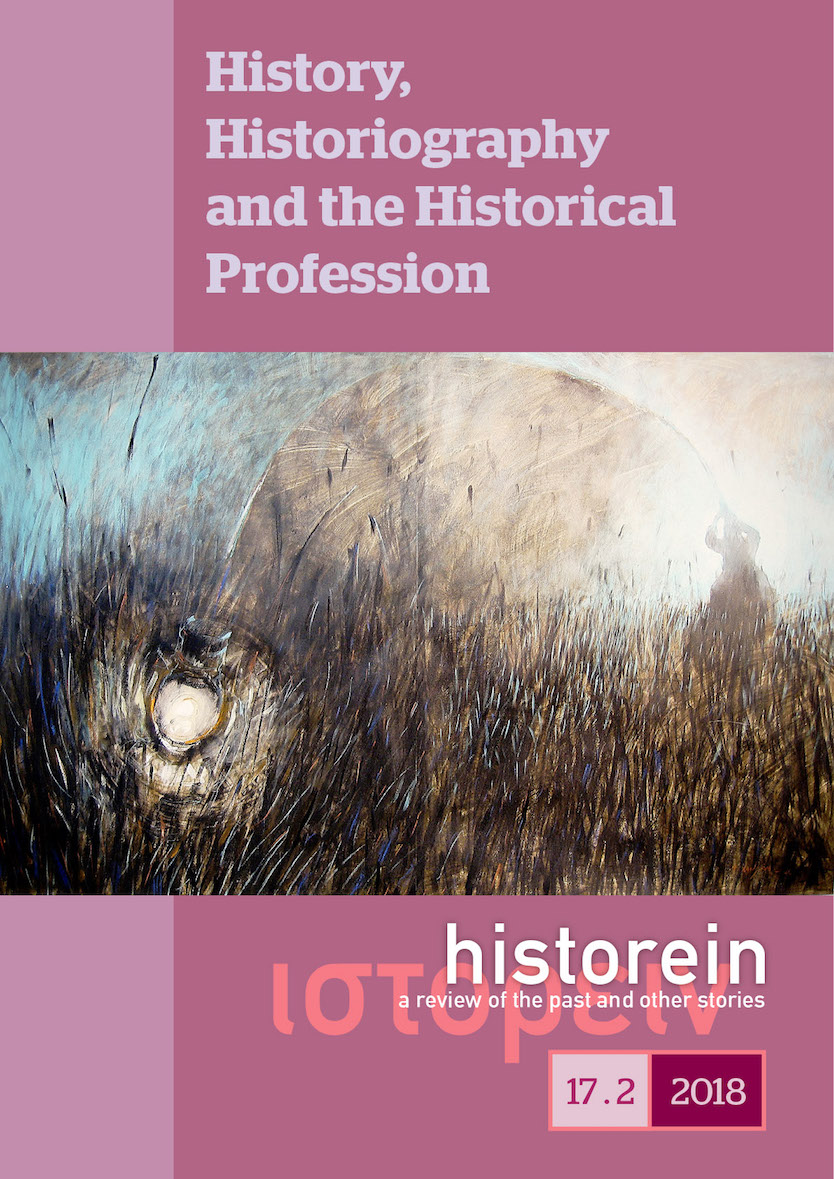 Published: Αυγ 21, 2018
Keywords:
History archaeology identity nation-building Hellenicity historical reenactments
Abstract
Review of Dimitris Plantzos, Το πρόσφατο μέλλον: Η κλασική αρχαιότητα ως βιοπολιτικό εργαλείο [The recent future: Greek antiquity as a biopolitical apparatus]. Athens: Nefeli, 2016. 272 pp.
Article Details
How to Cite

Lekakis, S. (2018). Dimitris Plantzos, Το πρόσφατο μέλλον: Η κλασική αρχαιότητα ως βιοπολιτικό εργαλείο [The recent future: Greek antiquity as a biopolitical apparatus]. Historein, 17(2). https://doi.org/10.12681/historein.14803
This work is licensed under a Creative Commons Attribution-NonCommercial-ShareAlike 4.0 International License.
The copyright for articles in this journal is retained by the author(s), with first publication rights granted to the journal. By virtue of their appearance in this open access journal, articles are free to use (with the exception of the non-granted right to make derivative works) with proper attribution for non-commercial uses (licence
Creative Commons 4.0
). EKT/NHRF retains the worldwide right to reproduce, display, distribute, and use articles published in
Historein
in all formats and media, either separately or as part of collective works for the full term of copyright. This includes but is not limited to the right to publish articles in an issue of the Journal, copy and distribute individual reprints of the articles, authorize reproduction of articles in their entirety in another EKT/NHRF publication, and authorize reproduction and distribution of articles or abstracts thereof by means of computerized retrieval systems.
Downloads
Download data is not yet available.
References
Anderson, Benedict. Imagined Communities: Reflections on the Origin and Spread of Nationalism. London: Verso, 2006.
Chapoutot, Johann. O εθνικοσοσιαλισμός και η αρχαιότητα [Le national-socialisme et l'Antiquité]. Athens: Polis, 2012.
Foucault, Michel. "The Birth of Biopolitics." In Ethics, Subjectivity, and Truth, edited by Paul Rabinow, 73–79. New York: New Press, 1997.
Herzfeld, Michael. "The Absent Presence: Discourses of Crypto-Colonialism." South Atlantic Quarterly 101/4 (2012): 899–926.
Skopetea, Elli. Το "Πρότυπο βασίλειο" και η Μεγάλη Ιδέα [The "prototype kingdom" and the Great Idea]. Athens: Polytypo, 1988.
Vavouranakis, Giorgos. Review of Αρχαιολογίες του Κλασικού: Αναθεωρώντας τον εμπειρικό κανόνα [Archaeologies of the classical: reconsidering the empirical rule], by Dimitris Plantzos. Historein 16 (2016): 178–81. Accessed 24 October 2017. doi:10.12681/historein.9199.