Political Thought and Practice in the Ottoman Empire (Halcyon Days in Crete IX Symposium, Rethymno, 9-11 January 2015)
---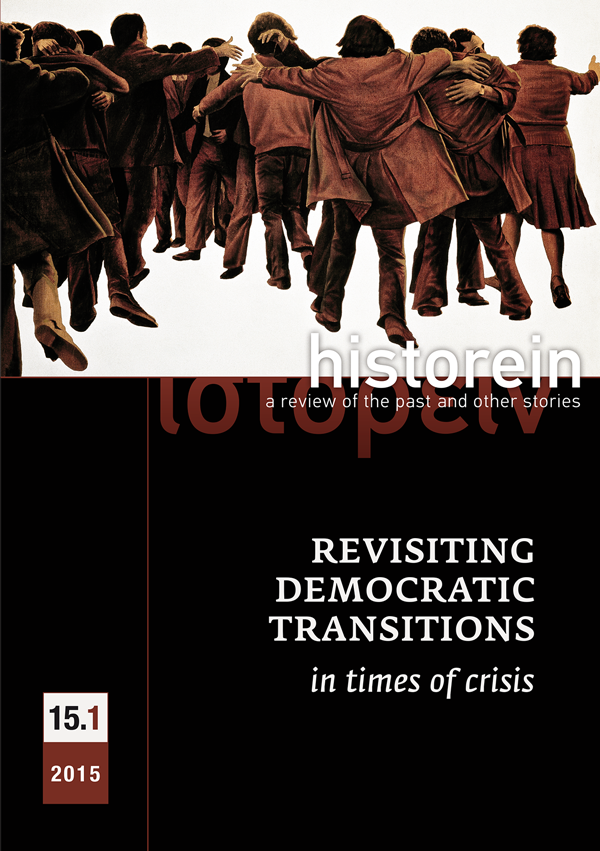 Published: Dec 3, 2015
Keywords:
political thought political practice political literature advice literature
Abstract
Conference presentation
Article Details
How to Cite

Gara, E. (2015). Political Thought and Practice in the Ottoman Empire (Halcyon Days in Crete IX Symposium, Rethymno, 9-11 January 2015). Historein, 15(1), 186–192. https://doi.org/10.12681/historein.306
This work is licensed under a Creative Commons Attribution-NonCommercial-ShareAlike 4.0 International License.
The copyright for articles in this journal is retained by the author(s), with first publication rights granted to the journal. By virtue of their appearance in this open access journal, articles are free to use (with the exception of the non-granted right to make derivative works) with proper attribution for non-commercial uses (licence
Creative Commons 4.0
). EKT/NHRF retains the worldwide right to reproduce, display, distribute, and use articles published in
Historein
in all formats and media, either separately or as part of collective works for the full term of copyright. This includes but is not limited to the right to publish articles in an issue of the Journal, copy and distribute individual reprints of the articles, authorize reproduction of articles in their entirety in another EKT/NHRF publication, and authorize reproduction and distribution of articles or abstracts thereof by means of computerized retrieval systems.
Downloads
Download data is not yet available.
References
Abou-El-Haj, Rifa'at 'Ali. Formation of the Modern State: The Ottoman Empire, Sixteenth to Eighteenth Centuries. Albany: SUNY Press, 1991.

Aksan, Virginia. "Ottoman Political Writing, 1768–1808." International Journal of Middle East Studies 25/1 (1993): 53–69.

Darling, Linda. "Political Change and Political Discourse in the Early Modern Mediterranean World." Journal of Interdisciplinary History 38/4 (2008): 505–531.

Deringil, Selim. The Well-Protected Domains: Ideology and the Legitimation of Power in the Ottoman Empire, 1876–1909. London: I. B. Tauris, 1998.

Ferguson, Heather. "Genres of Power: Constructing a Discourse of Decline in Ottoman nasihatname." Osmanlı Araştırmaları 35 (2010): 81–116.

Fleischer, Cornell. Bureaucrat and Intellectual in the Ottoman Empire: The Historian Mustafa Âli (1541–1600). Princeton: Princeton University Press, 1986.

Fodor, Pàl. "State and Society, Crisis and Reform, in 15th–17th century Ottoman Mirror for Princes." Acta Orientalia Academiae Scientiarum Hungaricae 40/2–3 (1986): 217–240.

Howard, Douglas. "Genre and Myth in the Ottoman Advice for Kings Literature." In The Early Modern Ottomans: Remapping the Empire, edited by Virginia Aksan and Daniel Goffman, 137–166. Cambridge: Cambridge University Press, 2007.

Karateke, Hakan and Maurus Reinkowski, eds. Legitimizing the Order: The Ottoman Rhetoric of State Power. Leiden: Brill, 2005.

Mardin, Şerif. The Genesis of Young Ottoman Thought: A Study in the Modernization of Turkish Political Ideas. Princeton: Princeton University Press, (1962) 2000).

Menchinger, Ethan. "A Reformist Philosophy of History: The Case of Ahmed Vâsıf Efendi." Osmanlı Araştırmaları 44 (2014): 141–168.

Piterberg, Gabriel. An Ottoman Tragedy: History and Historiography at Play. Berkeley: University of California Press, 2003.

Sariyannis, Marinos. "Ruler and State, State and Society in Ottoman Political Thought." Turkish Historical Review 4 (2013): 83–117.

Tezcan, Baki. The Second Ottoman Empire: Political and Social Transformation in the Early Modern World. Cambridge: Cambridge University Press, 2010.