Digitisation and technological challenges of the banking industry
---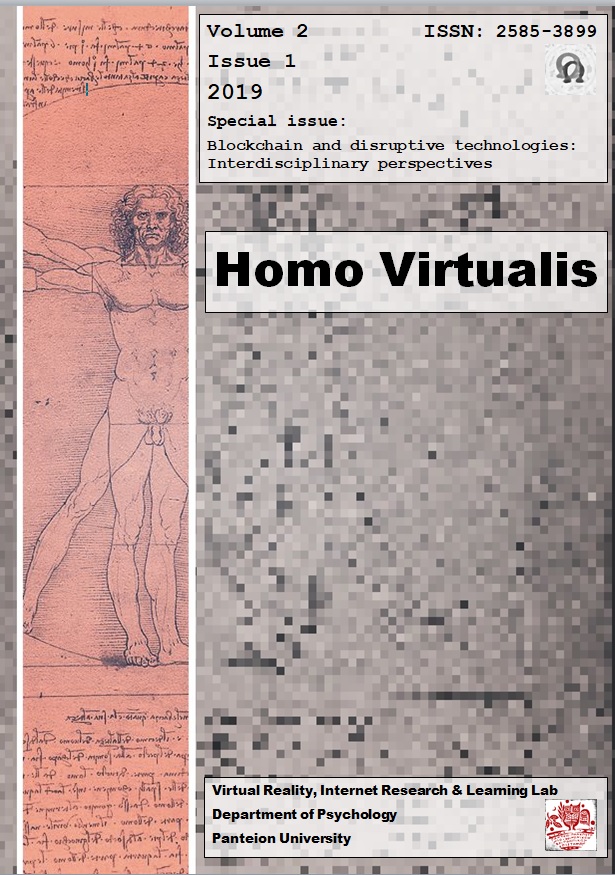 Published: Mar 27, 2019
Keywords:
banks digital transformation blockchain big data
Abstract
The strong competition and digital revolution impose to the banks their profound transformation demanding a high cost on investments. The banking system should continue, at the same time, its efforts to disengage from non-productive assets as well as to reduce the running costs. Moreover, banks should consider becoming more flexible and productive, by taking advantage of the opportunities of the new digital economy and by ameliorating accordingly the offered services. The current paper discusses and analyses the challenges for the banks, regarding the technological evolution, the digitization of banking services and the technologies of blockchain and big data.
Article Details
How to Cite

Roumeliotis, P. (2019). Digitisation and technological challenges of the banking industry. Homo Virtualis, 2(1), 2–6. https://doi.org/10.12681/homvir.20187
Authors who publish with this journal agree to the following terms:
· Authors retain copyright and grant the journal right of first publication with the work simultaneously licensed under a Creative Commons Attribution License that allows others to share the work with an acknowledgement of the work's authorship and initial publication in this journal.
· Authors are able to enter into separate, additional contractual arrangements for the non-exclusive distribution of the journal's published version of the work (e.g. post it to an institutional repository or publish it in a book), with an acknowledgement of its initial publication in this journal.
· Authors are permitted and encouraged to post their work online (preferably in institutional repositories or on their website) prior to and during the submission process, as it can lead to productive exchanges, as well as earlier and greater citation of published work.
Downloads
Download data is not yet available.
References
Blythe, J., & Megicks, P. (2010). Planificacion de marketing. Londres, Inglaterra: Prentice Hall.
Hassani, H., Huang, X., & Ghodsi, M. (2017). Big data and causality. Annals of Data Science, 5, 133-156. doi: 10.1007/s40745-017-0122-3
Kharote, M., & Kshirsagar, V. P. (2014). Data mining model for money laundering detection-in financial domain. International Journal of Computer Applications, 85 (16), 61-64. doi: 10.5120/14929-3337.
Marabelli, M., Frigerio, C., & Rajola, F. (2012). Ambidexterity in service organizations: Reference models from the banking industry. Industry and Innovation, 19 (2), 109-126. Availa-ble at SSRN:
https://ssrn.com/abstract=2644514
.
Mayer-Schonberger, V., & Cukier, K. (2013). Big data: A revolution that will transform how we live, work, and think. New York, USA: Houghton Miffli Harcourt.