Evolution in Education: Chatbots
---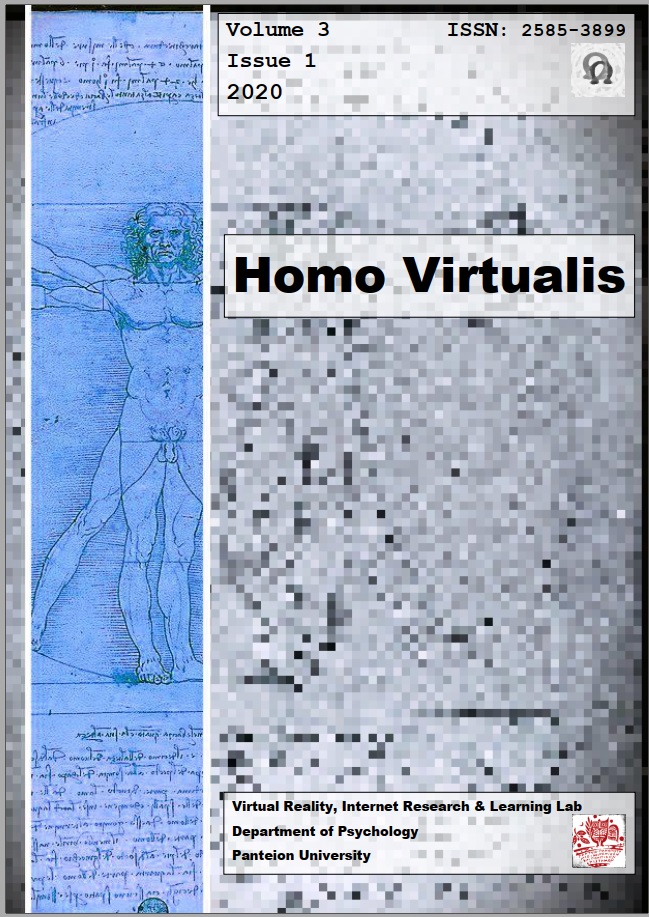 Published: Jun 16, 2020
Keywords:
Chatbots Education Artificial Intelligence
Abstract
Artificial intelligence (AI) programs that simulate interactive human conversation, known as Chatbots, are one of the ongoing trends in the global market. Companies adopt Chatbots in order to offer better services to their customers. Businesses have realized that they are able to enhance the process of customer engagement and operational efficiency through Chatbot technology. Furthermore, most of us have experienced communication of this form in many aspects of our everyday life. This paper examines how Chatbots have evolved over the years, what the advantages and disadvantages of using them are and tries to explain the rise taking place nowadays. Subsequently, it explores the potential of applying this technology in educational settings. Personalized and adaptive learning seems to be imperative today and Chatbot technology can offer invaluable services towards that direction. Finally, it investigates the possibility of using them as virtual teaching assistants relieving teachers from the burden of repetitive tasks and helping them focus more on providing quality education to their students.
Article Details
How to Cite

Dimitriadis, G. (2020). Evolution in Education: Chatbots. Homo Virtualis, 3(1), 47–54. https://doi.org/10.12681/homvir.23456
Authors who publish with this journal agree to the following terms:
· Authors retain copyright and grant the journal right of first publication with the work simultaneously licensed under a Creative Commons Attribution License that allows others to share the work with an acknowledgement of the work's authorship and initial publication in this journal.
· Authors are able to enter into separate, additional contractual arrangements for the non-exclusive distribution of the journal's published version of the work (e.g. post it to an institutional repository or publish it in a book), with an acknowledgement of its initial publication in this journal.
· Authors are permitted and encouraged to post their work online (preferably in institutional repositories or on their website) prior to and during the submission process, as it can lead to productive exchanges, as well as earlier and greater citation of published work.
Downloads
Download data is not yet available.
References
Angeli, A. D. D., Johnson, G. I., & Coventry, L. (2001). The Unfriendly User: Exploring Social Reactions to Chatterbots. In M. G. Helander, H. M. Kalid & T. M. Po (eds.). Paper presented at the Int. Conf. Affective Human Factor Design (p./pp. 467--474),: Asean Academic Press, London.
Belpaeme, T., Kennedy, J., Ramachandran, A., Scassellati, B., & Tanaka, F. (2018). Social robots for education: A review. Science Robotics, 3, eaat5954. doi: 10.1126/scirobotics.aat5954
Brailas, A., Avani, S., Gkini, C., Deilogkou, M., Koskinas, K., & Alexias, G. (2017). Experiential Learning in Action: A Collaborative Inquiry. The Qualitative Report, 22(1), 271–288. Retrieved from
https://nsuworks.nova.edu/tqr/vol22/iss1/15
Brailas, A., & Tsekeris, C. (2014). Social behaviour in the internet era: Cyborgs, adolescents and education. European Journal of Social Behaviour, 1(1), 1–4.
Colace, F., De Santo, M., Lombardi, M., Pascale, F., Pietrosanto, A., & Lemma, S. (2018). Chatbot for e-learning: A case of study. International Journal of Mechanical Engineering and Robotics Research, 7, 528-533. doi: 10.18178/ijmerr.7.5.528-533
Dale, R. (2016). The return of the Chatbots. Natural Language Engineering, 22(5), 811-817. doi: 10.1017/S1351324916000243
Di Blas, N., Lodi, L., Paolini, P., Pernici, B., Raspa, N., Rooein, D., & Renzi, F. (2019). Sustainable Chatbots supporting Learning. Paper presented at the EdMedia + Innovate Learning 2019, Amsterdam, Netherlands.
https://www.learntechlib.org/p/210148
Du Boulay, B. (2016). Artificial Intelligence as an Effective Classroom Assistant. IEEE Intelligent Systems, 31, 76-81. doi: 10.1109/MIS.2016.93
Goel, A. K., & Polepeddi, L. (2016). Jill Watson: A Virtual Teaching Assistant for Online Education. Georgia Institute of Technology.
http://hdl.handle.net/1853/59104
Gupta, S., Jagannath, K., Aggarwal, N., Sridar, R., Wilde, S., & Chen, Y. (2019). Artificially Intelligently (AI) Tutors in the Classroom: A Need Assessment Study of Designing Chatbots to Support Student Learning. Paper presented at the Twenty-ThirdPacific Asia Conference on Information Systems, China.
Hone, K., & El Said, G. (2016). Exploring the factors affecting MOOC retention: A survey study. Computers & Education, 98. doi: 10.1016/j.compedu.2016.03.016
Kaczorowska-Spychalska, D. (2019). How chatbots influence marketing. Management, 23, 251-270. doi: 10.2478/manment-2019-0015
Kiptonui, B. (2013). Chatbot technology: A possible means of unlocking student potential to learn how to learn. Educational Research, 4, 218-221.
Shawar, B., & Atwell, E. (2007). Chatbots: Are they Really Useful? LDV Forum, 22, 29-49.
Weizenbaum, J. (1966). ELIZA - a computer program for the study of natural language communication between man and machine. Communications of the ACM, 9(1), 36-45. doi: 10.1145/365153.365168