Socioeconomic changes, digital technologies and neuroeducation during the COVID-19 era
---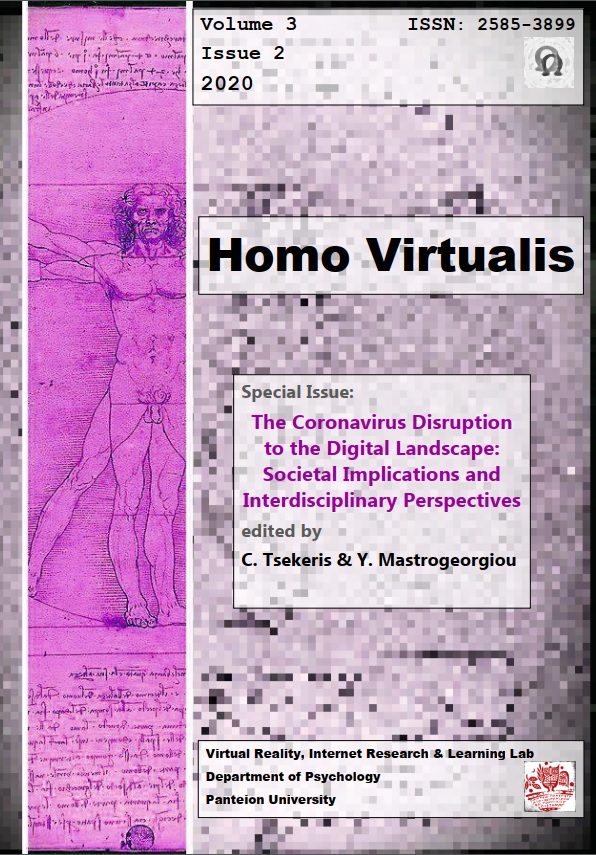 Published: Dec 2, 2020
Keywords:
Digital technologies national and subnational governments telemedicine remote learning neuroeducation mental problems lockdown
Abstract
This paper maintains that the management of the pandemic, which relied mainly on digital tools, can become effective when it covers many sectors. Digital technologies enabled us to contain the epidemic on an administrative level and a health care level. Homeschooling is also possible with the help of digital tools and it contributed significantly to the control of COVID-19 spread. Digital technologies can also relieve the mental health problems that are caused or that are aggravated by the lockdown. Psychological support can be provided online even through social media. Neuroeducation had always been an effective approach to teaching. Nowadays, neuropedagogy is even more necessary in order to address the problems that arise because of the excessive use of digital tools in the learning process.
Article Details
How to Cite

Lampou, R. (2020). Socioeconomic changes, digital technologies and neuroeducation during the COVID-19 era. Homo Virtualis, 3(2), 28–42. https://doi.org/10.12681/homvir.25447
Authors who publish with this journal agree to the following terms:
· Authors retain copyright and grant the journal right of first publication with the work simultaneously licensed under a Creative Commons Attribution License that allows others to share the work with an acknowledgement of the work's authorship and initial publication in this journal.
· Authors are able to enter into separate, additional contractual arrangements for the non-exclusive distribution of the journal's published version of the work (e.g. post it to an institutional repository or publish it in a book), with an acknowledgement of its initial publication in this journal.
· Authors are permitted and encouraged to post their work online (preferably in institutional repositories or on their website) prior to and during the submission process, as it can lead to productive exchanges, as well as earlier and greater citation of published work.
Downloads
Download data is not yet available.