From Lewis Carroll's "Alice in Wonderland" to "Alice on social media": Approaches of fantasy as a real experience in Cyberspace
---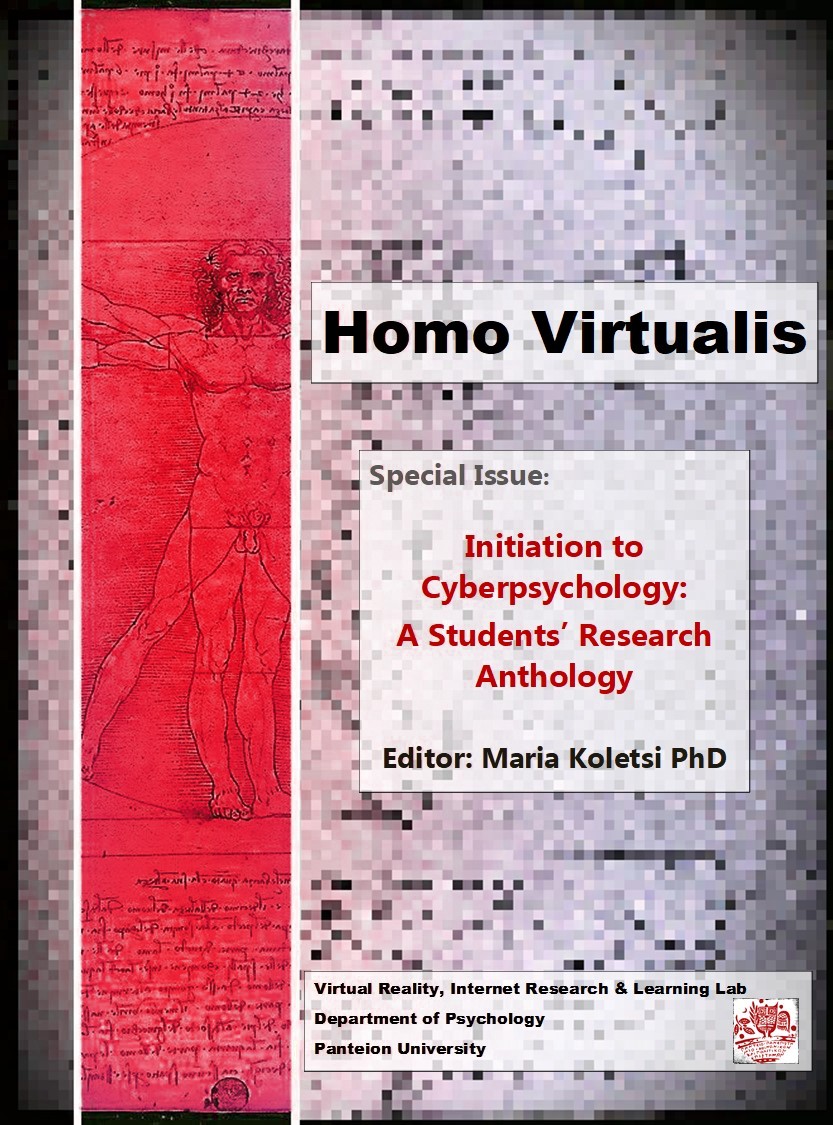 Published: May 17, 2022
Keywords:
fantasy virtual environment reality social media identity
Abstract
In the present study, we implement the theory of Hermeneutics in order to understand the element of reality in the virtual world experience. We attempted to formulate cases on the user experiences and interpret them, as described in existing research and reflected on social media. Our focus topic consists of the use of imagination and its contribution to the construction of identity, behavior and relationships in the virtual environment of social media. We also make references to the elements of irrationality and time, two variables that are likely to affect the way users perceive reality. The online methodological tools and programs Concept-mapping and Social Network Visualiser were used in order to collect and capture the mentioned and further related concepts as well. The results of the study include possible conceptual correlations in social media, for which we argue that their virtuality depends on the actions of the user, and individual conclusions about the function of the imagination, which we consider to be an integral part of conception, implementation and quality of reality.
Article Details
How to Cite

Hadjieustathiou, M., Ioannou, A., Karfitsa, A., Paliari, A., & Skantzouri, M. (2022). From Lewis Carroll's "Alice in Wonderland" to "Alice on social media": Approaches of fantasy as a real experience in Cyberspace. Homo Virtualis, 5(1), 84–110. https://doi.org/10.12681/homvir.30318
This work is licensed under a Creative Commons Attribution 4.0 International License.
Authors who publish with this journal agree to the following terms:
· Authors retain copyright and grant the journal right of first publication with the work simultaneously licensed under a Creative Commons Attribution License that allows others to share the work with an acknowledgement of the work's authorship and initial publication in this journal.
· Authors are able to enter into separate, additional contractual arrangements for the non-exclusive distribution of the journal's published version of the work (e.g. post it to an institutional repository or publish it in a book), with an acknowledgement of its initial publication in this journal.
· Authors are permitted and encouraged to post their work online (preferably in institutional repositories or on their website) prior to and during the submission process, as it can lead to productive exchanges, as well as earlier and greater citation of published work.
Downloads
Download data is not yet available.