Abdominal ultrasonographic imaging of laboratory animals - Current techniques
---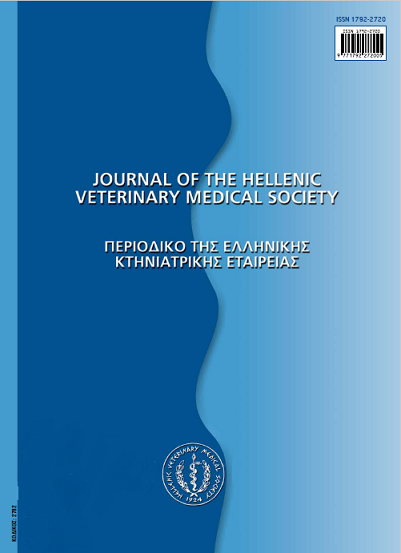 Published: Nov 20, 2017
Keywords:
ultrasound abdomen laboratory animals biomedical research
Abstract
Diagnostic ultrasonography is a non-invasive imaging technique developed and applicable both in reproductive and companion animals for the diagnosis of diseases. During the last years it has also been used in laboratory animals facilitating thus the advances of biomedical research. The ultrasonographic imaging of abdominal organs in laboratory animals may take place in soft tissue organs, such as the liver, the spleen, the kidneys, the urinary bladder, but also the uterus, especially before, during and after pregnancy, as well as during parturition. It has been proved to be extremely useful both for monitoring of organ architecture during several related experimental protocols and for diagnosing possible diseases that may occur during a laboratory animal's lifetime. During the last decade technological progress has been present in scientific life leading in several advances in ultrasonographic imaging. More specifically, ultra high frequency transducers, with a potential of using sophisticated software, are now able to provide researchers with extended field of view images even of small laboratory animals, such as mice. 3D ultrasonography relies on the acquisition of images in multiple scan planes from which a 3D image is created. 4D ultrasonography provides functional data in three dimensions, whereas microbubble contrast agents have shown clinical potential for characterizing blood flow in abdominal vessels, especially with the use of ultra high frequency transducers and 3D imaging. Doppler imaging provides information on blood flow and abdominal organs blood supply. Finally, ultrasound- guided biopsy and injection of substances are important tools in biomedical research protocols.
Article Details
How to Cite

MARINOU, K. (2017). Abdominal ultrasonographic imaging of laboratory animals - Current techniques. Journal of the Hellenic Veterinary Medical Society, 60(3), 245–249. https://doi.org/10.12681/jhvms.14933
Authors who publish with this journal agree to the following terms:
· Authors retain copyright and grant the journal right of first publication with the work simultaneously licensed under a Creative Commons Attribution Non-Commercial License that allows others to share the work with an acknowledgement of the work's authorship and initial publication in this journal.
· Authors are able to enter into separate, additional contractual arrangements for the non-exclusive distribution of the journal's published version of the work (e.g. post it to an institutional repository or publish it in a book), with an acknowledgement of its initial publication in this journal.
· Authors are permitted and encouraged to post their work online (preferably in institutional repositories or on their website) prior to and during the submission process, as it can lead to productive exchanges, as well as earlier and greater citation of published work.
Downloads
Download data is not yet available.
References
Beckmann Ν, Kneuer R, Gremiich HU, Karmouty-Quintana H, Blé FX, Müller M (2007) In vivo mouse imaging and spectroscopy in drug discovery. NMR Biomed, 20(3): 154-85
Downey DB, Fenster A, Williams JC (2000) Clinical Utility of Three-Dimensional US. Radiographics, 20:559-571
Higgins CL, Marvel SA, Morrisett JD (2005). Quantification of Calcification in Atherosclerotic Lesions. Arterioscler Thromb Vase Biol, 205:1567-1576.
Hiss K, Steioff K, Loehn M, Ruetten H (2006). Transcutaneous vascular ultrasound in hypercholesterolaemic rabbits: a new method to evaluate endothelial function. Laboratory Animals, 40:80-86
Lindahl IL (1966). Detection of Pregnancy in Sheep by means of Ultrasound. Nature, 212:642-643
Matoon JS, Penninck DG, Wisner ER, Nyland TG, Auld DM (2002). Advanced techniques and future trends. In: Small animal diagnostic ultrasound. Second edition. Edited by TG Nyland, JS Matoon. WB Saunders company Philadelphia: 425-440
Matsumoto K, Yamao K, Okubo K, Hara K, Sawaki A, Mizuno N, Tajika M, Kawai H, Ashida R (2008). Endoscopic ultrasound - guided ethanol injection in the pancreas in a porcine model: A preliminary study. J Gastrenterol Hepatol, 23(7): e 1-6
Poulsen Nautrup C (2000). Technical principles. In: An Atlas and Textbook of Diagnostic Ultrasonography of the Dog and Cat. Poulsen Nautrup C, Tobias R. Edited by Cartee RE. Manson Publishing Germany: 31-59
Poulsen Nautrup C (2000). Examination techniques. In: An Atlas and Textbook of Diagnostic Ultrasonography of the Dog and Cat. Poulsen Nautrup C, Tobias R. Edited by Cartee RE. Manson Publishing Germany: 76-82
Poulsen Nautrup C (2000). Interventional Ultrasonography. In: An Atlas and Textbook of Diagnostic Ultrasonography of the Dog and Cat. Poulsen Nautrup C, Tobias R. Edited by Cartee RE. Manson Publishing Germany: 390-395
Song L, Kim C, Maslov K, Shung KK, Wang LV (2009) High- speed dynamic 3D photoacoustic imaging of acoustic sentinel lymphnode in a murine model using an ultrasound array. Med Phys, 36(8):3724-9
Stapleton S, Goodman H, Zhou YQ, Cherin E, Henkelman RM, Burns PN, Foster S (2009). Acoustic and Kinetic Behaviour of Definity in Mice exposed to High Frequency Ultrasound.Ultrasound in Medicine and Biology, 35 (2): 296-307
Weismann CF (2000). Three - D expands horizons in daily clinical practice. Diagnostic Imaging Europe, 16 (4): 30-33