IA case of canine squamous cell carcinoma secondary to solar keratosis (actinic carcinoma in situ)
---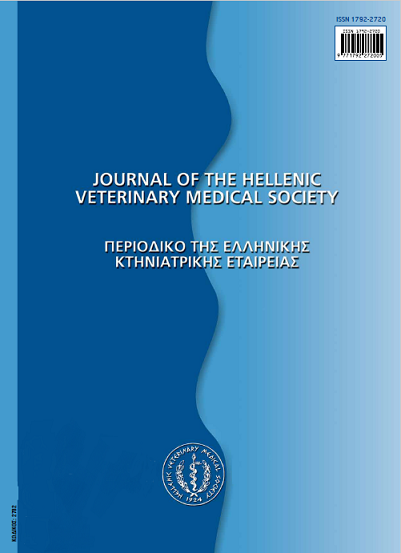 Published: Mar 22, 2018
Keywords:
actinic keratosis squamous cell carcinoma (SCC) dog
Abstract
We present the case of a squamous cell carcinoma developed in a pre-existing solar keratosis of the trunk in a whitehaired Dogue Argentino. Deep pyoderma along with exfoliative erythroderma were the initial clinical findings. Several months after the diagnosis of solar keratosis, the dog presented with multiple nodules and ulcers on the flank and abdomen and the diagnosis of malignancy was confirmed microscopically.
Article Details
How to Cite

PAPADOGIANNAKIS, E., & KONTOS, V. (2018). IA case of canine squamous cell carcinoma secondary to solar keratosis (actinic carcinoma in situ). Journal of the Hellenic Veterinary Medical Society, 59(1), 64–70. https://doi.org/10.12681/jhvms.14949
Authors who publish with this journal agree to the following terms:
· Authors retain copyright and grant the journal right of first publication with the work simultaneously licensed under a Creative Commons Attribution Non-Commercial License that allows others to share the work with an acknowledgement of the work's authorship and initial publication in this journal.
· Authors are able to enter into separate, additional contractual arrangements for the non-exclusive distribution of the journal's published version of the work (e.g. post it to an institutional repository or publish it in a book), with an acknowledgement of its initial publication in this journal.
· Authors are permitted and encouraged to post their work online (preferably in institutional repositories or on their website) prior to and during the submission process, as it can lead to productive exchanges, as well as earlier and greater citation of published work.
Downloads
Download data is not yet available.
References
Affolter V (1997) Mechanism of cancer development and metastasis. Proceedings of the 14th Annual Congress of ESVD-ECVD, September 5-7, Pisa, Italy, pp 93-98
Campbell GA, Gross TL and Adams R (1987) Solar elastosis with squamous cell carcinoma in two horses. Vet Pathol, 24: 463-464
De Vico G, Agrimi U and Maiolino Ρ (1994) Nucleolar size and mitotic index in basal cell carcinomas (BCC) and squamous cell carcinomas (SCC) of canine skin. Zentralbl Veterinarmed A, 41:76-79
Dunstan RW, Credule KM and Walder EJ (1998) The light and the skin. In: Advances in Veterinary Dermatology, vol.3, Eds Kwochka, Willemse and Tscharner, Butterworth-Heinenmann, Oxford, U.K,pp 3-35.
Garma-Avina A (1994) The cytology of squamous cell carcinomas indomestic animals. J Vet Diagn Invest, 6: 238-246
Gross TL, Ihrke PJ and Walder EJ (1992) Actinic keratosis and squamous cell carcinoma In: Veterinary Dermatopathology. A macroscopic and microscopic evaluation of canine and feline skin disease, Mosby Year-Book, St. Louis, MI, USA, pp 330-341
Hargis AM, Thomassen RW and Phemister RD (1977) Chronic dermatosis and cutaneous squamous cell carcinoma in the beagle dog. Vet Pathol, 14: 218-228
Hargis AM and Thomassen RW (1979) Animal model: solardermatosis (keratosis) and solar dermatosis with squamous cell carcinoma. Am J Pathol, 94(1): 193-196
Ihrke PJ (2004) Challenges in the management of canine deep pyoderma. Proceedings of the 5th World Congress of Veterinary Dermatology, August 25-28, Vienna, Austria, pp 8-15.
Madewell BR, Conroy JD and Hodgkins EM (1981) Sunlight-skin cancer association in the dog: a report of three cases. J Cutan Pathol, 8:434-443
Marks SL, Song MD, Stannard AA and Power HT (1992) Clinicalevaluation of etretinate for the treatment of canine solar-induced squamous cell carcinoma and preneoplastic lesions. J Am Acad Dermatol, 27:11-16
Mason Κ (1997) Actinic dermatosis in dogs and cats. Proceedings of the 14th Annual Congress of ESVD-ECVD, September 5-7, Pisa, Italy, pp 67-72
Nicula KJ, Benjamin SA, Angleton GM, Saunders WJ and Lee AC (1992) Ultraviolet radiation, solar dermatosis and cutaneous neoplasia in beagle dogs. Radiât Res, 129:11-18
Rosenkrantz WS (1993) Solar dermatitis In: Griffin, Kwochka and MacDonald Current Veterinary Dermatology, Mosby Year-Book, St. Louis, MI, USA, pp 309-315
Scott DW, Miller WH and Griffin CE (2001) Solar Dermatitis and squamous cell carcinoma In: Müller & Kirk's Small Animal Dermatology, 6th edition, W.B. Saunders Co, Philadelphia, PA, USA, pp 1073-1258
Thiers BH, Maize JC, Spicer SS and Cantor AB (1984) The effect ofaging and chronic sun exposure on human Langerhans cell populations. J Invest Dermatol, 82(3): 223-226.