Arthrocentesis in companion animal medicine
---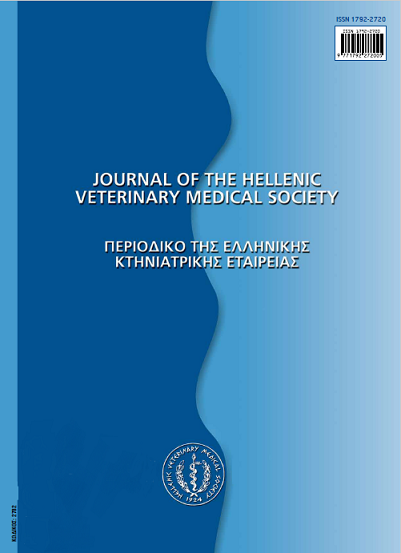 Abstract
Arthrocentesis, especially for synovial fluid collection and analysis, is an integral part of any diagnostic joint evaluation in companion animal medicine. Although it is a simple, quick and inexpensive technique, which also requires little in the way of expertise or special equipment, it is a much under-employed procedure in veterinary diagnostics and/or therapeutics. Knowledge of joint anatomy, aseptic conditions and strict adherence to principles of the technique are essential for an uncomplicated arthrocentesis.
Article Details
How to Cite

PRASSINOS (N.N. ΠΡΑΣΙΝΟΣ) N. N., & SIDERI (K.I. ΣΙΔΕΡΗ) K. I. (2017). Arthrocentesis in companion animal medicine. Journal of the Hellenic Veterinary Medical Society, 56(1), 47–52. https://doi.org/10.12681/jhvms.15070
Authors who publish with this journal agree to the following terms:
· Authors retain copyright and grant the journal right of first publication with the work simultaneously licensed under a Creative Commons Attribution Non-Commercial License that allows others to share the work with an acknowledgement of the work's authorship and initial publication in this journal.
· Authors are able to enter into separate, additional contractual arrangements for the non-exclusive distribution of the journal's published version of the work (e.g. post it to an institutional repository or publish it in a book), with an acknowledgement of its initial publication in this journal.
· Authors are permitted and encouraged to post their work online (preferably in institutional repositories or on their website) prior to and during the submission process, as it can lead to productive exchanges, as well as earlier and greater citation of published work.
Downloads
Download data is not yet available.
References
Baker R, Lumsden JH (2000) Synovial fluid. In: Color Atlas of Cytology of the Dog and Cat. Mosby, St. Louis, 209-215
Bennett DB (1990) Joints and Joint diseases. In: Whittick WG (ed) Canine Orthopedics. 2nd ed, Lea & Febiger, Philadelphia, 761-853
Denny HR, Butterworth SJ (2000) A Guide to Canine and Feline Orthopaedic Surgery. 4th ed, Blackwell Science, Oxford, 48-51
Else RW (1998) Locomotor system. In: Davidson MG, Else RW, Lumsden JH (eds) Manual of Small Animal Clinical Pathology. BSAVA, Cheltenham, 203-225
Fisher DJ (2001) Musculoskeletal system. In: Raskin RE, Meyer DJ (eds) Atlas of Canine and Feline Cytology. WB Saunders, Philadelphia, 313-324
Hardy RM, Wallace LJ (1974) Arthrocentesis and synovialmembrane biopsy. Vet Clin North Am Small Anim Pract, 4:449-462
Houlton J (1994) Ancillary aids to the diagnosis of joint disease. In: Houlton JEF, Collinson RW (eds) Manual of Small Animal Arthrology. BSAVA, Cheltenham, 22-38
Lipowitz AJ (1985) Synovial fluid. In: Newton CD, Nunamaker DM (eds) Textbook of Small Animal Orthpaedics. JB Lippincott, Philadelphia, 1015-1028
Lozier SM, Menard M (1998) Arthrocentesis and synovial fluid analysis. In: Bojrab JM, Ellison GW, Slocum Β (eds) Current Techniques in Small Animal Surgery. 4th ed, Williams & Wilkins, Baltimore, 1057-1062
Meyer DJ, Hurvey JW (1998) Veterinary Laboratory Medicine. Interpretation and Diagnosis. 2nd ed, WB Saunders, Philadelphia, 261-263
Morgan JP (1993) Techniques of Veterinary Radiography. 5th ed, Iowa State University Press, Ames, 255-256.
Parry BW (1999) Synovial fluid. In: Cowell RL, Tyler RD, Meinkoth JH (eds) Diagnostic Cytology and Hematology of the Dog and Cat. 2nd ed, Mosby, St. Louis, 104-119
Schrader SC (1995) Joint diseases of the dog and cat. In: Olmstead ML (ed) Small Animal Orthopedics. Mosby, St. Louis, 437-471
Schrader SC, Prieur WD, Bruse S (1995) Diagnosis: historical, physical, and ancillary examinations. In: Olmstead ML (ed) Small Animal Orthopedics. Mosby, St. Louis, 3-26
Taylor SM (2003) Joint disorders. In: Nelson RW, Couto CG (eds) Small Animal Internal Medicine. 3rd ed, Mosby, St. Louis, 1071-1092
Wilkins RJ (1993) Joint fluid analysis. In: Bojrab MJ (ed) Disease Mechanisms in Small Animal Surgery. 2nd ed, Lea & Febiger, Philadelphia, 705-710