Sevoflurane and its use in veterinary practice
---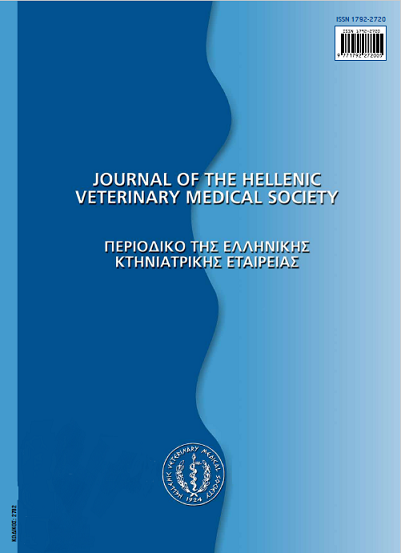 Published: Δεκ 6, 2017
Keywords:
Sevoflurane anaesthesia veterinary
Abstract
In clinical practice die anaesthetist often faces die dilemma of choosing die best fitting agem from a wide variety of injectable and volatile anaesdietic drugs. Meanwhile, die continuous progress of anaesthesiology offers new drugs and modern Techniques, making die final choice even more difficult. Sevoflurane is a new volatile anaesthetic agent, which is nowadays increasingly used in veterinary anaesthesia. It is a fluorinated derivative of methyl- isopropyl-ether. At room temperature it is a non-flammable, non-explosive, colourless liquid, with a pleasant smell. The aim of this review article is to present the basic attributes of sevoflurane and its use in veterinary practice. Its most important physical and chemical properties and their clinical implications, as well as its pharmacokinetics, pharmacodynamics, metabolism and potential toxicity are presented. Furthermore, sevoflurane is compared with other commonly used volatile anaesthetic agents and its use in anaesthesia of various companion, large and laboratory animals is discussed. Examples of sevoflurane administration, and of possible combinations with other drugs used in veterinary anaesthesia, are also given.
Article Details
How to Cite

MANTZIARAS (Γ. ΜΑΝΤΖΙΑΡΑΣ) G. I., KOSTOMTSOPOULOS (Ν. ΚΩΣΤΟΜΗΤΣΟΠΟΥΛΟΣ) N., & RAPTOPOULOS (Δ. ΡΑΠΤΟΠΟΥΛΟΣ) D. (2017). Sevoflurane and its use in veterinary practice. Journal of the Hellenic Veterinary Medical Society, 55(4), 309–318. https://doi.org/10.12681/jhvms.15124
Authors who publish with this journal agree to the following terms:
· Authors retain copyright and grant the journal right of first publication with the work simultaneously licensed under a Creative Commons Attribution Non-Commercial License that allows others to share the work with an acknowledgement of the work's authorship and initial publication in this journal.
· Authors are able to enter into separate, additional contractual arrangements for the non-exclusive distribution of the journal's published version of the work (e.g. post it to an institutional repository or publish it in a book), with an acknowledgement of its initial publication in this journal.
· Authors are permitted and encouraged to post their work online (preferably in institutional repositories or on their website) prior to and during the submission process, as it can lead to productive exchanges, as well as earlier and greater citation of published work.
Downloads
Download data is not yet available.
References
Aida Η, Mizuno Υ, Hobo S, Yoshida Κ, Fujinaga Τ (1994) Determination of the minimum alveolar concentration (MAC) and physical response to sevoflurane inhalation in horses. J Vet MedSci,56(6):1161-5
Aida Η, Steffey EP, Pascoe JR, Yarbrough TB, Takahashi Τ, Hiraga A, Hobo S, Smith BL, Steffey MA, Jones JH (2000) Use of sevoflurane for anesthetic management of horses during thoracotomy. Am J Vet Res, 61(ll):1430-7
Allaouchiche B, Duflo F, Tournadre JP, Debon R, Chassard D (2001) Influence of sepsis on sevoflurane minimum alveolar concentration in a porcine model. Br J Anaesth, 86(6): 832 – 6
Behne M, Wilke H-J, Harder S (1999) Clinical pharmakocinetics of sevoflurane. Clin Pharmakokinet, 36:13-26
Bermejo-Alvarez MA, Rodriguez-Dinten MJ, Reyes I, Brime Casanueva JI, Martinez-Merino A, Costales M (1999) Renal effects of prolonged sevoflurane anesthesia in Wistar rats. Rev Esp Anestesiol Reanim, 46(6):241-6
Bito H, Ikeda Κ (1995) Degradation products of sevoflurane during low-flow anaesthesia. Br J Anaesth, 74:56-9
Booth HS, Bixby EM (1932) Fluorine derivatives of chloroform. Industrial and Engineering Chemistry, 24: 637-641
Clifford DH (2002) Preanesthesia, anesthesia, analgesia and euthanasia. In: Laboratory Animal Medicine. Academic Press, NewYork,:527-562,
Cook TL, Beppu WJ, Hitt BA, Kosek JC, Mazze RI (1975) Renal effects and metabolism of sevoflurane in Fischer 344 rats. Anesthesiology, 43:70-71
Crawford MW, Lerman J, Saldivia V, Carmichael FJ (1992) Hemodynamic and organ blood flow responses to halothane and sevoflurane anesthesia during spontaneous ventilation. Anesth Analg, 75:1000-6
Doi M, Ikeda Κ (1993) Airway irritation produced by volatile anesthetics during brief inhalation: comparison of halothane, enflurane, isoflurane, and sevoflurane. Can J Anaesth, 40:122-6
Driessen B, Zarucco L, Steffey EP, McCullough C, Del Piero F, Melton L, Puschner B, Stover SM (2002) Serum fluoride concentrations, biochemical and histopathological changes associated with prolonged sevoflurane anaesthesia in horses. J Vet Med A, 49 (7): 337-47
Eger E, Saidman L, Brandstater Β (1965) Minimum alveolar anesthetic concentration, a standard for anesthetic potency. Anesthesiology, 26: 756-63
Elena G, Amerio Ν, Ferrerò Ρ, Bay ML, Valenti J, Colucci D, Puig NR (2003) Effects of repetitive sevoflurane anaesthesia on immune response, select biochemical parameters and organ histology in mice. Lab Animals, 37:193-203
Flecknell PA (1984) The relief of pain in laboratory animals. Lab Animals, 18:147-160
Flecknell PA, Lues JH (1990) Assessment of the analgesic action of opioid agonist-antagonists in the rabbit. J Assoc Vet Anaesth, 17:24-29
Flecknell PA (1996) Laboratory Animal Anaesthesia, Academic Press, New York
Flecknell PA, Cruz IJ, Lues JH, Whelan G (1996) Induction of anaesthesia with halothane and isoflurane in the rabbit: a comparison of the use of a face-mask or an anaesthetic chamber. Lab Animals, 30(l):67-74
Flecknell PA, Roughan JV, Hedenqvist Ρ (1999) Induction of anaesthesia with sevoflurane and isoflurane in the rabbit. Lab Animals, 33(l):41-6
Frink EJ Jr, Isner RJ, Malan TP Jr, Morgan SE, Brown EA, Brown BR Jr (1994) Sevoflurane degradation product concentrations with soda lime during prolonged anesthesia. J Clin Anesth, 6:239-42
Gronert GA, Milde JH (1981) Variations in onset of porcine malignant hyperthermia. Anesth Analg, 60(7):499-503
Grosenbaugh DA, Muir WW (1998) Cardiorespiratory effects of sevoflurane, isoflurane, and halothane anesthesia in horses. Am JVetRes,59(l):101-6
Grounds RM, Newman PJ (1997) Sevoflurane. Br J Hospital Medicine, Vol 57(l-2):43-46
Hecker KE, Baumert JH, Horn N, Reyle-Hahn M, Heussen N, Rossaint R (2003) Minimum anesthetic concentration of sevoflurane with different xenon concentrations in swine. Anesth Analg, 97(5): 1364-9
Heijke S, Smith G (1990) Quest for the ideal anaesthetic agent. Br J Anaesth, 64:3-6
Hikasa Y, Takase K, Kondou K, Ogasawara S (1994) Sevoflurane anesthesia following administration of atropine-guaifenesinthiopental in spontaneous-breathing adult cattle. J Vet Med Sci, 56(3):613-6
Hikasa Y, Kawanabe H, Takase K, Ogasawara S (1996) Comparisons of sevoflurane, isoflurane, and halothane anesthesia in spontaneously breathing cats. Vet Surg, 25 (3):234-43
Hikasa Y, Yoshikai T, Takase K, Ogasawara S (1997a) Comparisons of prolonged sevoflurane, isoflurane, and halothane anaesthesia combined with nitrous oxide in spontaneously breathing cats. Zentralbl Veterinarmed A, 44(7):427-42
Hikasa Y, Ohe Ν, Takase Κ, Ogasawara S (1997b) Cardiopulmonary effects of sevoflurane in cats: comparison with isoflurane, halothane, and enflurane. Res Vet Sci, 63(3):205-10
Hikasa Y, Okuyama K, Kakuta T, Takase K, Ogasawara S (1998a) Anesthetic potency and cardiopulmonary effects of sevoflurane in goats: comparison with isoflurane and halothane. Can J Vet Res, 62(4):299-306
Hikasa Y, Yamashita M, Takase K, Ogasawara S (1998b) Prolonged sevoflurane, isoflurane and halothane anaesthesia in oxygen using rebreathing or non- rebreathing system in cats. Zentralbl Veterinarmed A, 45(9):559-75
Hirano M, Fujigaki T, Shibata O, Sumikawa Κ (1995) A comparison of coronary hemodynamics during isoflurane and sevoflurane anesthesia in dogs. Anesth Analg, 80(4):651-6.
Hitt BA, Mazze RI, Cook TL, Beppu WJ, Kosek JC (1977) Thermoregulatory defects in rats during anesthesia. Anesth Analg, 56: 9-15
Holaday DA, Smith FR (1981) Clinical characteristics and biotransformation of sevoflurane in healthy human volunteers. Anesthesiology, 54: 100-106
Johnson RA, Striler E, Sawyer DC, Brunson DB (1998) Comparison of isoflurane with sevoflurane for anesthesia induction and recovery in adult dogs. Am J Vet Res, 59(4):478-81
Jones RM (1990) Desflurane and sevoflurane: inhalation anaesthetics for this decade? Br J Anaesth, 65:527-536
Kandel L, Laster MJ, Eger EI 2nd, Kerschmann RL, Martin J (1995) Nephrotoxicity in rats undergoing a one-hour exposure to compound A. Anesth Analg, 81(3):559-63.
Kashimoto S, Furuya A, Nonaka A, Oguchi T, Koshimizu M, Kumazawa Τ (1997) The minimum alveolar concentration of sevoflurane in rats. Eur J Anaesthesiol, 14(4):359-61
Kazama T, Ikeda Κ (1988a) Comparison of MAC and the rate of rise of alveolar concentration of sevoflurane with halothane and isoflurane in the dog. Anesthesiology, 68(3):435-7
Kazama T, Ikeda Κ (1988b) The comparative cardiovascular effects of sevoflurane with halothane and isoflurane. J Anesthesiol, 2:63-8
Keller KA, Callan C, Prokocimer P, Delgado-Herrera L, Friedman MB, Hoffman GM, Wooding WL, Cusick PK, Krasula RW (1995) Inhalation toxicity study of a haloalkene dégradant of sevoflurane, compound A (PIFE), in Sprague-Dawley rats. Anesthesiology, 83 (6): 1220-32.
Lerche Ρ, Muir WW, Grubb TL (2002) Mask induction of anaesthesia with isoflurane or sevoflurane in premedicated cats. J Small Anim Pract, 43(l):12-5
Lerman J, Oyston JP, Gallagher TM, Miyasaka K, Volgyesi GA, Burrows FA (1990) The minimum alveolar concentration (MAC) and hemodynamic effects of halothane, isoflurane, and sevoflurane in newborn swine. Anesthesiology, 73(4):717-21
Lind RC, Ghantous HN, Gandolfi AJ, Brown BR (1989) Sevoflurane biotransformation and hepatotoxicity in the guinea pig. Anesthesiology, 71:A310
Malan TP, Kadota Y, Mata Η, Frink EJ, Brown BR (1993) Renal function after sevoflurane or enflurane anesthesia in the Fischer 344 rat. Anesth Analg, 77(4):817-21
Martin MF, Carrasco MS, Gargallo JU, Lima JR, Ezquerra LJ (2001) Endocrine, haematological and metabolic responses to sevoflurane anaesthesia in lambs. Vet Anaesth and Analg, 28:132-139
Matthews NS, Hartsfield SM, Mercer D, Beleau MH, MacKenthun A (1998) Recovery from sevoflurane anesthesia in horses: comparison to isoflurane and effect of postmedication with xylazine. Vet Surg, 27(5): 480-5
Moores C, Davies AS, Dallak M (1998) Sevoflurane has less effect than halothane on pulmonary afferent activity in the rabbit. Br J Anaesth, 80(2):257-9
Morio M, Fujii K, Satoh Ν et al (1992) Reaction of sevoflurane and its degradation products with soda lime. Toxicity of the byproducts. Anesthesiology, 77:1155-64
Mutoh T, Nishimura R, Kim H, Matsunaga S, Kadosawa T, Mochizuki M, Sasaki Ν (1995) Rapid inhalation induction of anesthesia by halothane, enflurane, isoflurane and sevoflurane and their cardiopulmonary effects in dogs. J Vet Med Sci, 57(6):1007-13
Mutoh T, Nishimura R, Kim HY, Matsunaga S, Sasaki Ν (1997) Cardiopulmonary effects of sevoflurane, compared with halothane, enflurane, and isoflurane, in dogs. Am J Vet Res, 58(8):885-90.
Mutoh Τ, Kanamaru A, Tsubone Η, Nishimura R, Sasaki Ν (2001a) Respiratory reflexes in response to upper-airway administration of sevoflurane and isoflurane in anesthetized, spontaneously breathing dogs. Vet Surg, 30(l):87-96
Mutoh T, Kojima K, Takao K, Nishimura R, Sasaki Ν (2001b) Comparison of sevoflurane with isoflurane for rapid mask induction in midazolam and butorphanol-sedated dogs. J Vet MedA,48(4):223-30
Mutoh T, Nishimura R, Sasaki Ν (2002) Effects of medetomidinemidazolam, midazolam-butorphanol, or acepromazinebutorphanol as premedicants for mask induction of anesthesia with sevoflurane in dogs. Am J Vet Res, 63(7): 1022-8
Ohta M, Oku K, Yamanaka T, Mizuno Y (2000) Anesthetic management with sevoflurane and oxygen for orthopaedic surgeries in racehorses. J Vet Med Sci, 62(9): 1017-20
Otsuka H, Komura Y, Mayumi T, Yamamura T, Kemmotsu O, Mukaida Κ (1991) Malignant hyperthermia during sevoflurane anesthesia in a child with central core disease. Anesthesiology, 75:699-701 Pascoe (2000) Proc. of WSAVA-FECAVA World Congress
Polis I, Gasthus F, Laevens H, Van Ham L, De Rick A (2001a) The influence of ventilation mode (spontaneous ventilation, IPPV and PEEP) on cardiopulmonary parameters in sevoflurane anaesthetized dogs. J Vet Med A, 48:619-630
Polis I, Gasthuys F, Van Ham L, Laevens H (2001b) Recovery times and evaluation of clinical hemodynamic parameters of sevoflurane, isoflurane and halothane anaesthesia in mongrel dogs. J Vet Med A, 48(7):401-11
Reichle FM, Conzen PF (2003) Halogenated inhalational anaesthetics. Best Pract Res Clin Anaesthesiol, 17(l):29-46
Riebold TW and Thurmon JC (1986) Anesthesia in swine. In: Swine in Biomedical Research. Plenum, New York,:243-254.
Robbins BH (1946) Preliminary studies of the anaesthetic activity of fluorinated hydrocarbons. J Pharmacol Exp Therap, 86:197-204
Serieller MS, Tateichi A, Drummond JC, Zornow MH (1988) The effects of sevoflurane on cerebral blood flow, cerebral metabolic rate for oxygen, intracranial pressure, and the
electroencephalogram are similar to those of isoflurane in the rabbit. Anesthesiology, 68:548-55
Serieller MS, Nakakimura K, Fleischer JE, Zornow MH (1990) Cerebral effects of sevoflurane in the dog: comparison with isoflurane and enflurane. Br J Anaesth, 65:388-92
Smith I, Nathanson M, White PF (1996) Sevoflurane - a long awaited volatile anesthetic. Br J Anaesth, 76:435-445
Stabernack CR, Eger EI 2nd, Warnken UH, Forster Η, Hanks DK, Ferrell LD (2003) Sevoflurane degradation by carbon dioxide absorbents may produce more than one nephrotoxic compound in rats. Can J Anaesth, 50(3):249-52
Steffey EP (2002) Recent advances in inhalation anesthesia. Vet Clin North Am Equine Pract, 18(1): 159-68
Steffey MA, Brosnan R, Steffey EP (2000) Clinical signs of sevoflurane anaesthesia in spontaneously breathing rats. Vet Anaesth Analg, 27; 1:54
Steffey MA, Brosnan RJ, Steffey EP (2003) Assessment of halothane and sevoflurane anesthesia in spontaneously breathing rats. Am JVetRes,64(4):470-4
Suckling CW (1957) Some chemical and physical features in the development of fluothane. Br J Anaesth, 29:466-470
Tacke S, Xiong H, Schimke E (1998) Sevoflurane (SEVOrane) as an inhalation anesthetic in dogs in comparison with halothane and isoflurane. Tierarztl Prax Ausg Κ Klientiere Heimtiere, 26(6):369-77
Tai Κ, Suzuki Η, Itagaki Τ, Katsumata Ν, Nakamura T, Yamada M, Shiraishi H (1987) Influence of sevoflurane on neuromuscular blocking effects of vecuronium and pancuronium. Masui, 36(2):227-31
Takahasi H, Murata Κ, Ikeda Κ (1993) Sevoflurane does not increase intracranial pressure in hyperventilated dogs. Br J Anaesth, 71:551-5
Taylor PM (1991) Anaesthesia in sheep and goats. In Practice, 13:31- 36
Thurmon JC, Benson GJ, Tranquilli WJ, Olson WA (1986) Cardiovascular effects of intravenous infusion of guaifenesin, ketamine and xylazine in Holstein calves. Vet Surg, 15:463
Thurmon JC, Tranquilli WJ, Benson GJ (1996) Lumb and Jone's Veterinary Anesthesia Third Edition, Lippincott Williams and Wilkins
Tzannes S, Govendir M, Zaki S, Miyake Y, Packiarajah P, Malik R (2000) The use of sevoflurane in a 2:1 mixture of nitrous oxide and oxygen for rapid mask induction of anaesthesia in the cat. J Feline Med Surg, 2(2):83-90
Wallin RF, Napoli MD (1971) Sevoflurane (fluoro-methyl-1,1,1,3,3,3-hexafluro-2-propyl ether): a new inhalational anesthetic agent. Federated Proceedings, 30:442
Wallin RF, Napoli MD, Regan BM (1972) Laboratory investigation of a new series of inhalational anesthetic agents: the halomethyl polyfluorisopropyl ethers. In: Cellular Biology and Toxicity of Anesthetics. Williams and Wilkins, Baltimore,: 285-295.
Wallin RF, Regan BM, Napoli MD, Stern IJ (1975) Sevoflurane: a new inhalational anesthetic agent. Anesth Analg, 54:758-765
Wissing H, Kuhn I, Rietbrock S, Fuhr U (2000) Pharmacokinetics of inhaled anaesthetics in a clinical setting: comparison of desflurane, isoflurane and sevoflurane. Br J Anaesth, 84(4):443-9
Wixson SK, White WJ, Hughes HC (1987) A comparison of pentobarbital, fentanyl-droperidol, ketamine-xylazine and ketamine-diazepam anesthesia in adult male rats. Lab Anim Sci, 37(6):726-730
Wouters P, Doursout M-F, Kashimoto S, Lawrence C, Merin RG, Chelly JE (1989) Sevoflurane preserved hepatic arterial blood flow in dogs. Anesthesiology, 7LA306
Yamashita K, Satoh M, Umikawa A, Tsuda A, Yajima Y, Tsubakishita S, Seno T, Katoh S, Izumisawa Y, Kotani Τ (2000) Combination of continuous intravenous infusion using a mixture of guaifenesin-ketamine-medetomidine and sevoflurane anesthesia in horses. J Vet Med Sci, 62(3):229-35
Yamashita K, Muir WW 3rd, Tsubakishita S, Abrahamsen E, Lerch P, Izumisawa Y, Kotani Τ (2002) Infusion of guaifenesin, ketamine, and medetomidine in combination with inhalation of sevoflurane versus inhalation of sevoflurane alone for anesthesia of horses. JAVMA, 221 (8): 1150-5.
Yasuda N, Targ AG, Eger EI 2nd, Johnson BH, Weiskopf RB (1990) Pharmacokinetics of desflurane, sevoflurane, isoflurane, and halothane in pigs. Anesth Analg, 71(4):340-8