Canine heartworm disease (dirofilariosis): pathogenesis and diagnosis of a multidimensional disease
---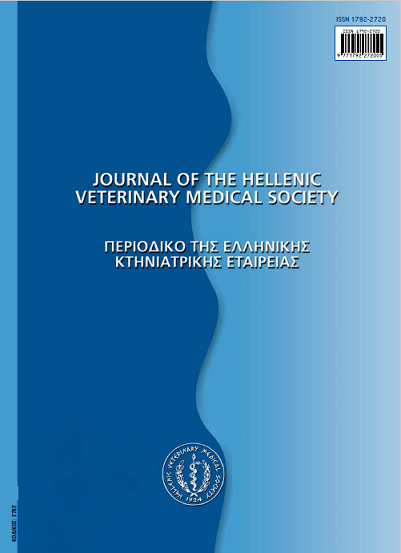 Published: dic 15, 2017
Keywords:
diagnosis dog epidemiology heartworm disease Wolbachia pipientis
Abstract
Canine heartworm disease (dirofilariosis) caused by Dirofilaria immitis is a parasitic disease frequently occurring in the para-Mediterranean countries. Global climate changes, animal transportation and inappropriate implementation of preventive measures in companion animals are some factors that have contributed to expansion of the disease in the last decades. Transmission of the parasite is carried out by mosquitoes, whilst the final hosts are members of the Canidae family or occasionally other animal species and humans. Apart from the endothelial lesions caused by the adult filariae, the endosymbiotic bacterium Wolbachia pipientis appears to play a role in the pathogenesis of the disease, through endotoxin production and production of specific IgG responses by the host against the bacterium's surface proteins. Based on clinical and laboratory findings, dogs with the disease can be categorized into one of four clinical stages, ranging from asymptomatic to caval syndrome. Diagnosis of the disease can be reached after evaluation of clinical findings, in conjunction with paraclinical examinations, e.g., microfilarial and antigen testing, diagnostic imaging, haematological and blood biochemical examination.
Article Details
How to Cite

SINANIS (Θ.Ν. ΣΙNΑΝΗΣ) T. N., KOUTINAS (Χ.Κ. ΚΟΥΤΙΝΑΣ) C. K., DIAKOU (Α. ΔΙΑΚΟΥ) A., & PAPADOPOULOU (Π. ΠΑΠΑΔΟΠΟΥΛΟΥ) P. (2017). Canine heartworm disease (dirofilariosis): pathogenesis and diagnosis of a multidimensional disease. Journal of the Hellenic Veterinary Medical Society, 63(4), 291–300. https://doi.org/10.12681/jhvms.15443
Authors who publish with this journal agree to the following terms:
· Authors retain copyright and grant the journal right of first publication with the work simultaneously licensed under a Creative Commons Attribution Non-Commercial License that allows others to share the work with an acknowledgement of the work's authorship and initial publication in this journal.
· Authors are able to enter into separate, additional contractual arrangements for the non-exclusive distribution of the journal's published version of the work (e.g. post it to an institutional repository or publish it in a book), with an acknowledgement of its initial publication in this journal.
· Authors are permitted and encouraged to post their work online (preferably in institutional repositories or on their website) prior to and during the submission process, as it can lead to productive exchanges, as well as earlier and greater citation of published work.
Downloads
Download data is not yet available.