The occurrence of schistosomus reflexus in bovine dystocia.
---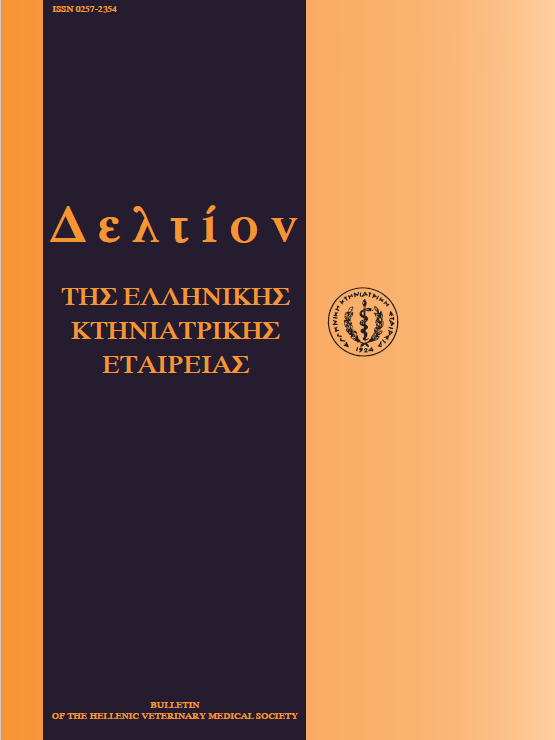 Abstract
The literature concerning incidence and etiology of schistosomus
reflexus in domestic animals is reviewed and an interesting
case of dystocia in a twin pregnancy (with a normal and a
schistosomus reflexus fetus) is described. Examination of the
reproductive records in 210 dairy cow units of Pentalofos
region with 10000 cows approximately during a 17-year
period (1982-1999) showed that in 2050 cases of bovine
dystocia attended, only 1 (0.05%) was caused by schistosomus
reflexus and treated by Caesarean section.
Article Details
How to Cite

KIPOURIDIS (Κ. ΚΗΠΟΥΡΙΔΗΣ) K., & KARAGIANNIDIS (Α. ΚΑΡΑΓΙΑΝΝΙΔΗΣ) A. (2018). The occurrence of schistosomus reflexus in bovine dystocia. Journal of the Hellenic Veterinary Medical Society, 52(4), 264–266. https://doi.org/10.12681/jhvms.15455
Authors who publish with this journal agree to the following terms:
· Authors retain copyright and grant the journal right of first publication with the work simultaneously licensed under a Creative Commons Attribution Non-Commercial License that allows others to share the work with an acknowledgement of the work's authorship and initial publication in this journal.
· Authors are able to enter into separate, additional contractual arrangements for the non-exclusive distribution of the journal's published version of the work (e.g. post it to an institutional repository or publish it in a book), with an acknowledgement of its initial publication in this journal.
· Authors are permitted and encouraged to post their work online (preferably in institutional repositories or on their website) prior to and during the submission process, as it can lead to productive exchanges, as well as earlier and greater citation of published work.
Downloads
Download data is not yet available.
References
Roberts SJ. Veterinary Obstetrics and Genital Diseases (Theriogenology). 3rd edn. Woodstock, Vermont, 1986:78.
Gray WV. A complete schistosomus reflexus. Vet Ree 1953, 65:203-204.
Jubb KF, Kennedy PC. Pathology of Domestic Animals. Academic Press, New York 1963:6.
Hogger DG. Two cases of schistosoma reflexum at successive parturitions in the same cow. Vet Ree 1965,77:502-503.
Higham DA Schistosomus reflexus. Vet Ree 1987,121:455.
Leopold HW, Hiraga T, Dennis SM. Congenital defects of the bovine central nervous and musculoskeletal systems. In: SM Dennis (ed) The Veterinary Clinics of North America (Food Animal Practice). Saunders Co, Tokyo 1993:77-93.
Knight RP. The occurrence of Schistosomus reflexus in bovine dystocia. Aust Vet J 1996,73:105-107.
Blackmore DK. Some observations on dystokia in the ewe. Vet Ree 1960,72:631-636.
Smith ID. Schistosomus reflexus in sheep. Vet Ree 1969, 85:138-139.
Dennis SM. Schistosomus reflexus in conjoined twin. Vet Ree 1972,90:509-510.
Dennis SM. A survey of congenital defects of sheep. Vet Ree 1974,95:488-490.
Bedford PGC. Schistosoma Reflexus in a Goat. A case report. Vet Ree 1967,80:326.
Βλάχος Κ, Ζαφράκας Α Αποβολή σχιστόσωμου εμβρύου υπό καθαρόαιμου φορβάδος. Ετησ. Δελτ. Φυσιοπ. Αναπαρ. και Τεχνητ. Σπερματέγχυσης, 1967 (4):63-68.
Irwin MR, Pulley LT. Schistosomus reflexus in an equine fetus. Vet Med Small Anim Clin 1975,70:44-45.
Dubbin ES, Welker FH, Veit HP, Modransky PD, Talley MR. Dystocia attributable to a fetal monster resembling schistosomus reflexus in a donkey. J Amer Vet Med Assoc 1990,197:605-607.
Sloos V Johnston DE. Causes and treatment of dystocia in beef cattle. 2. Causes, methods of correction and maternal death rates. Aust Vet J 1967,43:13-21.
Morton DH, Cox JE. Bovine dystocia. A survey of 200 cases met with in general practice. Vet Ree 1968,82:530-537.
Parkinson JD. Bovine caesarean section in general practice. Vet Ree 1974,95:508-518.
Zumpe A. Joests Handbuch der Spez. Path. Anatomie der Haustiere. Rich. Schaetz, Berlin, 1929.
Williams WL. Three cases of schistocormus (schistosomus) reflexus. Corn Vet 1936,26:297-299.
Williams WL. Veterinary Ostetrics, 4th edn. Ithaca, New York, 1947.