Prevalence of leishmaniosis in dogs in Istanbul,Turkey determined by using PCR
---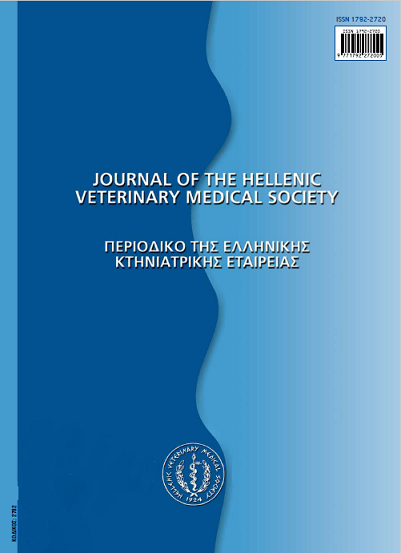 Published: Jan 31, 2018
Keywords:
Dogs Leishmania PCR Prevalence Istanbul Turkey
Abstract
Leishmania infantum is widespread in Mediterranean countries including Turkey and can cause a serious disease in both humans and dogs. Dogs are considered to be its main reservoirs. The current epidemiological study was carried out in Istanbul for detection of leishmaniosis among dogs. A total of 246 dogs were included in the study. Twenty one (8.54%) blood samples were found to be positive based on PCR diagnosis, using primers specific for the kinetoplast DNA of Leishmania. Infection rate was 6.51% in 169 dogs living in shelters and 12.99% in 77 client-owned dogs. The rate was significantly (p<0.001) higher in the dogs (37.93%) presenting one or more clinical symptoms which may be attributable to leishmaniosis, than in the asymptomatic dogs (4.61%). Eleven (52.4%) of 21 PCR positive dogs presented clinical symptoms whereas the rest of the dogs (47.62%) were asymptomatic. The major clinical sign in PCR positive animals was dermatological problems. Amongst PCR positive dogs, skin lesions were present in 11, weight loss in 2, lymphadenopathy in 2, epistaxis in 2 and lethargy in 2 dogs.
Article Details
How to Cite

BILGIN, Z., TURAN, N., YILMAZ, H., FERROGLIO, E., & TUZER, E. (2018). Prevalence of leishmaniosis in dogs in Istanbul,Turkey determined by using PCR. Journal of the Hellenic Veterinary Medical Society, 66(2), 106–112. https://doi.org/10.12681/jhvms.15616
Section
Research Articles
This work is licensed under a Creative Commons Attribution-NonCommercial 4.0 International License.
Authors who publish with this journal agree to the following terms:
· Authors retain copyright and grant the journal right of first publication with the work simultaneously licensed under a Creative Commons Attribution Non-Commercial License that allows others to share the work with an acknowledgement of the work's authorship and initial publication in this journal.
· Authors are able to enter into separate, additional contractual arrangements for the non-exclusive distribution of the journal's published version of the work (e.g. post it to an institutional repository or publish it in a book), with an acknowledgement of its initial publication in this journal.
· Authors are permitted and encouraged to post their work online (preferably in institutional repositories or on their website) prior to and during the submission process, as it can lead to productive exchanges, as well as earlier and greater citation of published work.
Downloads
Download data is not yet available.
References
Acedo-Sánchez C, Martin-Sánchez J, Vélez-Bernal ID, Sanchis-Marin MC, Louassini M, Maldonado JA, Morillas Márquez F (1996) Leishmaniasis eco-epidemiology in the Alpujarra region (Granada province, southern Spain). Int J Parasitol 26:303–310.
Aktaş MS, Özkanlar YE, Taylan Özkan A, Babür C, Balkaya İ (2010) Erzurum İli Barınak Köpeklerinde Listeriosis ve Leishmaniasisin Seroprevalansının Araştırılması. Türkiye Parazitol Derg 34 (2):76 -80.
Alonso F, Giménez Font P, Manchón M, Ruiz de Ybáñez R, Segovia M, Berriatua E (2010) Geographical variation and factors associated to seroprevalence of canine leishmaniosis in an endemic Mediterranean area. Zoonoses Public Health 57(5):318-28.
Amusategui I, Sainz A, Aguirre E, Tesouro MA (2004) Seroprevalence of Leishmania infantum in northwestern Spain, an area traditionally considered free of leishmaniosis. Ann N Y Acad Sci 1026:154-157.
Aoun O, Mary C, Roqueplo C, Marié JL, Terrier O, Levieuge A, Davoust B (2009) Canine leishmaniasis in south-east of France: screening of Leishmania infantum antibodies (western blotting, ELISA) and parasitaemia levels by PCR quantification. Vet Parasitol 166(1-2):27-31.
Aslantaş O, Ozdemir V, Kiliç S, Babür C (2005) Seroepidemiology of leptospirosis, toxoplasmosis, and leishmaniosis among dogs in Ankara, Turkey.Vet Parasitol 129(3-4):187-191.
Athanasiou LV1, Kontos VI, Saridomichelakis MN, Rallis TS, Diakou A (2012) A cross-sectional sero-epidemiological study of canine leishmaniasis in Greek mainland. Acta Trop 122(3):291-295.
Aydenizöz M, Yağcı BB, Taylan Özkan A, Yasa Duru S, Gazyağcı AN (2010) Kırıkkale'deki Köpeklerde Mikrokültür Yöntemi ve IFAT ile Visseral Leishmaniosisin Prevalansının Araştırılması. Türkiye Parazitol Derg 34(1):1-5.
Balcioğlu IC, Ertabaklar H, Paşa S, Ozbel Y, Toz SO (2009) Investigating the seroprevalance of leishmaniasis in four dog shelters in Antalya and its districts. Turkiye Parazitol Derg 33(1):4-7.
Baldelli R, Piva S, Salvatore D, Parigi M, Melloni O, Tamba M, Bellini R, Poglayen G (2011) Canine leishmaniasis surveillance in a northern Italy kennel. Vet Parasitol 179(1-3):57-61.
Berrahal F, Mary C, Roze M, Berenger A, Escoffier K, Lamouroux D, Dunan S (1996) Canine leishmaniasis: identification of asymptomatic carriers by polymerase chain reaction and immunoblotting. Am. J Trop Med Hyg 55:273–277.
Cabral M, J E O'Grady, S Gomes, J C Sousa, H Thompson, Alexander J (1998) The immunology of canine leishmaniosis: strong evidence for a developing disease spectrum from asymptomatic dogs. Vet Parasitol 76:173-180.
Ciaramella P, Oliva G, Luna RD, Gradoni L, Ambrosio R, Cortese L, Scalone A, Persechino A (1997) A retrospective clinical study of canine leishmaniosis in 150 dogs naturally infected by Leishmania infantum. Vet Rec 141:539-543.
Coskun SZ, Batmaz H, Aydın L, Yılmaz FV (1997) Seroprevalance of Leishmania infantum infection of dogs in the Western Part of Turkey. Türkiye Parazitol Derg 21(3):287-291.
Dogan N, Özbel Y, Özensoy Töz S, Dinleyici EC, Bor Ö (2005) Sero-epidemological survey on canine visceral leishmaniosis and the distribution of sandflay vectors in Northwestern Turkey: Prevention strategies for childhood visceral leishmaniosis. Journal of Tropical Pediatrics 52(3):212-217.
Ferroglio E, Romano A, Trisciuoglio A, Poggi M, Ghiggi E, Sacchi P, Biglino A (2006) Characterization of Leishmania infantum strains in blood samples from infected dogs and humans by PCR-RFLP. Trans. R Soc. Trop Med Hyg 100(7):636-641.
Fisa R, Gallego M, Castillejo S, Aisa MJ, Serra T, Riera C, Carrio J, Gallego J, Portus M (1999) Epidemiology of canine leishmaniosis in Catalonia (Spain) the example of the Priorat focus. Vet Parasitol 83(2):87-97.
Franco AO, Davies CR, Mylne A, Dedet JP, Gállego M, Ballart C, Gramiccia M, Gradoni L, Molina R, Gálvez R, Morillas-Márquez F, Barón-López S, Pires CA, Afonso MO, Ready PD, Cox J (2011) Predicting the distribution of canine leishmaniasis in western
Europe based on environmental variables. Parasitology 14:1-14.
Gálvez R, Miró G, Descalzo MA, Nieto J, Dado D, Martín O, Cubero E, Molina R (2010) Emerging trends in the seroprevalence of canine leishmaniasis in the Madrid region (central Spain). Vet Parasitol 169(3-4):327-334.
Gomes YM, Paiva Cavalcanti M , Lira RA, Abath FG, Alves LC (2008) Diagnosis of canine visceral leishmaniasis: biotechnological advances. Vet J 175(1):14-15.
Gramiccia M (2011) Recent advances in leishmaniosis in pet animals: epidemiology, diagnostics and anti-vectorial prophylaxis. Vet Parasitol 181(1):23-30.
Grimaldi G, Jr, Tesh RB (1993) Leishmaniases of the New World: current concepts and implications for future research. Clin Microbiol Rev 6(3):230-250.
İça A, Inci A, Yildirim A, Atalay O, Duzlu O (2008) Kayseri ve civarında köpeklerde leishmaniosisin nested-PCR ile araştırılması. Türkiye Parazitol Derg 32(3):187-191.
İçen H, Babür C, Bademkıran S, Çelebi B, Şimşek A, Özyurtlu N, Taylan Özkan A (2010) Diyarbakır Bölgesindeki Sahipsiz Köpeklerde Toxoplasmosis, Leishmaniasis ve Listeriozisin Seroprevalansı Türkiye Parazitol Derg 34 (1):6-10.
Lachaud L, Marchergui-Hammami S, Chabbert E, Dereure J, Dedet JP, Bastien P (2002) Comparison of six PCR methods using peripheral blood for detection of canine visceral leishmaniosis. J Clin Microbiol 40(1):210-215.
Mancianti F, Gramiccia M, Gradoni L, Pieri S (1988) Studies on canine leishmaniasis control. 1. Evolution of infection of different clinical forms of canine leishmaniasis following antimonial treatment. Trans. R Soc. Trop Med Hyg 82(4):566-567.
Maroli M, Rossi L, Baldelli R, Capelli G, Ferroglio E (2008) The northward spread of leishmaniosis in Italy: evidence from retrospectiveand ongoing studies on the canine reservoir and phlebotomine vectors. Trop Med Int Health 13(2):256-264.
Mettler M, Grimm F, Naucke TJ, Maasjost C, Deplazes P (2005) Canine leishmaniosis in Central Europe: retrospective survey and serological study of imported and travelling dogs. Berl Munch Tierarztl Wochenschr. 118(1-2):37-44.
Miró G, Montoya A, Mateo M, Alonso A, García S, Caballero MJ, Molina R (2007) A leishmaniosis surveillance system among stray dogs in the region of Madrid: ten years of serodiagnosis (1996-2006). Parasitol Res 101(2):253-257.
Moreira MA, Luvizotto MC, Garcia JF, Corbett CE, Laurenti MD (2007) Comparison of parasitological, immunological and molecular methods for the diagnosis of leishmaniasis in dogs with different clinical sign. Vet Parasitol 145(3-4):245-252.
Moshfe A, Mohebali M, Afshoun E, Mousavizadeh A, Zarei Z, Abidi H, Akhoundi B, Barati V, Joukar S (2012) Canine visceral leishmaniasis in boyer ahmad district, kohgiluyeh & boyer ahmad province, southwest of Iran. Iran J Parasitol 7(4):75-81.
Ozbel Y, Oskam L, Ozensoy S, Turgay N, Alkan MZ, Jaffe CL, Ozcel MA (2000) A survey on canine leishmaniosis in western Turkey by parasite, DNA and antibody detection assays Acta Tropica 74(1):1-6.
Ozensoy Toz S, Ertabaklar H, Özbel Y, Balcıoğlu İC, Yıldızlı N, Alkan MZ (2005) Seroprevalence of canine visceral leishamaniasis in Kuşadası, Turkey. Turk. J. Anim. Sci. 29:23-26.
Ozensoy Töz S, Sakru N, Ertabaklar H, Demir S, Sengul M, Ozbel Y (2009) Serological and entomological survey of zoonotic visceral leishmaniasis in Denizli Province, Aegean Region, Turkey. New Microbiol 32(1):93-100.
Paradies P, Capelli G, Cafarchia C, de Caprariis D, Sasanelli M (2006) Incidences of canine leishmaniosis in an endemic area of southern Italy. J. Vet. Med. B Infect. Dis Vet Public Health 53(6):295-298.
Saridomichelakis MN, Koutinas AF, Bourdeau P (1996) Questionnaire-based survey on canine leishmaniosis (Leishmania infantum) in Greece. JHVMS 2009, 60(4): 503-526.
Sideris V, Papadopoulou G, Dotsika E, Karagouni E (1999) Asymptomatic canine leishmaniasis in Greater Athens area, Greece. Euro. J Epidemiol 15(3):271-6.
Slappendel R J (1988) Canine leishmaniasis. A review based on 95 cases in The Netherlands. Vet Q. 10(1):1-16.
Solano-Gallego L, Morell P, Arboix M, Alberola J, Ferrer l (2001) prevalance of Leishmania infantum infection in dogs living in an area of canine leishmaniosis endemicity using PCR on several tissues and serology J Clin Microbiol 39(2):560-563.
Tamer GS, Polat E, Ozensoy Toz S, Altas K (2008) Kocaeli sokak köpeklerinde visceral leishmaniasis seroprevalansı. Türkiye Parazitol Derg 32(3):183-186.
Tok H, Sevil N, Ozensoy Töz S, Ertabaklar H, Balcioğlu IC, Demir S, Ozbel Y, Coşkun M (2009) The serological and entomological survey of zoonotic visceral leishmaniasis in Ayvacik Region of Canakkale Province, Turkey. Turkiye Parazitol. Derg 33(2):109-13.
Uysal A, Turan N, Gulçubuk A, Tekelioglu BK, Morillaz-Marquez F, Yilmaz H, Tuzer E (2003) A serological and Clinical Investigations on the Leishmaniosis in Turkish Dogs Revista Iberica de Parasitologia 36(3-4):85-88.
Vinuelas J, Garcia-Alonso M, Ferrando L, Navarrete I, Molano I, Miron C, Carcelen J, Alonso C, Nieto CG (2001) Meningeal leishmaniosis induced by Leishmania infantum in naturally infected dogs. Vet Parasitol 101(1):23-27.
Voyvoda H, Paşa S, Ozensoy Töz S, Özbel Y, Ertabaklar H (2004) Aydın'ın bazı ilçe ve köyleri ile İzmir'in Selçuk ilçesindeki köpeklerde leishmaniosis ve Dirofilariasis'in Prevalansı. Turk. J. Vet Anim Sci 28:1105-1111.
Zaffaroni E, Rubaudo L, Lanfranchi P, Mignone W (1999) Epidemiological patterns of canine leishmaniosis in Western Liguria (Italy). Vet Parasitol 81:11-19.