Keratoma Can Be Treated Successfully With Simple Hoof Surgery: Hoof resection as a simple way to remove keratoma in a horse
---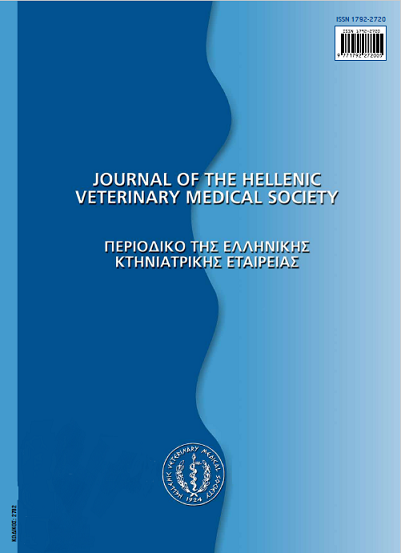 Abstract
Keratoma is a very rare condition, but if occurs often results in lameness in a horse. Despite its rarity, it is one of the most common reasons to perform foot surgery, because the surgery is the only effective treatment. In this case report diagnosis was based on radiographs of the foot and histopathological findings. There was a repeated debridement of the keratoma performed in the patient. After all the keratoma was removed the mare showed no more lameness.
Article Details
How to Cite

JAWORSKA, J. (2018). Keratoma Can Be Treated Successfully With Simple Hoof Surgery: Hoof resection as a simple way to remove keratoma in a horse. Journal of the Hellenic Veterinary Medical Society, 67(1), 51–56. https://doi.org/10.12681/jhvms.15623
Authors who publish with this journal agree to the following terms:
· Authors retain copyright and grant the journal right of first publication with the work simultaneously licensed under a Creative Commons Attribution Non-Commercial License that allows others to share the work with an acknowledgement of the work's authorship and initial publication in this journal.
· Authors are able to enter into separate, additional contractual arrangements for the non-exclusive distribution of the journal's published version of the work (e.g. post it to an institutional repository or publish it in a book), with an acknowledgement of its initial publication in this journal.
· Authors are permitted and encouraged to post their work online (preferably in institutional repositories or on their website) prior to and during the submission process, as it can lead to productive exchanges, as well as earlier and greater citation of published work.
Downloads
Download data is not yet available.
References
Boys Smith SJ., Clegg PD., Hughes I., Singer ER. (2006) Complete and partial hoof wall resection for keratoma removal: post operative complications and final outcome in 26 horses (1994 – 2004). Equine Veterinary Journal; 38:127 – 133
Christman C. (2008) Multiple keratomas in an equine foot. Canadian Veterinary Journal; 49:904–906
Getman LM., Davidson EJ., Ross MW., Leitch M., Richardson DW. (2011) Computed Tomography or Magnetic Resonance Imaging-Assisted Partial Hoof Wall Resection for Keratoma Removal. Veterinary Surgery 40; 708–714
Hamir AN., Kunz C., Evans LH. (1992) Equine keratoma. Journal of Veterinary Diagnostic Investigation; 4:99-100
Honnas CM. (1997) Keratomas of the equine digit. Equine Veterinary Education; 9:203-207