Clinical signs of foot and Mouth disease in flick of Saanen goats in the village of N. Sofiko
---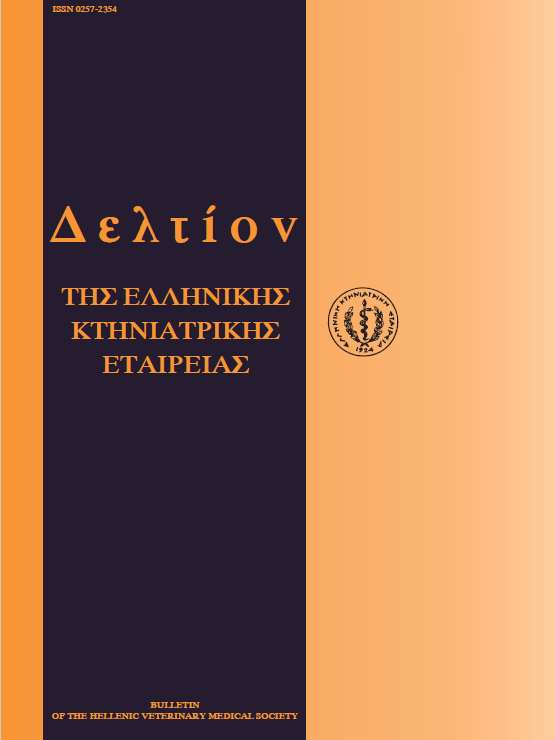 Abstract
This research describes the clinical signs of foot and mouth disease (type O), observed for ten days in a isolated flick of Saanen goats in the village of N. Sofiko, Prefecture of Evros, in August 1994. The disease appeared in Evros ten years after the last incident of foot and Mouth disease in two herbs of cattle in Delta of Evros in 1984. Young animals (kids) were affected by the disease first and the older ones presented clinical signs in the following five or six days. Nearly every animal presented a high fever (up to 41,9) diarrhoea, frothy nasal and oral secretion, lacrimation, small vesicles and necrosis of the mucosal membranes of the oral cavity. The serological research, gave positive results for 3 animals in a herd for cattle, located 10 Km far from the focus of the disease. Sera from 45 sheep and goats in 14 flocks, gave also positive results, but no clinical signs were observed. Finally, the goats of the flock affected by mouth and foot disease, were killed as well as the animals of a sheep flock and a cattle herd. Those sheep and cattle browsed in the same field with the goats affected by the disease and serum samples taken from them, gave positive results. Besides, all sheep and goats in the limits of protective and supervision zone having title >200, were lifted according to the Headship's of Veterinary Service in Evros decision, so the region returned to its former way of life.
Article Details
How to Cite

MAVRIDIS (Γ.Λ.ΜΑΥΡΙΔΗΣ) G. L. (2018). Clinical signs of foot and Mouth disease in flick of Saanen goats in the village of N. Sofiko. Journal of the Hellenic Veterinary Medical Society, 51(1), 69–74. https://doi.org/10.12681/jhvms.15660
This work is licensed under a Creative Commons Attribution-NonCommercial 4.0 International License.
Authors who publish with this journal agree to the following terms:
· Authors retain copyright and grant the journal right of first publication with the work simultaneously licensed under a Creative Commons Attribution Non-Commercial License that allows others to share the work with an acknowledgement of the work's authorship and initial publication in this journal.
· Authors are able to enter into separate, additional contractual arrangements for the non-exclusive distribution of the journal's published version of the work (e.g. post it to an institutional repository or publish it in a book), with an acknowledgement of its initial publication in this journal.
· Authors are permitted and encouraged to post their work online (preferably in institutional repositories or on their website) prior to and during the submission process, as it can lead to productive exchanges, as well as earlier and greater citation of published work.
Downloads
Download data is not yet available.