Effects of GnRH or hCG on day 11 after artificial insemination in cows luteal activity
---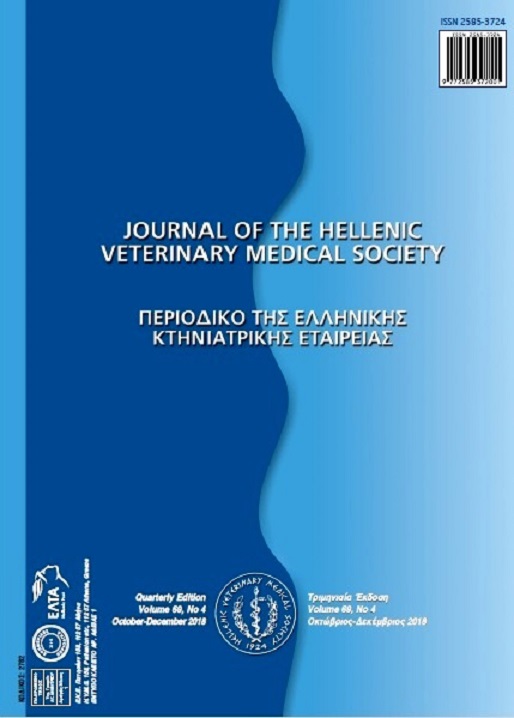 Published: Feb 5, 2019
Keywords:
hCG GnRH Progesterone Accessory corpus luteum Cow
Abstract
In order to optimize luteal function by human chorionic gonadotrophin (hCG)  or gonadotrophin releasing hormone (GnRH) on day 11 after artificial insemination (AI). 33 cows synchronized by the Ovsynch and divided into 3 groups according to the type of treatment: 1) hCG (1500 IU, n=11); 2) GnRH (100 µg, n=11); and 3) control (2 mL of saline, n=11). Blood samples were collected from all animals every 3 days from day 5 to day 23 to determine progesterone concentration. Ultrasonography was used to monitor the luteal surface structures at the time of blood sample collection. An accessory corpus luteum (CL) formed in 63.63% of cows treated with GnRH and with hCG, resulting in an increase in the total luteal tissue area compared with the controls. Thus, the volume of the principal CL was increased by hCG but tended to be similar to GnRH compared with the controls. Additionally, compared with the control group, hCG-treated and GnRH-treated cows had increased progesterone concentrations (p<0.0001). Among the hCG-treated cows, their progesterone concentration increased compared with GnRH-treated cows.
Article Details
How to Cite

Besbaci, M. M., Abdelli, A., Belabdi, I., Benabdelaziz, A., Khelili, R., Mebarki, M., & Kaidi, R. (2019). Effects of GnRH or hCG on day 11 after artificial insemination in cows luteal activity. Journal of the Hellenic Veterinary Medical Society, 69(4), 1227–1234. https://doi.org/10.12681/jhvms.16128
Section
Research Articles
Authors who publish with this journal agree to the following terms:
· Authors retain copyright and grant the journal right of first publication with the work simultaneously licensed under a Creative Commons Attribution Non-Commercial License that allows others to share the work with an acknowledgement of the work's authorship and initial publication in this journal.
· Authors are able to enter into separate, additional contractual arrangements for the non-exclusive distribution of the journal's published version of the work (e.g. post it to an institutional repository or publish it in a book), with an acknowledgement of its initial publication in this journal.
· Authors are permitted and encouraged to post their work online (preferably in institutional repositories or on their website) prior to and during the submission process, as it can lead to productive exchanges, as well as earlier and greater citation of published work.
Downloads
Download data is not yet available.
References
Ataman MB, Erdem H, Bülbül B, Ümütlü S, Çolak M (2011) The effect of buserelin injection 12 days after insemination on selected reproductive characteristics in cows. Acta Veterinaria Brno 80: 171-177.
Campanile G, Di Palo R, Neglia G, Vecchio D, Gasparrini B, Prandi A, Galiero G, D'Occhio MJ (2007) Corpus luteum function and embryonic mortality in buffaloes treated with a GnRH agonist, hCG and progesterone. Theriogenology 67: 1393-1398.
Chenault JR, Kratzer DD, Rzepkkowski RA, Goodwin MC (1990) LH and FSH response of Holstein heifers to fertirilin acetate, gonadorelin and buserelin. Theriogenology 34:81–98.
Cruz V, Elizondo V, Ulloa A, FernándezG (2009) The effect of GnRH after insemination on progesterone concentrations and conception rates in repeat-breeding Holstein cows under heat stress conditions. Téc Pecu Méx. 47: 107-115.
De Rensis F, Lopez-Gatius F, García-Ispierto I, Techakumpu M (2010) Clinical use of human chorionic gonadotrophin in dairy cows: an update. Theriogenology 73: 1001-1008.
Diskin MG, Parr MH, Morris DG (2011) Embryo death in cattle: an update. Reprod Fertil Dev 24: 244-251.
Franco M, Thompson PM, Brad AM, Hansen PJ (2006) Effectiveness of administration of gonadotrophin-releasing hormone at Days 11, 14 or 15 after anticipated ovulation for increasing fertility of lactating dairy cows and non-lactating heifers. Theriogenology 66: 945-954.
Geisert RD, Morgan GL, Short EC, Zavy MT (1992) Endocrine events associated with endometrial function and conceptus development in cattle. Reprod Fertil Dev 4: 301-305.
Herzogn K, Brockhan-Ludemann M, Kaske M, Beindorff N, Paul V, Niemann H, Bollwein H (2010) Luteal blood flow is a more appropriate indicator for luteal function during the bovine estrous cycle than luteal size. Theriogenology 73: 691-697.
Inskeep EK, Dailey RA (2005) Embryonic death in cattle. Vet Clin North Am Food Anim Pract 21: 437-461.
Kastelic JP, Bergfelt DR, Ginther OJ (1990) Relationship between ultrasonic assessment of the corpus luteum and plasma progesterone concentration in heifers. Theriogenology 33: 1269-1278..
Lonergan P (2011) Influence of progesterone on oocyte quality and embryo development in cows. Theriogenology 76: 1594-1601. López-Gatius F, Santolaria P, Martino A, Delétang F, De Rensis, F (2006). The effects of GnRH treatment at the time of AI and 12 days later on reproductive performance of high producing dairy cows during the warm season in northeastern Spain. Theriogenology, 65: 820-830.
Maillo V, Duffy P, O'Hara L, De Frutos C, Kelly AK, Lonergan P, Rizos D (2014) Effect of hCG administration during corpus luteum establishment on subsequent corpus luteum development and circulating progesterone concentrations in beef heifers. Reprod Fertil Dev 26: 367-374.
Mann GE, Lamming GE (2001) Relationship between maternal endocrine enviroment, early embryo development and inhibition of the luteolytic mechanism in cows. Reproduction 121: 175-180.
Mann GE (2009) Corpus luteum size and plasma progesterone concentration in cows. Anim Reprod Sci 115: 296-299.
Musilová D, Bartoněk J, Čech S, Páleník T, Doležel R (2014) Induction of accessory corpus luteum in cows by gonadotrophin-releasing hormone administrated after insemination. Acta Vet Brno 83: 107-111.
Rhinehart JD, Starbuck-Clemmer MJ, Flores JA, Milvae RA, Yao J, Poole DH, Inskeep EK (2009) Low peripheral progesterone and late embryonic/early fetal loss in suckled beef and lactating dairy cows. Theriogenology 71: 480-490.
Rizos D, Scully S, Kelly AK, Ealy AD, Moros R, Duffy P, Al Naib A, Forde N, Lonergan P (2012) Effects of human chorionic gonadotrophin administration on Day 5 after oestrus on corpus luteum characteristics, circulating progesterone and conceptus elongation in cattle. Reprod Fertil Dev 24: 472-481.
Santos JE, Thatcher WW, Pool L, Overton MW (2001) Effect of human chorionic gonadotrophin on luteal function and reproductive performance of high producing lactating Holstein dairy cows. J Anim Sci 79: 2881-2894.
Sartori R, Fricke PM, Ferreira JC, Ginther OJ, Wiltbank MC (2001) Follicular deviation and acquisition of ovulatory capacity in bovine follicles. Biol Reprod 65: 1403-1409.
Schmitt EJ, Barros CM, Fields PA, Fields MJ, Diaz T, Kluge JM, Thatcher WW (1996a). A cellular and endocrine characterization nof the original and induced corpus luteum after administration of na gonadotrophin-releasing hormone agonist or human chorionic gonadotrophin on Day 5 of the oestrous cycle. J Anim Sci 74: 1915-1929.
Schmitt EJ, Diaz T, Barros CM, De La Sota RL, Drost M, Fredriksson EW, Staples CR, Thorner R, Thatcher WW (1996b) Differential response of the luteal phase and fertility in cattle following ovulation of the first-wave follicle with human chorionic gonadotrophin or an agonist of gonadotrophin-releasing hormone. J Anim Sci 74: 1074-1083.
Stevenson JS, Portaluppi MA, Tenhouse DE, Lloyd A, Eborn DR, Kacuba S, De Jarnette JM (2007) Interventions after artificial insemination: conception rates, pregnancy survival, and ovarian responses to gonadotrophin-releasing hormone, human chorionic gonadotrophin, and progesterone. J Dairy Sci 90: 331-340.
Stevenson JS, Pulley SL (2012) Characteristics and retention of luteal structures, extended postinsemination cycle, progesterone, and pregnancy-specific protein B in serum after human chorionic gonadotrophin treatment of dairy cows. J Dairy Sci 95: 4396-4409.
Šuluburić A, Milanović S, Vranješ-Đurić S, Jovanović I B, Barna T, Stojić M, Fratrić N, Szenci O, Gvozdić D (2017) Progesterone concentration, pregnancy and calving rate in Simmental dairy cows after oestrus synchronisation and hCG treatment during the early luteal phase. Acta Vet Hung 65: 446-458.
Szenci O, Takács E, Sulon J, de Sousa NM, Beckers JF (2006) Evaluation of GnRH treatment 12 days after AI in the reproductive performance of dairy cows. Theriogenology 66: 1811-1815.
Thatcher WW, Guzeloglu A, Meikle A, Kamimura S, Bilby T, Kowalski AA,Badinga L, Pershing R, Bartolome J, Santos JEP (2003) Regulation of embryo survival in cattle. Reprod (Suppl): 253-266.
Wiltbank MC, Souza AH, Carvalho PD, Bender RW, Nascimento AB (2011) Improving fertility to timed artificial insemination by manipulation of circulating progesterone concentrations in lactating dairy cattle. Reprod Fertil Dev 24: 238-243.
Wiltbank MC, Souza AH, Carvalho PD, Cunha AP, Giordano JO, Fricke PM, Diskin MG (2014) Physiological and practical effects of progesterone on reproduction in dairy cattle. Animal. 8 : 70-81.