A case of pulmonary aspergillosis in white storks
---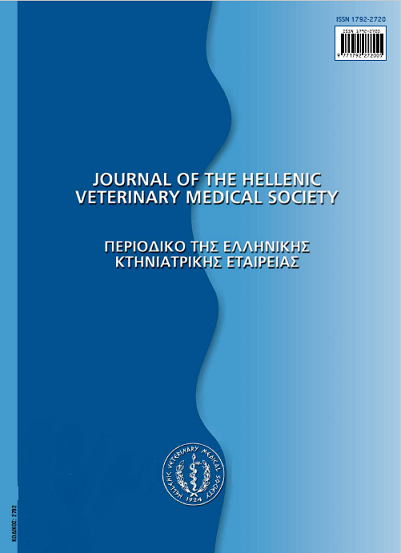 Keywords:
Aspergillus fumigates avian aspergillosis stork histopathology necropsy
Abstract
Aspergillosis is a fungal infection affecting respiratory system both in mammals and avian species. It is more commonly encountered in birds, in comparison with its mammalian counterpart. Mostly isolated strains are Aspergillus fumigatus (95%) and Aspergillus flavus (5%). Affected lungs and air sacs reveal miliary to gross lesions like gray-yellowish or white-grayish granulomatous foci surrounded by white halos indicative of inflammatory infiltration. Five storks found dead in the rural areas near Istanbul were submitted to our faculty between years 2008 and 2014. Two of them were thought to be younger than 1-year-old and the other three were older than one year of age. Necropsies were performed right after their submissions. Aspergillosis lesions were observed in the lungs and thoracic air sacs of the first four storks. In addition to these changes the lesions were detected at the aortic bifurcation and on the testicular and renal capsule of the fifth stork. Histopathology revealed encapsulated granulomas with foci of caseous necrosis at the center surrounded by numerous macrophages, heterophil leukocytes, lymphocytes and foreign body giant cells in all the storks. Following the gross, histopathological and mycological examinations the agents were detected as Aspergillus fumigatus. Although, the number of reported deaths due to Aspergillosis is not high in storks, we believe that these birds are quite susceptible to the disease and stress factors such as migration increases the risk of pathogenicity. This report was designed as a contribution to literature since there is only one reported case available with respect to aspergillosis associated death in storks and stress factors such as migration may also predispose storks to the disease.
Article Details
How to Cite

GULCUBUK, A., ERDOGAN-BAMAC, O., METINER, K., YUZBASIOGLU OZTURK, G., OZGUR, Y., & HAKTANIR, D. (2018). A case of pulmonary aspergillosis in white storks. Journal of the Hellenic Veterinary Medical Society, 69(2), 1004–1009. https://doi.org/10.12681/jhvms.18021
Authors who publish with this journal agree to the following terms:
· Authors retain copyright and grant the journal right of first publication with the work simultaneously licensed under a Creative Commons Attribution Non-Commercial License that allows others to share the work with an acknowledgement of the work's authorship and initial publication in this journal.
· Authors are able to enter into separate, additional contractual arrangements for the non-exclusive distribution of the journal's published version of the work (e.g. post it to an institutional repository or publish it in a book), with an acknowledgement of its initial publication in this journal.
· Authors are permitted and encouraged to post their work online (preferably in institutional repositories or on their website) prior to and during the submission process, as it can lead to productive exchanges, as well as earlier and greater citation of published work.
Downloads
Download data is not yet available.
References
Akan M, Haziroglu R, Ilhan Z, et al. (2002) A case of aspergillosis in a broiler breeder flock. Avian Dis 49: 497-501.
Akkoc A, Yilmaz R, Cangul I.T, et al. (2009) Pulmonary aspergillosis and amyloid accumulation in an ostrich (Struthio camelus). Turk J Vet Anim Sci 33: 157-16.
Arda M (1980): Mikoloji. 185-192. In: Mikoloji Ankara Üniversitesi Basımevi, Ankara: pp 185-192.
Atasever A, Gumussoy K (2004) Pathological, clinical and mycological findings in experimental aspergillosis infections of starlings. J Vet Med A Physiol Pathol Clin Med 51(1): 19-22.
Beernaert LA, Pasmans F, Haesebrouck F, et al. (2008) Modelling Aspergillus fumigatus infections in racing pigeons (Columba livia domestica). Avian Pathol 37: 545-549.
Beyaz L, Gümüşsoy KS, Çam Y, et al. (2008) Kayseri Hayvanat Bahçesi'nde bulunan bazı yabani kanatlı türlerinde rastlanan sistemik Aspergillozis. Ankara Üniv. Vet. Fak. Derg 55: 31-35.
Cacciuttolo E, Rossi G, Nardoni S, et al. (2009) Anatomopathological aspect of avian aspergillosis. Vet Res Commun 33: 521-527.
Carrasco L, Lima JS, Halfen DC, et al. (2001) Systemic Aspergillosis in an Oiled Magallanic Penguin (Spheniscus magellanicus). J Vet Med B 48: 551-554.
Charlton BR, Chin RP, Barnes HJ (2008) Fungal Infections. In: Diseases of Poultry. 12th ed. Blackwell Publishing, Iowa, USA: pp 989-1001.
De Hoog GS, Guarro J, Gene J, et al. (2000) Aspergillus spp. In: Atlas of Clinical Fungi. 2nd edn. Utrecht: Centraalbureau voor Schimmelcultures: pp 442-519.
Garcia ME, Lanzarot P, Rodas VL, et al. (2007) Fungal flora in the trachea of birds from a wildlife rehabilitation centre in Spain. Vet Med Czech 52: 464-470.
Harmon B (1998) Avian heterophils in inflammation and disease resistance. Poultry Sci 77: 972-977.
Nardoni S, Ceccherelli R, Rossi G, et al. (2006) Aspergillosis in Larus cachinnans micaellis: survey of eight cases. Mycopathologia 161: 317-321.
Olias P, Gruber AD, Winfried B, et al. (2010) Fungal pneumonia as a major causes of mortality in white stork (Ciconia ciconia) chicks. Avian Dis 54: 94-98.
Tell LA (2005) Aspergillosis in mammals and birds: impact on veterinary medicine. Med Mycol 43: 71-73.
Yokota T, Shibahara T, Wada Y, et al. (2001) Aspergillus fumigatus infection in an ostrich (Struthio camelus). J Vet Med Sci 66: 201-204.