Comparative effects of addition of superoxide dismutase and reduced glutathione on cryopreservation of Sahiwal bull semen
---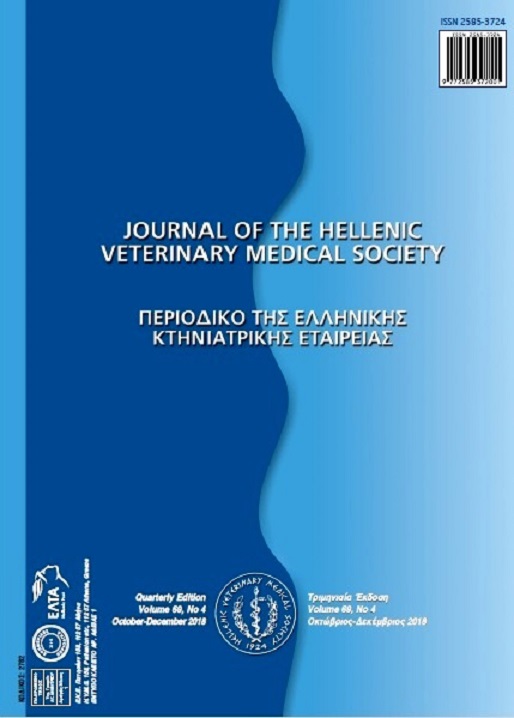 Keywords:
Semen Superoxide Dismutase Reduced Glutathione Sahiwal Bull
Abstract
The present study aimed to investigate effects of superoxide dismutase (SOD) and reduced glutathione (GSH) on the quality of frozen-thawed semen of Sahiwal bulls. Semen was collected twice a week for 8 weeks by artificial vagina from six Sahiwal bulls, kept at the Semen Production Unit Qadirabad, Sahiwal-Pakistan. After gross and microscopic evaluation, qualifying semen ejaculates were divided into 10 equal aliquots and diluted in extenders enriched with no antioxidants (control); or supplemented with either SOD (50, 100 and 200 IU/mL), or GSH (0.5, 1 and 2 mM) or their combinations (50 IU/mL SOD and 0.5 mM GSH, 100 IU/mL SOD and 1 mM GSH and 200 IU/mL SOD and 2 mM GSH). Samples were then frozen and stored in liquid nitrogen at -196°C for 24 h. The following parameters were evaluated for semen quality: post-thawed sperm motility, viability, acrosome and membrane integrity. According to the results, sperm motility, viability, acrosome and membrane integrity were significantly (P<0.05) higher in samples treated either with 100 IU/mL of SOD; 1 mM and 2 mM of GSH or 50 IU/mL of SOD plus 0.5 mM of GSH. In conclusion, semen quality might be improved by supplementing semen extenders with 100 IU/mL of SOD; 0.5 and 1 mM of GSH and combination of 50 IU/mL and 0.5 mM of SOD and GSH, respectively.
Article Details
How to Cite

Murtaza, A., Ahmad, M., Zubair, M., Umar, S., Mushtaq, A., Gul, A., & Khan, A. U. (2019). Comparative effects of addition of superoxide dismutase and reduced glutathione on cryopreservation of Sahiwal bull semen. Journal of the Hellenic Veterinary Medical Society, 69(4), 1291–1296. https://doi.org/10.12681/jhvms.19619
Section
Research Articles
Authors who publish with this journal agree to the following terms:
· Authors retain copyright and grant the journal right of first publication with the work simultaneously licensed under a Creative Commons Attribution Non-Commercial License that allows others to share the work with an acknowledgement of the work's authorship and initial publication in this journal.
· Authors are able to enter into separate, additional contractual arrangements for the non-exclusive distribution of the journal's published version of the work (e.g. post it to an institutional repository or publish it in a book), with an acknowledgement of its initial publication in this journal.
· Authors are permitted and encouraged to post their work online (preferably in institutional repositories or on their website) prior to and during the submission process, as it can lead to productive exchanges, as well as earlier and greater citation of published work.
Downloads
Download data is not yet available.
References
Andrabi SMH, Ansari MS, Ullah N, Afzal M (2008) Effect of non-enzymaticantioxidants in extender on post thaw quality of buffalo (Bubalus bubalis) bull spermatozoa. Pak Vet J 28(4): 159-162.
Ansari MS, Rakha BA, Ullah N, Andrabi SMH, Akhter S (2011) Glutathione addition in Tris-citric egg yolk extender improves the quality of cooled buffalo (Bubalus bubalis) bull semen. Pak J Zool 43(1): 49-55.
Ansari MS, Rakha BA, Andrabi SMH, Ullah N, Iqbal R, Holt WV, Akhtar S (2012) Glutathione supplemented tris-citric acid extender improves the post-thaw and in vivo fertility of buffalo (Bubalus bulalis) bull spermatozoa. Reprod Biol 12: 271-276.
Anzar M, Rasul Z, Ahmad TA, Ahmad N (2010) Response of buffalo spermatozoa to low temperatures during cryopreservation. Reprod Fertility Develop 22: 871-880.
Asadpour R, Jafari R, Nasarabadi HT (2012) The effect of antioxidant supplementation in semen extenders on semen quality and lipid peroxidation of chilled bull spermatozoa. Iran J Vet Res 13: 246-249.
Asr ST, Beheshti R, Kohram H (2011) The evaluations of tris-citrate acid or Bioxcell extenders on the post-thawed buffalo sperm parameters. Ann Biol Res 2: 360-365.
Beheshti R, Asadi A, Eshratkhah B, Ghalekandi JG, Ghorbani A (2011) The effect of cysteine on post-thawed buffalo bull (Bubalus bubalis) sperm parameters. Adv Environ Biol 5(6): 1260-1263.
Bilodeau JF, Blanchette S, Gagnon C, Sirard MA (2001) Thiols prevent H2O2-mediated loss of sperm motility in cryopreserved bull semen. Theriogenology 56(2): 275–286.
Budai C, Egerszegi I, Olah J, Javor A, Kovacs A (2014) The protective effect of antioxidants on liquid and frozen stored ram semen –Review. Anim Sci Biotech 47(1): 46-52.
Choudhary R, Chawala VK, Soni ND, Kumar J and Vyas RK (2010) Oxidative stress and role of antioxidants in male infertility. Pak J Physiol 6(2): 54-59.
Cocchia N, Pasolini MP, Mancini R (2011) Effect of SOD (superoxide dismutase) protein supplementation in semen extenders on motility, viability, acrosome status and ERK (extracellular signal-regulated kinase) protein phosphorylation of chilled stallion spermatozoa. Theriogenology 75(7): 1201-1210.
Dandekar SP, Nadkarni GD, Kulkarni VS, Punekar S (2002) Lipid peroxidation and antioxidant enzymes in male infertility. J Postgrad Med 48(3): 186–189.
De Oliveira, RA, Wolf CA, Viu MADO, Gambarini ML (2013) Addition of glutathione to an extender for frozen equine semen. J Equine Vet Sci 33: 1148-1152.
El-Sisy, GA, El-Nattat,WS, El-Sheshtawy RI (2008) Effects of superoxide dismutase and catalase on viability of cryopreserved buffalo spermatozoa. Global Vet 2(2): 56–61.
Farouzanfar M, Ershad SF, Husseini SM, Hajian M, Hosseini SO, Abid A, Tavalaee M, Shahverdi A, Dizaji AV, Esfahani MHN (2013) Can permeable super oxide dismutase mimetic agents improve the quality of frozen-thawed ram semen. Cryobiology 66: 126-130.
Funahashi H, Sano T (2005) Select antioxidants improve the function of extended boar semen stored at 10 C. Theriogenology 63: 1605-1616.
Gadea J, Gumbao D, Novas SC, Zquez FAZ, Grullo LA, Gardo JC (2007) Supplementation of dilution medium after thawing with reduced glutathione improves function and the in vitro fertilizing ability of frozen-thawed bull spermatozoa. Intl J Androl 31: 1-10.
Ismail LK, Darwish SA (2011) Effect of glutathione (GSH) on microscopic parameters and DNA integrity in Egyptian buffalo semen during liquid and frozen storage. J Reprod Infert 2(3): 32-40.
Jeyendran RS, Van Der Ven HH, Perez-Pelaez M, Craboand BG, Zaneveld LJD (1984) Development of an assay to assess the functional integrity of the human sperm membrane and its relationship to other semen characteristics. J Reprod Fertil 70: 219-228.
Kaeoket K, Tantiparinyakul K, Kladkaew W, Chanapiwat P, Techakumphu M (2008) Effect of different antioxidants on quality of cryopreserved boar semen in different breeds. Thai J Agri Sci 41:1-9.
Khlifaoui M, Battut I, Bruyas JF, Ghatagnon G, Trimeche A, Tainturier D (2005) The effects of glutamine on post-thaw motility of stallion spermatozoa: an approach of the mechanism of action at spermatozoa level. Theriogenology 63: 138-149.
Morakinyo, AO, Achema, PU, & Adegoke, O A (2010) Effect of Zingiber officinale (Ginger) on sodium arsenite-induced reproductive toxicity in male rats. African Journal of Biomedical Research 13(1), 39-45.
Munsi MN, Bhuiyan MMU, Majumder S, Alam MGS (2007) Effects of exogenous glutathione on the quality of chilled bull semen. Reprod Domest Anim 42: 358-362.
Nair SJ, Brar AS, Ahuja CS, Sangha SPS, Chaudhry KC (2006) A comparative study on lipid peroxidation, activities of antioxidant enzymes and viability of cattle and buffalo bull spermatozoa during storage at refrigeration temperature. Anim Reprod Sci 96: 21-29.
Perumal P (2014) Effect of superoxide dismutase on semen parameters and antioxidant enzyme activities of liquid stored (5°C) Mithun (Bos frontalis) semen. J Anim 14: 1-9.
Perumal P, Selvaraju S, Selvakumar S, Barik A, Mohanty D, Mishra P (2011) Effect of pre-freeze addition of cysteine hydrochloride and reduced glutathione in semen of crossbreed jersey bulls on sperm parameters and conception rates. Reprod Domes Anim 46: 636-641.
Salisbury GW, Van-Demark NL (1978) Physiology of Reproduction and Artificial Insemination of Cattle.1st Ed, WH Freeman and Company, Sanfrancisco, USA. Shoae A, Zamiri MJ (2008) Effect of butylated hydroxyl toluene on bull spermatozoa frozen in egg yolk-citrate extender. Anim Reprod Sci 104: 414-418.
Silva EC, Cajueiro JF, Silva SV, Soares PC, Guerra MM (2012) Effect of an antioxidants resveratrol and quercetin on in vitro evaluation of frozen ram semen. Theriogenology 77: 1722-1726.
Silva, PFN, Gadella BM (2006) Detection of damage in mammalian sperm cells. Theriogenology 65: 958-978.
Stradaioli G, Noro T, Sylla L, Monaci M (2007) Decrease in glutathione (GSH) content in bovine sperm after cryopreservation: comparison between two extenders. Theriogenology 67: 1249-1255.
Uysal O, Bucak MN (2007) Effects of oxidized glutathione, bovine serum albumin, cysteine and lycopene on the quality of frozen-thawed ram semen. Acta Vet Brno 76: 383-390.