Perivulvar squamous cell carcinoma in a cow
---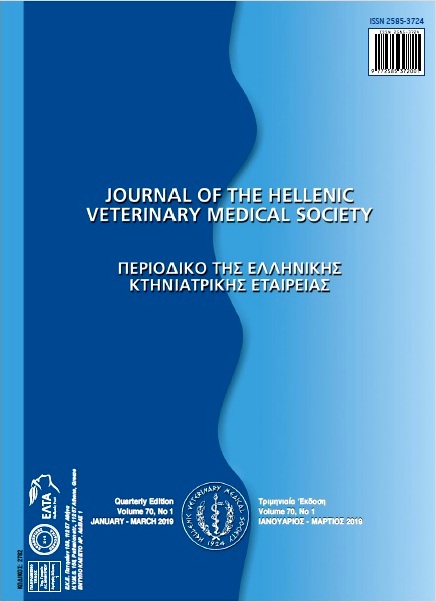 Keywords:
cow spinal anesthesia vulva squamous cell carcinoma
Abstract
We present a case of perivulvar squamous cell carcinoma in an 8-year-old crossbred Simmental cow. A tumoral mass, of considerably large volume localized in the perivulvar region and growing at a slow pace, was detected in the animal. The mass, subsequently identified histopathologically and immunohistochemically as squamous cell carcinoma, was surgically excised from the perivulvar region using intrathecal anesthesia.
Article Details
How to Cite

ORAL, H., BEYTUT, E., KURU, M., KARAKURT, E., DEMIR, M. C., & ÖZAYDIN, İ. (2019). Perivulvar squamous cell carcinoma in a cow. Journal of the Hellenic Veterinary Medical Society, 70(1), 1449–1454. https://doi.org/10.12681/jhvms.20354
Authors who publish with this journal agree to the following terms:
· Authors retain copyright and grant the journal right of first publication with the work simultaneously licensed under a Creative Commons Attribution Non-Commercial License that allows others to share the work with an acknowledgement of the work's authorship and initial publication in this journal.
· Authors are able to enter into separate, additional contractual arrangements for the non-exclusive distribution of the journal's published version of the work (e.g. post it to an institutional repository or publish it in a book), with an acknowledgement of its initial publication in this journal.
· Authors are permitted and encouraged to post their work online (preferably in institutional repositories or on their website) prior to and during the submission process, as it can lead to productive exchanges, as well as earlier and greater citation of published work.
Downloads
Download data is not yet available.
References
Agnew DW, MacLachlan NJ (2017) Tumors of the genital systems. In: Tumors of Domestic Animals. Wiley Blacwell, Iowa, USA: pp 689-722.
Alaçam E, Metin N, Deveci H, Timurkan H (1981) A case of squamous cell carcinoma of the vulva in a cow. Fırat Üniv Sağ Bil Derg 6:80-84.
Çolak A, Sağlam YS, Kamiloğlu A, Karaman M (1997) Bir inekte rastladığımız vaginal tümör olgusu. Kafkas Univ Vet Fak Derg 3: 93-96.
Devi VR, Veeraiah G, Annapurna P, Estheru S (2010) Squamous cell carcinoma of ear in an Indian Buffalo (Bubalus bubalus). Braz J Vet Path 3: 60-62.
Enginler SO, Gunduz MC, Sabuncu A, Senunver A, Yildiz F, Arun SS (2011) Vaginal leiomyosarcoma in a Holstein cow. Kafkas Univ Vet Fak Derg 17: 325-327.
Erer H, Kıran MM (2005) Veteriner Onkoloji. Damla Ofset, Konya, Turkey.
Frohwitter G, Buerger H, Van Diest PJ, Korsching E, Kleinheinz J, Fillies T (2016) Cytokeratin and protein expression patterns in squamous cell carcinoma of the oral cavity provide evidence for two distinct pathogenetic pathways. Oncology Letters 12: 107-113.
Hillman R, Gilbert RO (2008) Reproductive disease. In: Rebhun's Diseases of Dairy Cattle. Saunders Elsevier, Missouri, USA: pp 395-446.
Khodakaram-Tafti A, Motaghypisheh M, Shirian S (2013) Pathological study of naturally occurring vulvar and vaginal squamous cell carcinoma (SCC) in cattle. Comp Clin Pathol 22: 713-716.
Kuru M, Beytut E, Kaya S, Karakurt E Kaçar C (2016) Vaginal fibrosarcoma in a Brown Swiss cow. Atatürk Üniversitesi Vet Bil Derg 11:327-331.
McEntee K (1990) Reproductive Pathology of Domestic Mammals. Academic Press Inc., New York, USA.
Meyers SA, Read WK (1990) Squamous cell carcinoma of the vulva in a cow. J Am Vet Med Assoc 196: 1644-1646.
Öcal H, Deveci H, Apaydın AM, Kalkan C, Çetin H, Kaygusuzoğlu E (1995) İnek vulvasında rastlanılan yassı hücreli karsinom olguları. FÜ Sağlık Bil Enst Derg 9: 266-271.
Pandey GS, Chamilunda B, Mumba C (2010) Vulvar squamous cell carcinoma in a Holstein Friesian cross – bred cow in Zambia. Indian J Vet Pathol 34: 185-186.
Pimenta-Oliveira A, Oliveira-Filho JP, Cagnini DQ, Badial PR, CisnerosÁlvarez E, Laufer-Amorim R, Prestes NC (2011) Squamous cell carcinoma in vaginal fundus in a Brahman cow. Arq Bras Med Vet Zootec 63: 749-752.
Prasath NB, Balachandran C, Raman A (2009) Vulvar squamous cell carcinoma in a Holstein Friesian cross bred cow. Indian Vet J 86: 411-412.
Rosa FB, Kommers GD, Lucena RB, Galiza GJN, Tochetto C, Silva TM, Silveira IP (2012) Epidemiological, clinicopathological and immunohistochemical aspects of vulval squamous cell carcinomas in 33 cows. Pesq Vet Bras 32: 1127-1132.
Vala H, Fondevilla D, Carvalho T, Pinto C, Peleteiro C, Pinho M, Ferrer L (2001) Immunohistochemistry studies on bovine squamous cell carcinoma morphological characterization of epidermal cell proliferation and differentiation markers and characterization of cytokeratins. In: 1st International Symposium - Research in Veterinary Science, 24-25 May, Lisboa, Portugal: pp 1-6.
Yeruham I, Perl S, Orgad U, Yakobson B (1999) Tumors of the vulva and vagina in cattle – A 10-year survey. Vet J 158: 237-239.