Ciliary body cysts associated with glaucoma in a Great Dane
---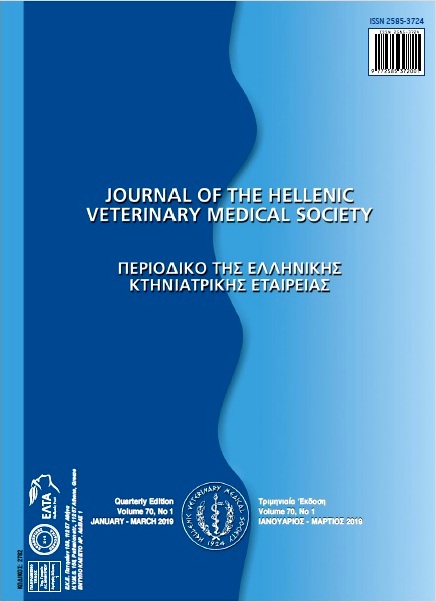 Keywords:
glaucoma ciliary body cyst Great Dane
Abstract
An 8-year-old female Great Dane, was referred to the Ophthalmology Unit of the Centre Hospitalier Vétérinaire (CHV) des Cordeliers, for corneal opacity of the left eye that did not respond to topical treatment, administered by the referring vet. On initial examination, bilateral ciliary body cysts were noticed. Lens subluxation, pseudo-plateau iris and glaucoma were observed on the left eye. The diagnosis was confirmed by applanation tonometry and high resolution ocular ultrasonography. Medical treatment resulted in temporary clinical improvement of the left eye. No signs of glaucoma were observed on the right eye upon the last re-check examination.
Article Details
How to Cite

PAPAVASILEIOU, E., & DURIEUX, P. (2019). Ciliary body cysts associated with glaucoma in a Great Dane. Journal of the Hellenic Veterinary Medical Society, 70(1), 1455–1460. https://doi.org/10.12681/jhvms.20355
Authors who publish with this journal agree to the following terms:
· Authors retain copyright and grant the journal right of first publication with the work simultaneously licensed under a Creative Commons Attribution Non-Commercial License that allows others to share the work with an acknowledgement of the work's authorship and initial publication in this journal.
· Authors are able to enter into separate, additional contractual arrangements for the non-exclusive distribution of the journal's published version of the work (e.g. post it to an institutional repository or publish it in a book), with an acknowledgement of its initial publication in this journal.
· Authors are permitted and encouraged to post their work online (preferably in institutional repositories or on their website) prior to and during the submission process, as it can lead to productive exchanges, as well as earlier and greater citation of published work.
Downloads
Download data is not yet available.
References
Ang GS, Bochmann F, Azuara-Blanco A (2008) Argon laser peripheral iridoplasty for plateau iris associated with iridociliary cysts: A case report. Cases J 1: 368.
Azuara-Blanco A, Spaeth GL, Araujo SV, Ausburger JJ, Terebuh AK (1996) Plateau Iris Syndrome Associated With Multiple Ciliary Body Cysts Report of 3 Cases. Arch Ophthalmol 114(6): 666-668.
Chalam KV, Brar VS, Murthy RK (2014) Human ciliary epithelium as a source of synthesis and secretion of vascular endothelial growth factor in neovascular glaucoma. JAMA Ophthalmol 132(11): 1350-4.
Crowston JG, Medeiros FA, Mosaed S, Weinreb RN (2005) Argon laser iridoplasty in the treatment of plateau-like iris configuration as result of numerous ciliary body cysts. Am J Ophthalmol 139(2): 381-3.
Davidson MG, Nelms SR (2013) Diseases of the lens and cataract formation. In: Veterinary Ophthalmology. 5th ed, Wiley-Blackwell, Oxford: pp 1222-1224.
Grahn BH, Peiffer RL Jr (2013) Veterinary Ophthalmic Pathology. In: Veterinary Ophthalmology. 5th ed, Wiley-Blackwell, Oxford: pp 448.
Hendrix DVH (2013) Diseases and Surgery of the Canine Anterior Uvea. In: Veterinary Ophthalmology. 5th ed, Wiley-Blackwell, Oxford: pp 1150-1173.
Ispa-Callén MC, Lara-Medina J, Zarco-Tejada JM, Lopez-Mondejar E, Celis-Sanchez J, Gonzalez-Del-Valle F (2009) [Argon laser iridoplasty as treatment of plateau-like iris configuration secondary to multiple ciliary body cysts: long-term follow-up by ultrasound biomicroscopy]. Arch Soc Esp Oftalmol 84(11): 569-72.
Kitouni ZB, Kitouni Y, Boukhelam D, Kherroubi R, Hartani D (2015) [Plateau-like iris configuration secondary to multiple iridociliary cysts: Case report of one family]. J Fr Ophtalmol Mar; 38(3): e41-2.
Le Corre A, Dot C, Feraoun M, Burelle X, Grasswill C, Perrenoud F, May F (2009) [Plateau iris-like configuration resulting from numerous iridociliary cysts]. J Fr Ophtalmol 32(7): 501-504.
Lois N, Shields CL, Shields JA, Mercado G (1998) Primary cysts of the iris pigment epithelium. Clinical features and natural course in 234 patients. Ophthalmology 105(10):1879-85.
Maraone G, Mannino G, Calafiore S, Mannino C, Delle Fave MM, Spadea L, Vingolo EM (2014) Ultrasound biomicroscopic diagnosis of ciliary body cysts and evaluation of their effect on anterior chamber angle. Invest Ophthalmol Vis Sci 55(13): 5860.
Pathak-Ray V, Ahmed II (2016) Phaco-endocycloplasty: A novel technique for management of ring iridociliary cyst presenting as acute angle closure. Oman J Ophthalmol Jan-Apr; 9(1): 63–65.
Plummer CE, Regnier A, Gelatt KN (2013) The Canine Glaucomas. In: Veterinary Ophthalmology. 5th ed, Wiley-Blackwell, Oxford: pp 1101-1128.
Pumphrey SA, Pizzirani S, Pirie CG Needle DB (2013) Glaucoma associated with uveal cysts and goniodysgenesis in American Bulldogs: a case series. Vet Ophthalmol 16(5): 377-385.
Spiess BM, Bolliger JO, Guscetti F, Haessig M, Lackner PA, Ruehli MB (1998) Multiple ciliary body cysts and secondary glaucoma in the Great Dane: a report of nine cases Vet Ophthalmol 1(1): 41-45.
Stamper RL, Lieberman MF, Drake MV (2009) Primary angle closure glaucoma. In: Becker-Shaffer's Diagnosis and Therapy of the Glaucomas. 8th ed, Mosby, Missouri: pp 204-206.
Taylor LN, Townsend WM, Heng HG, Stiles J, Moore GE (2015) Comparison of ultrasound biomicroscopy and standard ocular ultrasonography for detection of canine uveal cysts. Am J Vet Res 76(6):540-546.
Wang BH, Yao YF (2012) Effect of primary iris and ciliary body cyst on anterior chamber angle in patients with shallow anterior chamber. J Zhejiang Univ Sci B 13(9): 723-30.
Xue KC, Hu DD, Zhao L, Li N, Shen HY (2017) Correlation between presence of primary iris and ciliary body cysts and intraocular pressure. Eur RevMed Pharmacol Sci 21: 3985-3989.