Chronic leptospirosis in pigs cases of sow abortion in industrial pig farms
---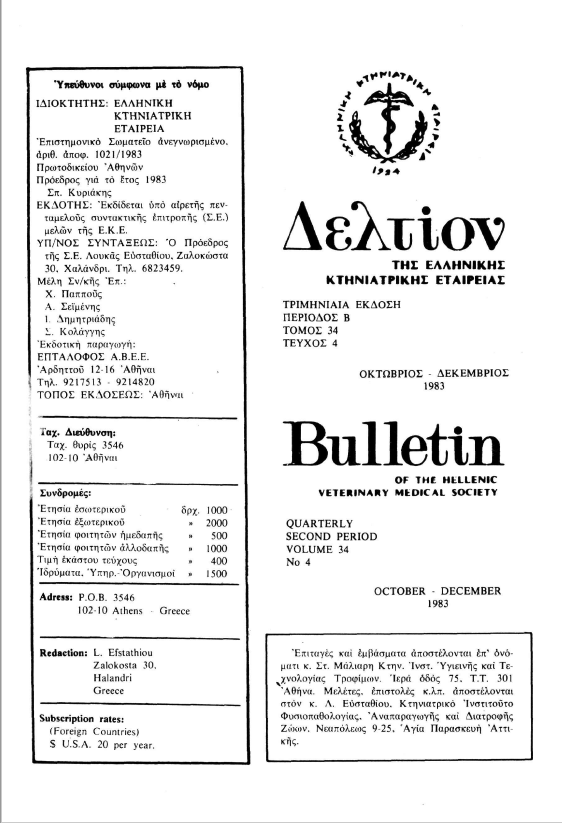 Abstract
After a review about the existing data in relation with leptospirosis in pigs from the international and local literature, the authors described in detail 7 recent cases of chronic leptospirosis in modern industrial pig farms of S. Greece, during the last 15 months with a high level of abortion in the sows, as the main symptom. This is the first reported case of leptospirosis in pigs, from modern indutrial farms, since all previous cases were diagnosed in primitive farms during 1950's and 1960's. The main causes of leptospirosis were: L. pomona, L. tarassovi and L. grip potyphosa. Because of the economical implications of leptospirosis in pig production and also because this disease is dangerous for the human, the authors proposed special programme for the control, prevention, treatment and eradication of the disease in Greece.
Article Details
How to Cite

ΧΟΝΤΟΥ Α., ΚΥΡΙΑΚΗΣ Σ., ΣΙΜΟΣ Ε., ΣΤΟΦΟΡΟΣ Ε., ΞΥΛΟΥΡΗ Ε., & ΠΑΝΝΑΚΟΠΟΥΛΟΥ Λ. (2019). Chronic leptospirosis in pigs cases of sow abortion in industrial pig farms. Journal of the Hellenic Veterinary Medical Society, 34(4), 318–324. https://doi.org/10.12681/jhvms.21609
Authors who publish with this journal agree to the following terms:
· Authors retain copyright and grant the journal right of first publication with the work simultaneously licensed under a Creative Commons Attribution Non-Commercial License that allows others to share the work with an acknowledgement of the work's authorship and initial publication in this journal.
· Authors are able to enter into separate, additional contractual arrangements for the non-exclusive distribution of the journal's published version of the work (e.g. post it to an institutional repository or publish it in a book), with an acknowledgement of its initial publication in this journal.
· Authors are permitted and encouraged to post their work online (preferably in institutional repositories or on their website) prior to and during the submission process, as it can lead to productive exchanges, as well as earlier and greater citation of published work.
Downloads
Download data is not yet available.
References
Βέλτσος, Α. και Ρεκλείτης, Σπ. (1975): Αναφέρεται από Τωμόπουλου, Δ.Σ. (1967).
Hanson, L.E. (1981): Leptospirosis. Current Veterinary Therapy, Ed. By Howard, J.M. 729-731. W.B. Saunders Comp. Philadelphia.
Hanson, L.E., Tripathy, D.N. (1981): Leptospirosis. Diseases of Swine (5th edition) Ed. by Leman, A.D. et al.: 836-395. The Iowa State Univ. Press. Amer., Iowa.
Κυριακής, Σπ. Κ. και Ανδρεώτης, Ι.Σ. (1978): Πρακτικός Οδηγός των Κυριωτέρων Νοσημάτων του Χοίρου. Ο.Δ. των Η.Π.Α. Αθήνα.
Κυριακής, Σπ. Κ. και Στοφόρος, Ε.Ν. (1983): Η Λεπτοσπείρωση του Χοίρου. Χοιροτροφικά Νέα, τ. 15, Ιαν-Φεβρ: 8-11.
Nowakowski, J. (1982): Immunization of Swine against Leptospira Interrogans serovar Tarassovi Infection. Pig Inter. Congress. Mexico.
Στοφόρος, E.N. (1970): Νοσήματα Χοιριδίων. Αθήνα.
Τωμόπουλος, Δ.Σ. (1967): Συμβολή εις την Μελέτην των Λεπτοσπειρώσεων των Ζώων. Δ/κή Δ/βή. Κτηνιατρική Σχολή Α.Π. Θεσσαλονίκη.
Taylor, D.J. (1981): Pig Dieseases (2nd edition). The Burlington Press. Cambridge.
Schipper, I.A. (1978): Leptospirosis. W.F. Vol. 20. 10:14-34.
Χριστοδούλου, Θ.E. (1975): Λοιμώδη Νοσήματα των Ζώων, Θεσσαλονίκη.