Complete vaginal stenosis and hematocolpus in two bitches with a history of GnRH treatment to postpone puberty
---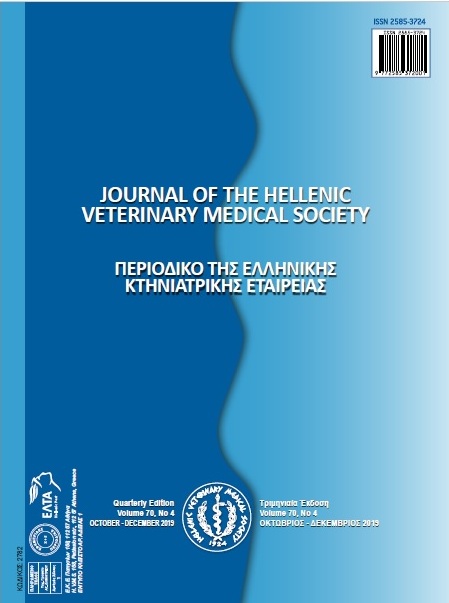 Keywords:
Dog hematocolpus deslorelin ultrasound pathology
Abstract
Two mixed-breed bitches (18 and 19 months), that had been treated, one year before, with deslorelin acetate implant to postpone puberty, were hospitalized and monitored during their first heat. The heat was presumed by the owners, that observed vulvar swelling in both cases but no vulvar bloody discharge. The following diagnostic procedures were employed: physical genital tract examination, vaginoscopy, vaginal cytology, endocrine assay, ultrasound and X-ray using vaginal infusion of iodum and pneumobladder as positive and negative contrasts. In bitch 1, vaginal cytology and progesterone levels confirmed the presence of an ovulatory "dry" oestrus, without cytological presence of red blood cells, progressing to dioestrus. Ultrasound showed preovulatory follicles and, in the following days, transition to corpora lutea. The caudal abdomen presented a large ovoid cystic structure filled with echoic fluid, next to the bladder. Radiographic scans demonstrated a normal bladder profile, while the contrast medium failed to enter into the cranial vagina. On the basis of these findings, the bitch 1 was submitted to laparotomy 10 days after the end of oestrus. A vaginal dilatation (10x5 cm), from which brown fluid was aspirated, was found and resected together with uterus and ovaries. Bitch 2 had the same diagnostic route and findings, but she was laparotomized 3 months after the heat. During this period no spontaneous regression of the lesion was observed. At laparotomy, the vaginal dilatation (8x4 cm) was only aspirated and the bitch regularly neutered. In both cases, cytology of the fluid taken from the vaginal sac revealed superficial epithelial cells and abundant degenerate red blood cells. Histology (bitch 1) confirmed the vaginal origin of the dilatation and revealed an additional Gärtner duct cyst. The abnormality (hematocolpus) probably originated by an inadequate drainage of proestrous bloody discharge because of a severe vaginal stenosis. A congenital origin of the lesion was unlikely; it was strongly suspected that the treatment of the prepubertal bitches interfered, by an irreversible way, with the normal development of the vagina.
Article Details
How to Cite

MARINO, G., QUARTUCCIO, M., SFACTERIA, A., CRISTARELLA, S., & ZANGHÌ, A. (2020). Complete vaginal stenosis and hematocolpus in two bitches with a history of GnRH treatment to postpone puberty. Journal of the Hellenic Veterinary Medical Society, 70(4), 1905–1910. https://doi.org/10.12681/jhvms.22243
This work is licensed under a Creative Commons Attribution-NonCommercial 4.0 International License.
Authors who publish with this journal agree to the following terms:
· Authors retain copyright and grant the journal right of first publication with the work simultaneously licensed under a Creative Commons Attribution Non-Commercial License that allows others to share the work with an acknowledgement of the work's authorship and initial publication in this journal.
· Authors are able to enter into separate, additional contractual arrangements for the non-exclusive distribution of the journal's published version of the work (e.g. post it to an institutional repository or publish it in a book), with an acknowledgement of its initial publication in this journal.
· Authors are permitted and encouraged to post their work online (preferably in institutional repositories or on their website) prior to and during the submission process, as it can lead to productive exchanges, as well as earlier and greater citation of published work.
Downloads
Download data is not yet available.
References
Alonge S, Romussi S, Grieco V, Luvoni GC (2015) Congenital abnormality of the vagina complicated by haemato-pyocolpos in a 1-year Labrador Retriever. Reprod Dom Anim 50:514-516.
Archbald LF, Wolfsdorf K (1996) Theriogenology question of the month. Vaginal constriction, probably a congenital malformation. J Am Vet Med Assoc 208:1651-1652.
Arlt SP, Spankowsky S, Heuwieser W (2011) Follicular cysts and prolonged oestrus in a female dog after administration of a deslorelin implant. N Z Vet J 59:87-91.
Fontaine E, Fontbonne A (2011) Clinical use of GnRH agonists in canine and feline species. Reprod Dom Anim 46:344-353.
Gee BR, Pharr JW, Furneaux RW (1977) Segmental aplasia of the Müllerian duct system of a dog. Can Vet J 18:281-286.
Hawe RS, Loeb WF (1984) Caudal vaginal agenesis and progressive renal disease in a Shi tzu. J Am Anim Hosp Assoc 20:123-130.
Holt PE, Sayle B (1981) Congenital vestibulo-vaginal stenosis in the bitch. J Small Anim Pract 22:67-75.
Kaya D, Schäfer-Somi S, Kurt B, Kuru M, Kaya S, Kaçar C, Aksoy Ö, Aslan S (2015) Clinical use of deslorelin implants for the long-term contraception in prepubertal bitches: effects on epiphyseal closure, body development, and time to puberty. Theriogenology 83:1147-1153.
Kyles AE, Vaden S, Hardie EM, Stone EA (1996) Vestibulovaginal stenosis in dogs: 18 cases (1987-1995). J Am Vet Med Assoc 209:1889-1893.
Marinho GC, De Jesus VLT, Palhano HB, Abidu-Figueire M (2013) Pyocolpos in a Pinscher bitch: a case report. J Morphol Sci 30:206-208.
Marino G, Rizzo S, Quartuccio M, Macrì F, Pagano G, Taormina A, Cristarella S, Zanghì A (2014) Deslorelin implants in pre-pubertal female dogs: short- and long-term effects on the genital tract. Reprod Dom Anim 49:297-301.
McIntyre RL, Levy JK, Roberts JF, Reep RL (2010) Developmental uterine anomalies in cats and dogs undergoing elective ovariohysterectomy. J Am Vet Med Assoc. 237:542-546.
Palm J, Reichler IM (2012) The use of deslorelin acetate (Suprelorin®) in companion animal medicine. Schweiz Arch Tierheilkd 154:7-12.
Root MV, Johnston SD, Johnston GR (1995) Vaginal septa in dogs: 15 cases (1983-1992). J Am Vet Med Assoc 206:56-58.
Sirivaidyapong S, Mehl N, Trigg T (2012) Delay of puberty and reproductive performance in male dogs following the implantation of 4.7 and 9.4 mg GnRH-agonist deslorelin at an early pre-pubertal age. Reprod Dom Anim 47:400-402.
Trigg T, Doyle A, Walsh J, Swangchan-uthai T (2006) A review of advances in the use of the GnRH agonist deslorelin in control of reproduction. Theriogenology 66:1507-1512.
Tsumagari S, Takagi K, Takeishi M, Memon MA (2001) A case of a bitch with imperforate hymen and hydrocolpos. J Vet Med Sci 63:475-477.
Viehoff FW, Sjollema BE (2003) Hydrocolpus in dogs: surgical treatment in two cases. J Small Anim Pract 44:404-407.
Wadsworth PF, Hall JC, Prentice DE (1978) Segmental aplasia of the vagina in the beagle bitch. Lab Anim 12:165-166.
Wykes PM, Soderberg SF (1983) Congenital abnormalities of the canine vaginal and vulva. J Am Anim Hosp Assoc 19:995-1000.