Distribution of serotypes of Listeria monocytogenes in chicken meats in Turkey
---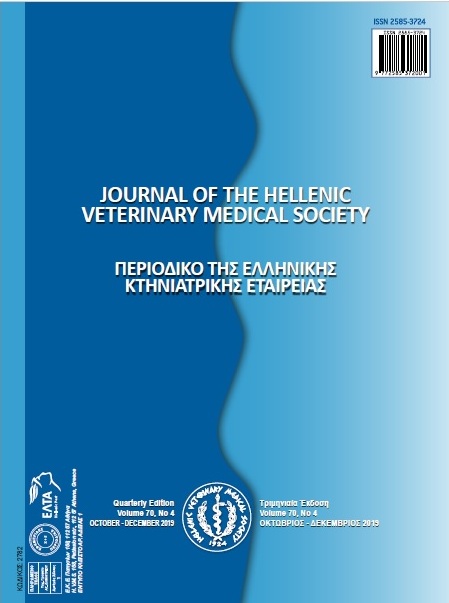 Keywords:
Listeria monocytogenes food-borne pathogen serotype 1/2a mPCR chicken meats
Abstract
Listeria monocytogenes is one of the important causes of food-borne infections. This study was conducted to determine the presence of L. monocytogenes and its serotype distribution in a total of 400 packaged chicken meat products (drumstick, breast, wing, and whole chicken) from different national companies. L. monocytogenes contamination was detected in 26.5% (106 in 400) of all samples when the products considered, drumsticks, breasts, wings, and whole chickens showed 47%, 15%, 35, and 9% positivity respectively. Four important serotypes of L. monocytogenes in human listeriosis (1/2a, 1/2b, 1/2c and 4b) were identified, and serotype 1/2a (94.3%) was determined as predominant in packaged chicken meats. The present study revealed that L. monocytogenes 1/2a serotype is prevalent in chicken meats and this may cause public health problems in Turkey. Further studies in poultry meats should be conducted on a large scale such as regional or national big markets to determine the presence of the pathogen and its dominant serotypes.
Article Details
How to Cite

SAHIN, S., KALIN, R., & MOGULKOC, M. (2020). Distribution of serotypes of Listeria monocytogenes in chicken meats in Turkey. Journal of the Hellenic Veterinary Medical Society, 70(4), 1859–1864. https://doi.org/10.12681/jhvms.22328
Section
Research Articles
Authors who publish with this journal agree to the following terms:
· Authors retain copyright and grant the journal right of first publication with the work simultaneously licensed under a Creative Commons Attribution Non-Commercial License that allows others to share the work with an acknowledgement of the work's authorship and initial publication in this journal.
· Authors are able to enter into separate, additional contractual arrangements for the non-exclusive distribution of the journal's published version of the work (e.g. post it to an institutional repository or publish it in a book), with an acknowledgement of its initial publication in this journal.
· Authors are permitted and encouraged to post their work online (preferably in institutional repositories or on their website) prior to and during the submission process, as it can lead to productive exchanges, as well as earlier and greater citation of published work.
Downloads
Download data is not yet available.
References
Angelidis AS, Kalamaki MS, Georgiadou SS (2015) Identification of non-Listeria spp. bacterial isolates yielding a β-D-glucosidase-positive phenotype on Agar Listeria according to Ottaviani and Agosti (ALOA). Int J Food Microbiol 193:114-129.
Ayaz ND, Erol I (2009) Rapid detection of Listeria monocytogenes in ground turkey by immunomagnetic separation and PCR. J Rapid Met Aut Microbiol 17:214-222.
Cetinkaya F, Elal Mus T, Yibar A, Guclu N,Tavsanli H, Cibik R (2014) Prevalence, serotype identification by multiplex polymerase chain reaction and antimicrobial resistance patterns of Listeria monocytogenes isolated from retail foods. J Food Safety 34:42-49.
Churchill KJ, Sargeant JM, Farber JM, O'Connor AM (2019) Prevalence of Listeria monocytogenes in select ready-to-eat foods-deli meat, soft cheese, and packaged salad: A systematic review and meta-analysis. J Food Prot 82(2):344-357.
D'Agostino M, Wagner M, Vazquez-Boland JA, Kuchta T, Karpıskova R, Hoorfar J, Novella S, Scortti M, Ellison J, Murray A, Fernandes I, Kuhn M, Pazlarova J, Heuveliink A, Cook N (2004) A validated PCR-based method to detect Listeria monocytogenes using raw milk as a food model-towards an international standard. J Food Prot 67:1646-1655.
Dhama K, Karthik K, Tiwari R, Shabbir MZ, Barbuddhe S, Malik SVS, Singh RK (2015) Listeriosis in animals, its public health significance (food-borne zoonosis) and advances in diagnosis and control: a comprehensive review. Vet Q 35:211-235.
Doumith M, Buchrieser C, Glaser P, Jacquet C, Martin P (2004) Differentiation of the major Listeria monocytogenes serovars by multiplex PCR. J Clin Microbiol 42:3819-3822.
Elmali M, Can HY, Yaman H (2015) Prevalence of Listeria monocytogenes in poultry meat. Food Sci Technol (Campinas) 35:672-675.
Erol İ, Şireli UT, Gündeş B (1999) Piliç parça et ve iç organlarında Listeria türlerinin varlığı ve kontaminasyon düzeyinin belirlenmesi. Ankara Üniv Vet Fak Derg 46:179-188.
European Food Safety Authority (EFSA) (2010)
https://www.efsa.europa
. eu/en/efsajournal/pub/1496. [accessed 20 May 2017]
Fallah AA, Saei-Dehkordi SS, Rahnama M, Tahmasby H, Mahzounieh MR (2012) Prevalence and antimicrobial resistance patterns of Listeria species isolated from poultry products marketed in Iran. Food Control 28:327-332.
Farber JM, Peterkin PI (1991) Listeria monocytogenes, a food borne pathogen. Microbiol Rev 55:476-511.
Goh SG, Kuan CH, Loo YY, Chang WS, Lye YL, Soopna P, Tang JY, Nakaguchi Y, Nishibuchi M, Afsah-Hejri L, Son R (2012) Listeria monocytogenes in retailed raw chicken meat in Malaysia. Poultry Sci 91:2686-2690.
Guerra MM, McLauchin J, Bernardo FA (2001) Listeria in ready-to-eat and unprocessed foods produced in Portugal. Food Microbiol 18:423-429.
Guven A. Patir B (1998) Elazığ ilinde tüketime sunulan et ve bazı et ürünlerinde Listeria türlerinin araştırılması. Turk J Vet Anim Sci 22:205-212.
Jamali H, Radmehr B, Thong KL (2013) Prevalence, characterisation, and antimicrobial resistance of Listeria species and Listeria monocytogenes isolates from raw milk in farm bulk tanks. Food Control 34:121-125.
Jeyaletchumi P, Tunung R, Margaret SP, Son R, Farinazleen MG, Cheah YK (2010) Detection of Listeria monocytogenes in foods. Int Food Res J 17:1-11.
Karthikeyan R, Gunasekaran P, Rajendhran J (2015) Molecular serotyping and pathogenic potential of Listeria monocytogenes isolated from milk and milk products in Tamil Nadu, India. Foodborne Pathog Dis 12:522-528.
Kurpas M, Wieczorek K, Osek J (2018) Ready-to-eat meat products as a source of Listeria monocytogenes. J Vet Res 62(1):49-55.
Liu D (2013) Molecular approaches to the identification of pathogenic and nonpathogenic listeriae. Microbiol Insights 6:59-69.
Lomonaco S, Nucera D, Filipello V (2015) The evolution and epidemiology of Listeria monocytogenes in Europe and the United States. Infect Genet Evol 35:172-183.
López V, Navas J, Martínez-Suárez JV (2013) Low potential virulence associated with mutations in the inlA and prfA genes in Listeria monocytogenes isolated from raw retail poultry meat. J Food Prot 76:129-132.
Nho SW, Abdelhamed H, Reddy S, Karsi A, Lawrence ML (2015) Identification of high-risk Listeria monocytogenes serotypes in lineage I (serotype 1/2a, 1/2c, 3a and 3c) using multiplex PCR. J Appl Microbiol 119:845-852.
Oliveira TS, Varjão LM, da Silva LNN, Pereira RDCL, Hofer E, Vallim DC, de Castro Almeida RC (2018) Listeria monocytogenes at chicken slaughterhouse: Occurrence, genetic relationship among isolates and evaluation of antimicrobial susceptibility. Food Control 88:131-138.
Orsi RH, Bakker HC, Wiedmann M (2011) Listeria monocytogenes lineages: Genomics, evolution, ecology, and phenotypic characteristics. Int J Med Microbiol 301:79-96.
Praakle-Amin A, Hänninen ML, Korkeala H (2006) Prevalence and genetic characterization of Listeria monocytogenes in retail broiler meat in Estonia. J Food Prot 69:436-440.
Rocourt J, Buchriser C (2007) The Genus Listeria and Listeria monocytogenes: Phylogenetic Position, Taxonomy and Identification. In: Listeria Listeriosis and Food Safety. Marcel Dekker, New York: pp 1-20.
Rothrock MJ, Davis ML, Locatelli A, Bodie A, Mcintosh TG, Donaldson JR, Ricke SC (2017) Listeria occurrence in poultry flocks: detection and potential implications. Front Vet Sci 4:125.
Rothrock MJ Jr, Micciche AC, Bodie AR, Ricke SC (2019) Listeria occurrence and potential control strategies in alternative and conventional poultry processing and retail. Front Sustain Food Syst 3:33.
Siriken B, Ayaz ND, Erol I (2014) Listeria monocytogenes in retailed raw chicken meat in Turkey. Berl Munch Tierarztl Wochenschr 127:43-49.
Soultos N, Koidis P, Madden RH (2003) Presence of Listeria and Salmonella spp. in retail chicken in Northern Ireland. Lett Appl Microbiol 37:421-423.
Todd ECD Notermans S (2011) Surveillance of listeriosis and its causative pathogen, Listeria monocytogenes. Food Control 22:1484-1490.
Vardar İ, Yurtsever GS, Coşkun AN, Kaptan F, El S, Ural S (2011) Listeria monocytogenes'e bağlı bir menenjit olgusu. ANKEM Derg 25:54-57.
Zhang Y, Yeh E, Hall G, Cripe J, Bhagwat AA. Meng J (2007) Characterization of Listeria monocytogenes isolated from retail foods. Int J Food Microbiol 113:47-53.