Serological diagnostic potential of the 38-72 kDa somatic antigen of Gastrothylax crumenifer in buffaloes using the Indirect Enzyme-Linked Immunosorbent Assay
---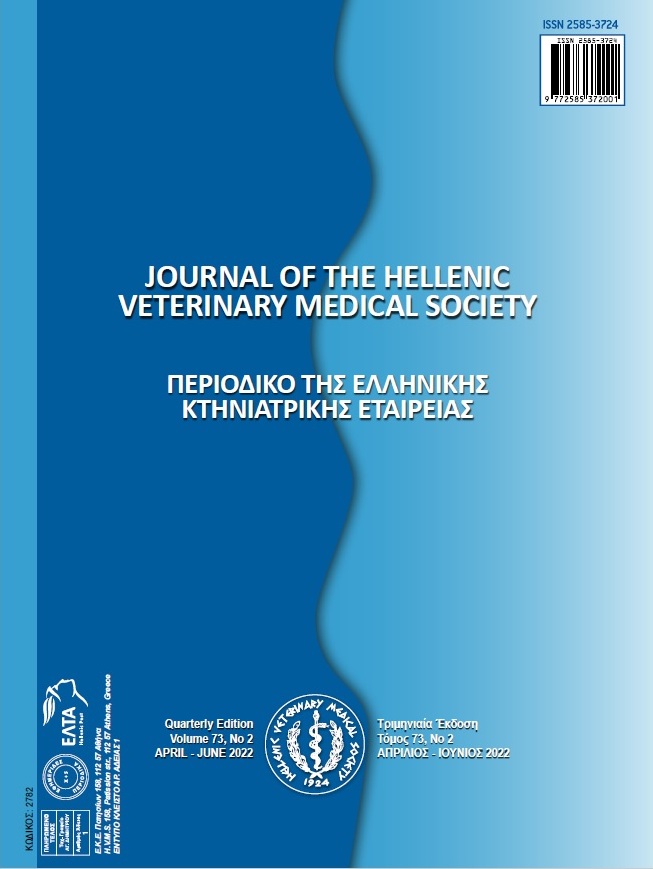 Published: Jul 10, 2022
Keywords:
Paramphistomes buffaloes Antigens Western blotting ELISA SDS-PAGE
Abstract
Paramphistomosis, caused by digenetic trematodes of the superfamily Paramphistomoidea, causes heavy economic losses in terms of reduced fertility, milk and meat production in the livestock industry. In the present study, somatic and excretory secretory antigens isolated from 500 live Gastrothylax crumenifer were assessed for their diagnostic potential by using an antibody detection enzyme immunoassay. Prior to the enzyme immunoassay, the somatic and excretory/secretory (ES) antigens of G. crumenifer were subjected to SDS-PAGE and Western blot (WB) for the detection of immunogenic proteins. Indirect ELISA analysis was performed on sera from buffaloes naturally infected with G. crumenifer, with control sera of buffaloes infected with Gigantocotyle explanatum, Fasciola spp., Cotylophoron /Paramphistomum spp. The SDS-PAGE results of the somatic products of G. crumenifer identified proteins were between 10-123 kDa, showing a maximum abundance of 10, 15, 25-28, 36, 38-72, 95-123 kDa proteins. The most abundant proteins recorded in ES product were ≥95, 72, 55 and 40 kDa. The antigenic analysis of somatic proteins using WB revealed reactive polypeptides of a size between 55-70 kDa, while metabolic extracts did not show reactivity with naturally infected buffalo sera. The sensitivity and specificity of the ELISA test for 38-72 kDa somatic antigens were 85.71% and 89.74%, respectively. The cross-reactivity with other trematode sera was 16-20%. Antibodies were tested against the 38-72 kDa somatic antigens, and 19.69% (39/198) of buffaloes were found positive, while 12.1% (24/198) presented infection in the fecal/postmortem examination. The study confirmed that ELISA established for the 38-72 kDa somatic antigens of G. crumenifer had diagnostic potential against paramphistome infections.
Article Details
How to Cite

Ali, R., Afshan, K., Fuentes, M. V., & Firasat, S. (2022). Serological diagnostic potential of the 38-72 kDa somatic antigen of Gastrothylax crumenifer in buffaloes using the Indirect Enzyme-Linked Immunosorbent Assay. Journal of the Hellenic Veterinary Medical Society, 73(2), 4105–4112. https://doi.org/10.12681/jhvms.26565
Section
Research Articles
This work is licensed under a Creative Commons Attribution-NonCommercial 4.0 International License.
Authors who publish with this journal agree to the following terms:
· Authors retain copyright and grant the journal right of first publication with the work simultaneously licensed under a Creative Commons Attribution Non-Commercial License that allows others to share the work with an acknowledgement of the work's authorship and initial publication in this journal.
· Authors are able to enter into separate, additional contractual arrangements for the non-exclusive distribution of the journal's published version of the work (e.g. post it to an institutional repository or publish it in a book), with an acknowledgement of its initial publication in this journal.
· Authors are permitted and encouraged to post their work online (preferably in institutional repositories or on their website) prior to and during the submission process, as it can lead to productive exchanges, as well as earlier and greater citation of published work.
Downloads
Download data is not yet available.
References
Anuracpreeda P, Chawengkirttikul R, Sobhon P (2016) Antigenic profile, isolation and characterization of whole-body extract of Paramphistomum gracile. Parasite Immunol 38: 431-438.
Anuracpreeda P, Poljaroen J, Chotwiwatthanakun C, Tinikul Y, Sobhon P (2013) Antigenic components, isolation and partial characterization of excretion–secretion fraction of Paramphistomum cervi. Exp Parasitol 133: 327-333.
Anuracpreeda P, Wanichanon C, Sobhon P (2008) Paramphistomum cervi: Antigenic profile of adults as recognized by infected cattle sera. Exp Parasitol 118: 203-207.
Arora R, Singh NK, Juyal PD, Ghosh S (2010) Immunoaffinity chromatographic analysis for purification of specific diagnostic antigens of Paramphistomum epiclitum. J Parasit Dis 34: 57-61.
Arunkumar S, Krupakaran R, Balamurugan TC, Pandiyan GDV (2014) Electrophoretic analysis of excretory/secretor antigens of Gastrothylax crumenifer from buffalo. Cib tech J Bio Protoc 3.
Awad WS, Ibrahim AK, Salib FA (2009) Using indirect ELISA to assess different antigens for the serodiagnosis of Fasciola gigantica infection in cattle, sheep and donkeys. Res Vet Sci 86: 466-471.
Bradford M (1976) A rapid and sensitive method for the quantitation of microgram quantities of protein utilizing the principle of protein dye binding. Anal Biochem 72: 248-254.
Choi MH, Park IC, Li S, Hong ST (2003) Excretory-secretory antigen is better than crude antigen for the serodiagnosis of Clonorchiasis by ELISA. Korean J Parasitol 41: 35-39.
Dar JS, Tak IR, Ganai BA, Shahardar RA (2016) Protein Profiling of Whole Worm Extract of Paramphistomum cervi Isolated from Local Cattle Breeds of Kashmir Using SDS-PAGE. Am Eurasian J Agric Environ Sci 16: 1327-1330.
Dar JS, Tak IR, Ganai BA, Shahardar RA, Magray AR, Tajamul M (2017) Evaluation of immunoblotting technique for the diagnosis of somatic antigens of Paramphistomum cervi isolated from local cattle breeds of Kashmir valley. Glob Vet 18: 99-104.
El Ridi R, Salah M, Wagih A, William H, Tallima H, El Shafie MH, Khalek TA, El Amir A, Abo Ammou FF, Motawi H (2007) Fasciola gigantica excretory–secretory products for Immunodiagnosis and Prevention of sheep Fasciolosis. Vet Parasitol 149: 219-228.
Fagbemi BO, Obarisiagbon IO (1991) Common antigens of Fasciola gigantica, Dicrocoelium hospes and Schistosoma bovis and their relevance to serology. Vet Q 13: 81-87.
Fagbemi BO, Aderibigbe OA, Guobadia EE (1997) The use of monoclonal antibody for the immunodiagnosis of Fasciola gigantica infection in cattle. Vet Parasitol 69: 231-240.
Ferrer I, Ballesteros B, Marco MP, Barceló D (1997) Pilot survey for determination of the antifouling agent Irgarol 1051 in enclosed seawater samples by a Direct Enzyme-Linked Immunosorbent Assay and solid-phase extraction followed by Liquid Chromatography Diode Array Detection. Environ Sci Technol 31: 3530-3535.
Ghosh S, Rawat P, Velusamy R, Joseph D, Gupta SC, Singh BP (2005) 27 kDa Fasciola gigantica glycoprotein for the diagnosis of prepatent fasciolosis in cattle. Vet Res Commun 29: 123-135.
Gómez-Morales MA, Ludovisi A, Amati M, Pozio E (2013) Validation of an excretory/secretory antigen based-ELISA for the diagnosis of Opisthorchis felineus infection in humans from low trematode endemic areas. PLoS One 8: e62267.
Gönenç B, Sarimehmetoğlu HO, Kara M, Kircali F (2004) Comparison of crude and excretory/secretory antigens for the diagnosis of Fasciola hepatica in sheep by western blotting. Turk J Vet Anim Sci 28: 943-949.
Hafeez MD (2003) Helminth parasites of public health importance trematodes. J Parasit Dis 27: 69-75.
Hanna REB, Williamson DS, Mattison RG, Nizami WA (1988) Seasonal reproduction in Paramphistomum epiclitum and Gastrothylax crumenifer, rumen paramphistomes of the Indian water buffalo, and comparison with the biliary paramphistome Gigantocotyle explanatum. Int J Parasitol 18: 513-521.
Hongbao MA, Kuan JS (2006) Western Blotting Method. J Anim Sci 2.
Horak IG (1967) Host-parasite relationships of Paramphistomum microbothrium Fischoeder, 1901, in experimentally infested ruminants, with particular reference to sheep. Onderstepoort J Vet Res 34 (2): 451–540.
Iqbal MN, Muhammad A, Anjum AA, Shahzad KA, Ali MA, Ali S (2014) Prevalence of Gastrothylax crumenifer in the gastrointestine of Bubalus bubalis. Glob Vet 1: 28-31.
Irving DO, Howell MJ (1982) Characterization of excretory-secretory antigens of Fasciola hepatica. Parasitol 85: 179-188.
Jadav MM, Kumar N, Das B, Solanki JB (2017) Immunodiagnostic potency of homologous antigens for natural Paramphistomum epiclitum infection in small ruminants in plate and paper enzyme linked immunosorbent assay. Ind J Anim Res 52: 83-91.
Jaiswal AK, Shanker D, Sudan V, Singh A (2018) Diagnostic potential of low molecular weight excretory secretory proteins of Paramphistomum epiclitum for caprine amphistomosis. Vet Parasitol 257: 5-9.
Jyoti Prasad A, Singh NK (2014) Evaluation of antibody response to various developmental stage specific somatic antigens of Paramphistomum epiclitum in goats. Biomed Res Int.
Kajugu PE, Hanna REB, Edgar HW, McMahon C, Cooper M, Gordon A, Barley JP, Malone FE, Brennan GP, Fairweather I (2015) Fasciola hepatica: Specificity of a coproantigen ELISA test for diagnosis of fasciolosis in faecal samples from cattle and sheep concurrently infected with gastrointestinal nematodes, coccidians and/or rumen flukes (paramphistomes), under field conditions. Vet Parasitol 212: 181-187.
Kaur S, Singla LD, Hassan SS, Juyal PD (2008) Evaluation of Dot-ELISA for Immunodiagnosis of Paramphistomum epiclitum in ruminants. J Parasit Dis 32: 118-122.
Khedri J, Radfar MH, Borji H, Mirzaei M (2015) Prevalence and intensity of Paramphistomum spp. in cattle from South-Eastern Iran. Iran J Parasitol 10 (2): 268.
Kilani K, Guillot J, Chermett R (2003) Amphistomes digestive. In: Lefevre, P.C., Blanco, J., Chermatt, J. (Eds.), Principales maladies infectiouses et parasitaires dubetail. (1st Edn.) Tec and Doc Paris, 1400–1410.
Kumar N, Ghosh S, Gupta SC (2008b) Detection of Fasciola gigantica infection in buffaloes by enzyme-linked immunosorbent assay. Parasitol Res 104: 155-161.
Kumar N, Ghosh S, Gupta SC (2008a) Early detection of Fasciola gigantica infection in buffaloes by enzyme-linked immunosorbent assay and dot enzyme-linked immunosorbent assay. Parasitol Res 103: 141-150.
Kumar V (1998) Trematode infections and diseases of man and animals. Springer Science & Business Media.
Laemmli UK (1970) Cleavage of structural proteins during the assembly of the head of Bacteriophage T4. Nature 227: 680-685.
Ma H, Shieh K (2006) Western blotting method. Am J Sci 2: 23-27.
Maji BP, Dwivedi P, Rao JR, Yadav SC (1999) Cross-antigenicity between ruminal and hepatic Paramphistomes and liver flukes of Buffalo origin. J Appl Anim Res 16: 53-57.
Meshgi B, Eslami A, Halajian A (2009) Determination of diagnostic antigens in cattle amphistomiasis using western blotting. Iran J Parasitol 4: 32-37.
Meshgi B, Eslami A, Hemmatzadeh F (2008) Determination of somatic and excretory-secretory antigens of Fasciola hepatica and Fasciola gigantica using SDS-PAGE. Iran J Vet Res 9: 77-80.
Mukherjee RP, Chauhan BS (1965) Studies on the trematode fauna of India. Part V. Subclass Digenea: Paramphisto-midae Fischoeder (1901). J Zool Soc (1/2): 150-225.
Narain K, Devi KR, Mahanta J (2005) Development of enzyme-linked immunosorbent assay for serodiagnosis of human Paragonimiasis. Ind J Med Res 121: 739-746.
Raza MA, Iqbal Z, Jabbar A, Yaseen M (2007) Point prevalence of gastrointestinal helminthiasis in ruminants in southern Punjab, Pakistan. J Helminthol 81 (3): 323-328.
Saifullah MK, Ahmad G, Abidi SMA (2011) Isolation and partial characterization of excretory/secretory antigens of Gastrothylax crumenifer. Vet Parasitol 180: 232-236.
Saifullah MK, Ahmad G, Nizami WA, Abidi SMA (2000) Analysis of excretory–secretory and somatic antigens of Gastrothylax crumenifer. J Helminthol 74: 271-276.
Salib FA, Halium MMA, Mousa WM, Massieh ESA (2015) Evaluation of indirect ELISA and western blotting for the diagnosis of Amphistomes infection in cattle and buffaloes. Int J Livest Res 5: 71-81.
Santiago N, Hillyer GV (1988) Antibody profiles by EITB and ELISA of cattle and sheep infected with Fasciola hepatica. J Parasitol 74: 810-818.
Shabih HS, Juyal PD (2006) Epidemiological observations of paramphistomosis in ruminants in endemic regions of Punjab and adjoining state (INDIA). Proceedings of the 11th International Symposium on Veterinary Epidemiology and Economics.
Sloan T, Dooge D, Joyce P (1991) Identification of phosphorylcholine containing antigens of Fasciola hepatica—successful tolerization against this epitope in experimental animals. Parasit Immunol 13: 447-455.
Soulsby EJL (1982) Helminths, arthropods and protozoa of domesticated animals 7th edn. 809 pp. London, Bailliere Tindall.
Wang CR, Qiu JH, Zhu XQ, Han XH, Ni HB, Zhao JP, Zhou QM, Zhang HW, Lun ZR (2006) Survey of helminths in adult sheep in Heilongjiang Province, People's Republic of China. Vet Parasitol 140: 378-382.
Yadav CL, Saxena MK, Ram H, Garg R, Banerjee PS (2003) Detection of cross-reaction proteins in Fasciola gigantica and Paramphistomum epiclitum. Ind J Anim Sci (India).
Yadav SC, Gupta SC (1995) Immunodiagnostic moieties in somatic and excretory/secretory antigens of Fasciola gigantica. Ind J Exp Biol 33: 824-828.
Yusuf IA, Chaudhry MA (1970) Species of Paramphistomes (Trematoda) from buffaloes in Peshawar region of West Pakistan. Trop Anim Health Prod 2: 235-237.
Zaman MA, Sajid M, Sikandar A, Rehman TU, Awais MM (2014) Point Prevalence of Gastrointestinal Helminths and their Association with Sex and Age of Buffaloes in Lower Punjab, Pakistan. Int J Agric Biol 16: 1229-1231.