Mass mortality of unknown etiology in alpine newts (Ichtyosaura alperstris veluchiensis) in an alpine lake in Greece
---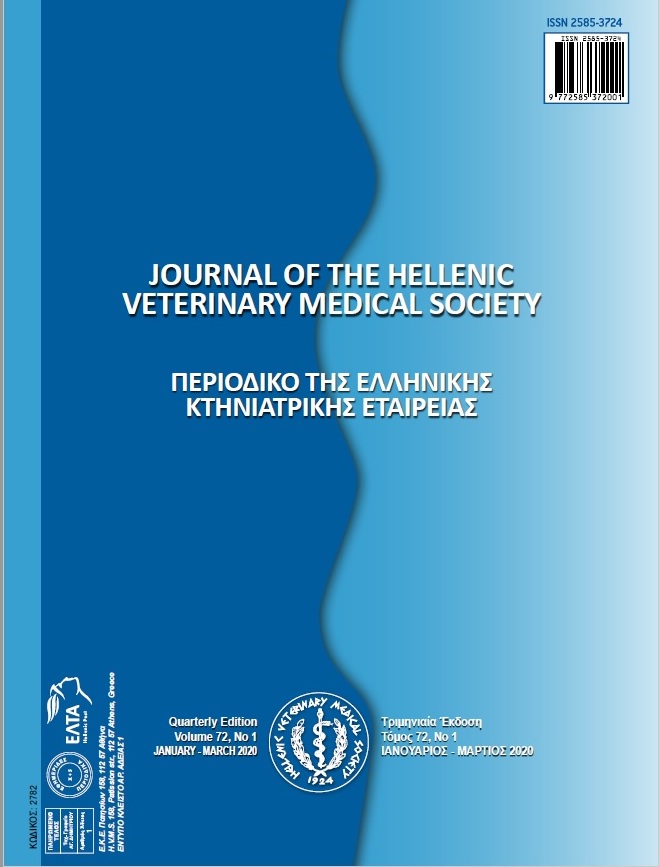 Keywords:
alpine newt mass mortality Greece incoordination unknown etiology
Abstract
A mass mortality in alpine newts (Ichthyosaura alpestris veluchiensis) was observed in May/June 2013, in Drakolimni lake on Smolikas Mountain, Northwest Greece. 1300 alpine newts were found dead in two events. In 1998 a similar incident was recorded in the nearby lake of Timfi Mt. Newts of every stage and sex were affected, presenting incoordination and inability to float evenly. Ten animals were submitted for complete pathological examination. Field environmental measurements (water temperature, oxygen saturation, pH, conductance, nitric/phosphate concentration) and samples (water, snow, benthos) were collected for ecotoxicological and quality analysis. Necropsy, microbiology (parasitology, bacteriology, mycology), histopathology, molecular investigations (Ranavirus spp, Batrachochytridium dendrobatidis, Batrachochytridium salamandrivorans), quality and ecotoxicological examinations did not indicate a causative source for the mortality. To the author´s knowledge this is the biggest mortality of unknown etiology reported in free-living alpine newts in Europe.
Article Details
How to Cite

AZMANIS, P., SCHMIDT, V., SAINIS, I., MARSCHANG, R., & PAPAIOANNOU, H. (2021). Mass mortality of unknown etiology in alpine newts (Ichtyosaura alperstris veluchiensis) in an alpine lake in Greece. Journal of the Hellenic Veterinary Medical Society, 72(1), 2677–2682. https://doi.org/10.12681/jhvms.26750
Section
Research Articles
This work is licensed under a Creative Commons Attribution-NonCommercial 4.0 International License.
Authors who publish with this journal agree to the following terms:
· Authors retain copyright and grant the journal right of first publication with the work simultaneously licensed under a Creative Commons Attribution Non-Commercial License that allows others to share the work with an acknowledgement of the work's authorship and initial publication in this journal.
· Authors are able to enter into separate, additional contractual arrangements for the non-exclusive distribution of the journal's published version of the work (e.g. post it to an institutional repository or publish it in a book), with an acknowledgement of its initial publication in this journal.
· Authors are permitted and encouraged to post their work online (preferably in institutional repositories or on their website) prior to and during the submission process, as it can lead to productive exchanges, as well as earlier and greater citation of published work.
Downloads
Download data is not yet available.
References
Balseiro A, Dalton PK, del Cerro A, Marquez I, Parra F, Prieto JM, Casais M (2010) Outbreak of common midwife toad virus in alpine newts (Mesotritonalpestris cyreni) and common midwife toads (Alytes obstetricans) in Northern Spain: A comparative pathological study of an emerging ranavirus. Vet Journal 186: 256–258.
Blooi M, Pasmans F, Longcore JE, Spitzen-van der Sluijs A, Vercammen F, Martel A (2013)Duplex real-time PCR for rapid simultaneous detection of Batrachochytrium dendrobatidis and Batrachochytrium salamandrivorans in Amphibian samples. J Clin Microbiol 51(12):4173-7. doi: 10.1128/JCM.02313-13. Epub 2013 Oct 9.
Bovero S, Sotgiu G, Angelini C, Doglio S, Gazzaniga E, Cunningham AA, Garner TW (2008) Detection of chytridiomycosis caused by Batrachochytrium dendrobatidis in the endangered Sardinian Newt (Euproctus platycephalus) in Southern Sardinia, Italy. J Wild Dis 44(3):712–715.
Boyle DG, Boyle DB, Olsen V, Morgan JA, Hyatt AD (2004) Rapid quantitative detection of chytridiomycosis (Batrachochytrium dendrobatidis) in amphibian samples using real-time Taqman PCR assay. Dis Aquat Organ 60(2):141-8.
Chambouvet A, Gower DJ, Jirků M, Yabsley MJ, Davis AK, Leonard G, Maguire F, Doherty-Bone TM, Bittencourt-Silva GB, Wilkinson M, Richards TA. Cryptic infection of a broad taxonomic and geographic diversity of tadpoles by Perkinsea protists. Proc Natl Acad Sci U S A. 25;112(34): E4743-51. doi: 10.1073/pnas.1500163112.
Denoël M (2004) Distribution and characteristics of aquatic habitats of newts and Yellow-bellied Toads in the district of Ioannina (Epirus, Greece). Herpetozoa 17:49-64.
Denoël M, Schabetsberger R (2003) Resource partitioning in two heterochronic populations of Greek Alpine newts, Triturusalpestrisveluchiensis. Acta Oecologica 24:55–64.
Duff JP, Colvile K, Foster J, Dumphreys N (2011) Mass mortality of great crested newts (Trituruscristatus) on ground treated with road salt. Vet Record 168:282.
Griffiths HI, Krýstufek B, Reed JM (2004) Balkan biodiversity, Pattern and process in the European hotspot. Dordrecht, Boston, London, Kluwer Academic Publishers.
Kik M, Martel A, Spitzen-van der Sluijs A, Pasmans F, Wohlsein P, Gröne A, Rijks JM (2011) Ranavirus-associated mass mortality in wild amphibians, The Netherlands, 2010: A first report. Vet Journal 190(2): p.284-286.
Marschang, RE, Becher P, Posthaus H, Wild P, Thiel HJ, Müller-Doblies U, Kaleta EF, Bacciarini LN (1999) Isolation and characterization of an iridovirus from Hermann's tortoises (Testudo hermanni). Archiv Virol144: 1909-1922.
Martel A, Spitzen-van der Sluijsb A, Blooi M, Bert W, Ducatelle R, Fischer MC, Woeltjes A, Bosman W, Chiers K, Bossuyt F, Pasmans F (2013) Batrachochytrium salamandrivorans sp. nov. causes lethal chytridiomycosis in amphibians. PNAS 2013; 110 (38): 15325-15329.
Martinez-Silvestre A, Montori A, Oromi N, Soler J, Marschang RE (2017) Detection of a ranvirus in introduced newts in Catalonia (NE Spain) Herpetology Notes 10:23-6.
Mitchell CP (2000)Mass Mortality of Red-spotted Newts (Notophthalmus viridescens viridescens Rafinesque) on a Central Virginia Road Banisteria 15: 45-47.
Papaioannou H, Batistatou A, Mavrogiorgou MC, Konidaris C, Frillingos S, Briasoulis E, Vareli K, Sainis I (2015) High incidence of dorsal dark spots in north-western Greek populations of alpine newts Ichthyosaura alpestris(Salamandridae, Caudata) Herpetology Notes 8:589-598.
Peace A, O'Regan S, Spatz JA, Reilly PN, Hill RD, Carter ED, Wilkes RP, Waltzek TB, Miller DL, Gray MJ (2019) A highly invasive chimeric ranavirus can decimate tadpole populations rapidly through multiple transmission pathways. Ecol. Model.,410:108777, ISSN 0304-3800,
https://doi.org/10.1016/j.ecolmodel.2019.108777
.
Price SJ, Garner TW,Nichols RA, Balloux F, Ayres C, de Alba AMC, Bosch J (2014) Collapse of amphibian communities due to an introduced ranavirus. Curr.Biol. 24(21),2586–2591.
Raffel TR, Bommarito T, Barry DS, Witiak SM, Shackelton LA (2008) Widespread infection of the Eastern red-spotted newt (Notophthalmus viridescens) by a new species of Amphibiocystidium, a genus of fungus-like mesomycetozoan parasites not previously reported in North America. Parasitol 135: 203–215.
Stöhr AC, Papp T, Marchang RE (2016) Repeated detection of an invertebrate iridovirus in amphibians J Herp Med Surg 26:54-58
Sztatecsny M, Hodl W (2009) Can protected mountain areas serve as refuges for declining amphibians? Potential threats of climate change and amphibian chytridiomycosis in an alpine amphibian population. Eco.mont 1:19-24.
Vilaça ST, Bienentreu J-F, Brunetti CR, Lesbarrères D, Murray DL, Kyle CJ (2019) Frog virus 3 genomes reveal prevalent recombination between ranavirus lineages and their origins in Canada. J Virol 93:e00765-19.
https://doi.org/10.1128/JVI.00765-19
.