Replacement of Beef Fat in Meatball with Oleogels (Black Cumin Seed Oil/Sunflower Oil)
---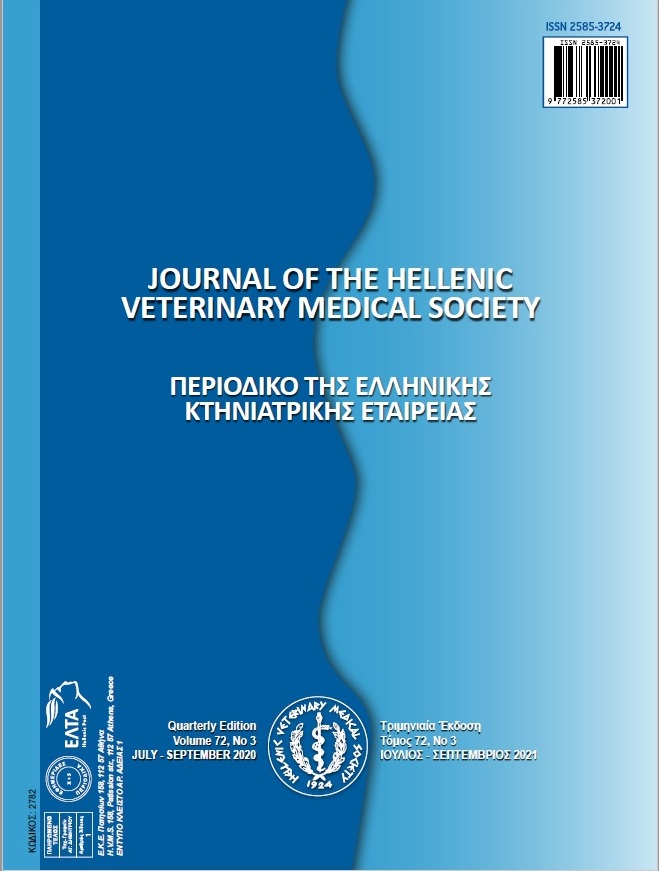 Keywords:
Black seed oil Meatball Oleogel Sunflower oil TBA
Abstract
Meat products contain fatty acids, especially saturated fatty acids, which cause adverse health effects. The effect of fats on meat products isnot only concerned with health, but also about the product's sensorial or textural properties. The research aimed to develop a new, healthier meatball formula in which the fat is substituted by oleogel gelled by carnauba wax and made with sunflower oil and black seed oil mixture. The effect of substituting animal fat with oleogel on color values, cooking parameters, lipid oxidation, and the textural properties of meatballs were determined. The effect of oleogel type on the TBA values of 50 and 75% substituted samples was statistically significant (p < 0. 05), and TBA values of the samples with oleogel substituted were higher than others at the end of the storage. The effect of substitution rates on the texture profile of meatball samples was found to be statistically significant (p <0. 05). The oleogel (25%) added group scored significantly (p < 0. 05)higher than the control group in appearance, flavor, texture, juiciness, oiliness, and overall acceptability, and was not found difference between the treatment groups.
Article Details
How to Cite

PALAMUTOĞLU, R. (2021). Replacement of Beef Fat in Meatball with Oleogels (Black Cumin Seed Oil/Sunflower Oil). Journal of the Hellenic Veterinary Medical Society, 72(3), 3031–3040. https://doi.org/10.12681/jhvms.28484
Section
Research Articles
This work is licensed under a Creative Commons Attribution-NonCommercial 4.0 International License.
Authors who publish with this journal agree to the following terms:
· Authors retain copyright and grant the journal right of first publication with the work simultaneously licensed under a Creative Commons Attribution Non-Commercial License that allows others to share the work with an acknowledgement of the work's authorship and initial publication in this journal.
· Authors are able to enter into separate, additional contractual arrangements for the non-exclusive distribution of the journal's published version of the work (e.g. post it to an institutional repository or publish it in a book), with an acknowledgement of its initial publication in this journal.
· Authors are permitted and encouraged to post their work online (preferably in institutional repositories or on their website) prior to and during the submission process, as it can lead to productive exchanges, as well as earlier and greater citation of published work.
Downloads
Download data is not yet available.
References
Akhtar S, Tanveer M, Ismail A, Ismail T, Hussain M (2018) Safety evaluation of oil samples collected from different food points of multan city of Pakistan. Int J Food Allied Sci3:43-48.
Barbut S, Wood J, Marangoni A (2016) Quality effects of using organogels in breakfast sausage. Meat Sci. 122: 84-89.
Bourne MC (1978) Texture profile analysis. Food Technol. 32:62-66.
Burits M, Bucar F (2000) Antioxidant activity of Nigella sativa essential oil. Phytother Res14(5):323-328.
Co ED, Marangoni AG (2012) Organogels: An alternative edible oil-structuring method. JAOCS89(5):749-780.
da Silva SL, Amaral JT, Ribeiro M, Sebastião EE, Vargas C, de Lima Franzen F, Schneider G, Lorenzo JM, Fries LLM, Cichoski AJ, Campagnol PCB (2019) Fat replacement by oleogel rich in oleic acid and its impact on the technological, nutritional, oxidative, and sensory properties of Bologna-type sausages. Meat Sci. 149:141-148.
Delgado-Pando G, Cofrades S, Ruiz-Capillas C, Solas MT, Triki M, Jiménez-Colmenero F (2011) Low-fat frankfurters formulated with a healthier lipid combination as functional ingredient: Microstructure, lipid oxidation, nitrite content, microbiological changes and biogenic amine formation. Meat Sci. 89(1):65-71.
Dominguez R, Pateiro M, Agregán R, Lorenzo JM (2017) Effect of the partial replacement of pork backfat by microencapsulated fish oil or mixed fish and olive oil on the quality of frankfurter type sausage. J Food Sci Technol54(1):26-37.
El-Magoli SB, Laroia S, Hansen PMT (1996) Flavor and texture characteristics of low fat ground beef patties formulated with whey protein concentrate. Meat Sci. 42(2):179-193.
Fagundes De Oliveira DT, Lorenzo JM, Dos Satos AB, Fagundes MB, Heck RT, Cichoski AJ,Wagner R, Campagnol PCB (2017) Pork Skin and Canola Oil as Strategy to Confer Technological and Nutritional Advantages to Burgers. Czech J. Food Sci. 35(4):352-359.
Gómez-Estaca J, Herrero AM, Herranz B, Álvarez MD, Jiménez-Colmenero F, Cofrades S (2019) Characterization of ethyl cellulose and beeswax oleogels and their suitability as fat replacers in healthier lipid pâtés development. Food Hydrocoll. 87:960-969.
Gokalp H Y, Kaya M, Tulek Y. Zorba O (1999) Laboratory application guide and quality control in meat and meat products (In Turkish). Atatürk Üniv Zir Fak, Yay No: 318, Turkey.
Jamora JJ, Rhee KS (2002) Storage stability of extruded products from blends of meat and nonmeat ingredients: Evaluation methods and antioxidative effects onion, carrot, and oat ingredients. J. Food Sci. 67(5):1654-1659.
Juntachote T, Berghofer E, Siebenhandl S, Bauer F (2007) The effect of dried galangal powder and its ethanolic extracts on oxidative stability in cooked ground pork. LWT-Food Scı Technol40(2):324-330.
Kilincceker O, Yilmaz MT (2019) Physicochemical, Technological and Sensory Properties of Chicken Meatballs Processed with Dietary Fibers. J HELLENIC VET MED SOC70(2):1525-1532.
Koonce S, Brown JB (1941) A Historical Review of the Chemistry of Carnauba Wax. Oil and Soap, 21:167-170.
Kouzounis D, Lazaridou A, Katsanidis E (2017) Partial replacement of animal fat by oleogels structured with monoglycerides and phytosterols in frankfurter sausages. Meat Sci130:38-46.
Lim J, Jeong S, Oh IK, Lee S (2017) Evaluation of soybean oil-carnauba wax oleogels as an alternative to high saturated fat frying media for instant fried noodles. LWT-Food Scı Technol84:788-794.
Moghtadaei M, Soltanizadeh N, Goli SAH (2018) Production of sesame oil oleogels based on beeswax and application as partial substitutes of animal fat in beef burger. Food Res. Int. 108:368-377.
Murphy EW, Criner PE, Grey BC (1975) Comparison of methods for calculating retentions of nutrients in cooked foods. J AGR FOOD CHEM(23):1153-1157.
Öğütcü M, Yilmaz E (2015) Characterization of Hazelnut Oil Oleogels Prepared with Sunflower and Carnauba Waxes. Int J Food Prop18(8):1741-1755.
Pikul J, Leszczynski DE, Kummerow FA (1989) Evaluation of three modified TBA methods for measuring lipid oxidation in chicken meat. J Agric Food Chem37:1309-1313.
Piras A, Rosa A, Marongiu B, Porcedda S, Falconieri D, Dessì MA,Ozcelik B, KocaU (2013)Chemical composition and in vitro bioactivity of the volatile and fixed oils of Nigella sativa L. extracted by supercritical carbon dioxide. Ind Crops Prods46:317-323.
Poyato C, Astiasarán I, Barriuso B, Ansorena D (2015) A new polyunsaturated gelled emulsion as replacer of pork back-fat in burger patties: Effect on lipid composition, oxidative stability and sensory acceptability. LWT-Food Scı Technol62(2):1069-1075.
Shapiro SS, Wilk MB (1965) An Analysis of variance test for normality (complete samples). Biometrika 52:591-611.
Wolfer TL, Nuria CA, Prusa KJ, Sebranek JG, Tarté R (2018) Replacement of pork fat in frankfurter-type sausages by soybean oil oleogels structured with rice bran wax. Meat Sci145:352-362.