Management of congenital flexural tendon contractures with stretching in calves
---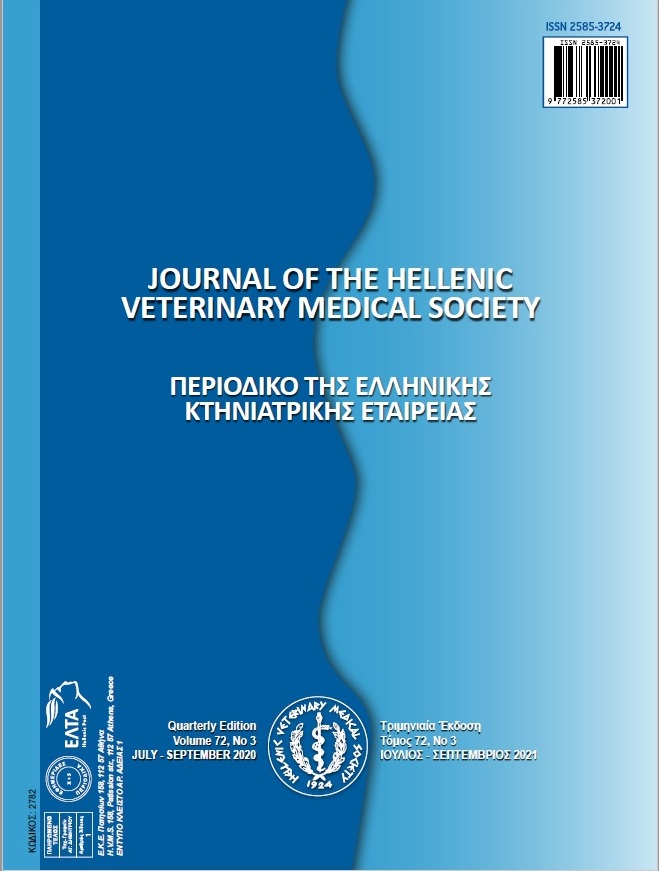 Keywords:
Calf tendon flexural contracture management
Abstract
It has been reported that mild to moderate congenital flexural limb contractures of the calves can be treated with stretching. This study was carried out on eleven calves with mild to moderate flexural foot - tendon contractures (three mild and eight moderate cases). The mild cases were treated successfully with only splints or wooden hoof block/PVC application adhered to the ground under the sole of the hoof with acrylic adhesive. The moderate cases, however,were treated successfully with the combined application in which a splint was placed on an entire limb to correct it and then a wooden hoof block/PVC was adhered to the ground under the sole of the hoof with an acrylic adhesive.
Article Details
How to Cite

SAĞLAM, K. (2021). Management of congenital flexural tendon contractures with stretching in calves. Journal of the Hellenic Veterinary Medical Society, 72(3), 3133–3138. https://doi.org/10.12681/jhvms.28503
Section
Research Articles
This work is licensed under a Creative Commons Attribution-NonCommercial 4.0 International License.
Authors who publish with this journal agree to the following terms:
· Authors retain copyright and grant the journal right of first publication with the work simultaneously licensed under a Creative Commons Attribution Non-Commercial License that allows others to share the work with an acknowledgement of the work's authorship and initial publication in this journal.
· Authors are able to enter into separate, additional contractual arrangements for the non-exclusive distribution of the journal's published version of the work (e.g. post it to an institutional repository or publish it in a book), with an acknowledgement of its initial publication in this journal.
· Authors are permitted and encouraged to post their work online (preferably in institutional repositories or on their website) prior to and during the submission process, as it can lead to productive exchanges, as well as earlier and greater citation of published work.
Downloads
Download data is not yet available.
References
Adams SB, Santschi EM (2000). Management of Congenital and Acquired Flexural Limb Deformities. Proceedings Am AssocEqPract, 46:117-125.
Akın F.,Samsar E., Güzel N. ve Şener G(1976). Buzağı ve danalarda arqure-bouleture olguları ile bunların sağaltımları üzerine denemeler. A.Ü. Vet. Fak. Derg., 23(3-4): 237-248.
Fazili MR, Bhattacharyya HK, Mir MUR, Hafiz, A. &Tufani, NA (2014). Prevalence and effect of oxytetracycline on congenital fetlock knuckling in neonatal dairy calves, Onderstepoort Journal of Veterinary Research 81(1), Art. 710, 1-6.
Gençcelep M, Kuşcu Y, Sancak T (2017).Congenital Tarsocrural Subluxation and FlexorTendon Conracture in a Calf. Van Vet J, 28 (3) 173-175.
Leipold HW, Hirarga T, Dennis SM (1993). Congenital defects of the bovine musculoskeletalSystem and joints. VetClin North AmFood AnimPract, 9:93-104.
Leipold HW, Dennis SM (1987). Cause, nature, effect and diagnosis of bovine congenital defects. Irish Veterinary News, 87;9:11-9.
Rashmi, Tamilmahan P, Prabhakar R and Priyadharshini (2018). Surgical management of congenital flexor tendon deformity in calves: A review of three cases. Journal of Entomology and Zoology Studies, 6(3): 544-546.
Steiner A, Anderson DE, Desrochers A (2014). Diseases of the Tendons and Tendon Sheaths. Vet Clin North Am, 30 (1): 157-75.
Weaver AD, Jean G St, Steiner A. Lameness. In: Bovine Surgery and Lameness. 3nd ed. Oxford: Blackwell Publishing; 2014. p. 159-161.