Identification of serum proteins in dogs naturally infected with Anaplasma phagocytophilum and Borrelia burgdorferi: a pilot study
---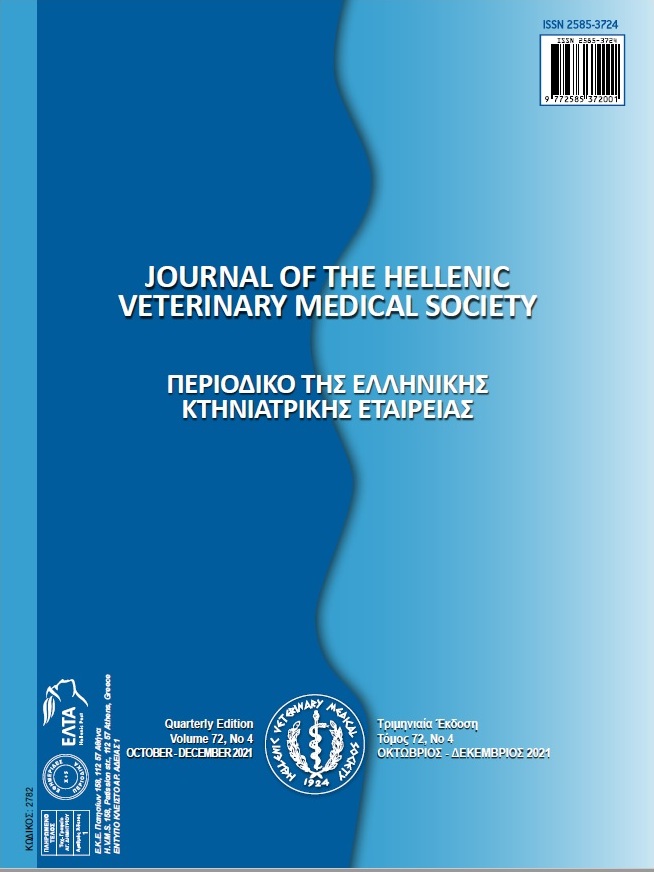 Keywords:
Anaplasmosis Lyme disease proteomic dog
Abstract
Serum proteomic analysis would aid in better understanding the pathophysiology of several diseases. The aim of this study was to identify the serum proteomes of dogs with anaplasmosis and Lyme disease using a proteomic approach. Diseases were diagnosed by a commercial rapid in-clinic ELISA. Borrelia antibodies were evaluated by IFAT. Four groups were designated: symptomatic dogs with anaplasmosis (n=5), dogs with Lyme disease (n=5), dual-positive dogs (n=5), and healthy control dogs (n=5). Serum samples were collected before treatment. Two-dimensional electrophoresis of pooled samples in each group were run in triplicate. Ten out of 57 differentially expressed spots between groups were evaluated for identification by mass spectrometry. Compared to those of controls, levels of vitamin D-binding protein (VDBP), glycoprotein-9 (GP9) and kininogen-1 (KGN-1) decreased, while haptoglobin (Hp) and immunoglobulin (Ig) heavy chain levels increased in dual infection group. Serum apolipoprotein-A1 (Apo-A1) levels decreased in dogs with anaplasmosis, Lyme disease and dual infections compared to those in control dogs. Serum clusterin levels decreased in dogs with anaplasmosis but were not differentially expressed in dogs with Lyme disease or dogs with dual infections compared to those in control dogs. Calpain-3 decreased in dogs with anaplasmosis and Lyme disease. This study showed that many protein levels might be changed in dogs with naturally acquired anaplasmosis and Lyme disease. Understanding the role of these proteins in different biological processes can provide information of interest for diagnostic and therapeutic approaches for these clinical conditions.
Article Details
How to Cite

KOCATURK, M., MARTINEZ, L., ESCRIBANO, D., SCHANILEC, P., LEVENT, P., SARIL, A., MARTINEZ-SUBIELA, S., TVARIJONAVICIUTE, A., CIHAN, H., YALCIN, E., CERON, J., & YILMAZ, Z. (2022). Identification of serum proteins in dogs naturally infected with Anaplasma phagocytophilum and Borrelia burgdorferi: a pilot study. Journal of the Hellenic Veterinary Medical Society, 72(4), 3529–3536. https://doi.org/10.12681/jhvms.29445
Section
Research Articles
This work is licensed under a Creative Commons Attribution-NonCommercial 4.0 International License.
Authors who publish with this journal agree to the following terms:
· Authors retain copyright and grant the journal right of first publication with the work simultaneously licensed under a Creative Commons Attribution Non-Commercial License that allows others to share the work with an acknowledgement of the work's authorship and initial publication in this journal.
· Authors are able to enter into separate, additional contractual arrangements for the non-exclusive distribution of the journal's published version of the work (e.g. post it to an institutional repository or publish it in a book), with an acknowledgement of its initial publication in this journal.
· Authors are permitted and encouraged to post their work online (preferably in institutional repositories or on their website) prior to and during the submission process, as it can lead to productive exchanges, as well as earlier and greater citation of published work.
Downloads
Download data is not yet available.
References
Agudelo CF, Schanilec P, Kybicova K et al. (2011) Cardiac manifestations of borreliosis in a dog: a case report. Veterinarni Medicina 56: 85-92.
Barić Rafaj R, Kuleš J, Selanec J et al. (2013) Markers of coagulation activation, endothelial stimulation, and inflammation in dogs with babesiosis. J Vet Intern Med 27: 1172-1178.
Bottari NB, Crivellenti LZ, Borin-Crivellenti S et al. (2016) Iron metabolism and oxidative profile of dogs naturally infected by Ehrlichia canis: acute and subclinical disease. Microb Pathog 92: 26-29.
Bryant JW, Shariat-Madar Z (2009) Human plasma kallikrein-kinin system: Physiological and biochemical parameters. Cardiovasc Hematol Agents Med Chem 7: 234-250.
Dyachenko V, Pantchev N, Balzer HJ et al. (2012) First case of Anaplasma platys infection in a dog from Croatia. Parasit Vectors 5: 49.
Escribano D, Cihan H, Martínez-Subiela S et al. (2017) Changes in serum proteins in dogs with Ehrlichia canis infection. Microb Pathog 113:34-39.
Escribano D, Tvarijonaviciute A, Kocaturk M et al. (2016) Serum apolipoprotein-A1 as a possible biomarker for monitoring treatment of canine leishmaniosis. Comp Immunol Microbiol Infect Dis 49: 82-87.
Ettinger SJ, Feldman EC (2010) Textbook of Veterinary Internal Medicine, 7th ed. Chapter and pages Goldstein RE Lyme Disease, pp. 868 - 875; Sykes JE Anaplasmosis, pp.904-906, respectively. St. Louis, Missouri, USA: Elsevier.
Gallin JI, Kaplan AP (1974) Mononuclear cell chemotactic activity of kallikrein and plasminogen activator and its inhibition by C1 inhibitor and alpha 2-macroglobulin. J Immunol 113: 1928-34.
García-Martínez JD, Tvarijonaviciute A, Cerón JJ et al. (2012) Urinary clusterin as a renal marker in dogs. J Vet Diagn Invest 24: 301.
Greene CE (2012) Infectious Diseases of the Dogs and Cat, 4th ed. Elsevier Saunders, USA.
Hagman R (2011) Serum α-1-acid glycoprotein concentrations in 26 dogs with pyometra. Vet Clin Pathol 40: 52-9.
Harris F, Biswas S, Singh J et al. (2006) Calpains and their multiple roles in diabetes mellitus. Ann N Y Acad Sci 1084: 452-80.
Hovius KE (2005) Arthropod-borne infectious diseases of the dog and cat. 4th ed. Manson Publishing, London, UK.
Janus I, Noszczyk-Nowak A, Nowak M et al. (2014) Myocarditis in dogs: etiology, clinical and histopathological features (11 cases: 2007-2013). Ir Vet J 67: 28.
Kaplan AP, Kay AB, Austen KF (1972) A prealbumin activator of prekallikrein. 3. Appearance of chemotactic activity for human neutrophils by the conversion of human prekallikrein to kallikrein. J Exp Med 135: 81-97.
Karnezi D, Ceron JJ, Theodorou K et al. (2016) Acute phase protein and antioxidant responses in dogs with experimental acute monocytic ehrlichiosis treated with rifampicin. Vet Microbiol 184: 59-63.
Kocatürk M, Baykal AT, Türkseven Ş et al. (2016) Evaluation of Serum and Ascitic Fluid Proteomes in Dogs with Dilated Cardiomyopathy. Kafkas Univ Vet Fak Derg 22: 273-279.
Kristensen LP, Larsen MR, Mickley H et al. (2014) Plasma proteome profiling of atherosclerotic disease manifestations reveal elevated levels of the cytoskeletal protein vinculin. J Proteomics 101: 141-153.
Kuleš J, de Torre-Minguela C, Barić Rafaj R et al. (2016) Plasma biomarkers of SIRS and MODS associated with canine babesiosis. Res Vet Sci 105: 222-228.
Kuleš J, Mrljak V, Barić Rafaj R et al. (2014) Identification of serum biomarkers in dogs naturally infected with Babesia canis canis using a proteomic approach. BMC Vet Res 10: 111.
Kybicova K, Schanilec P, Hulinska D et al. (2009) Detection of Anaplasma phagocytophilum and Borrelia burgdorferi Sensu Lato in Dogs in the Czech Republic. Vector-Borne and Zoonotic Diseases 9: 655-661.
Li Z, Gao J, Ma Y et al. (2018) Vitamin D-binding protein acts in the actin scavenge system and can have increased expression During Aspirin therapy. Curr Neurovasc Res 2016; 13:184-192.
Littman MP, Gerber B, Goldstein RE et al. (2018) ACVIM consensus update on Lyme borreliosis in dogs and cats. J Vet Intern Med. 32(3):887-903.
Locatelli C, Piras C, Riscazzi G et al. (2017) Serum proteomic profiles in CKCS with Mitral valve disease. BMC Vet Res 13: 43.
Mangaraj M, Nanda R, Panda S. (2015) Apolipoprotein A-I: A Molecule of Diverse Function. Indian J Clin Biochem 31: 253-9.
Martínez-Subiela S, Cerón JJ. (2005) Effects of hemolysis, lipemia, hyperbilirrubinemia, and anticoagulants in canine C-reactive protein, serum amyloid A, and ceruloplasmin assays. Can Vet J 46: 625-629.
Mc Causland FR, Niedermaier S, Bijol V, et al. (2011) Lyme disease-associated glomerulonephritis. Nephrology Dialysis Transplantation 26:3054-3056.
Miller I, Preßlmayer-Hartler A, Wait R et al. (2014) In between – Proteomics of dog biological fluids. J Proteomics 25: 106: 30-45.
Orton DJ, Doucette AA (2013) Proteomic Workflows for Biomarker Identification Using Mass Spectrometry-Technical and Statistical Considerations during Initial Discovery. Proteomes. 1(2): 109-127.
Pantchev N (2010) C-reactive protein as a marker in canine granulocytic anaplasmosis. Vet Rec 166: 632.
Ruggeri ZM (2003) Von Willebrand factor, platelets and endothelial cell interactions. J Thromb Haemost 1: 1335-42
Sadiq ST, Agranoff D (2008) Pooling serum samples may lead to loss of potential biomarkers in SELDI-ToF MS proteomic profiling. Proteome Sci 6: 16.
Schanilec P, Kybicova K, Agudelo CF et al. (2010) Clinical and Diagnostic Features in Three Dogs Naturally Infected with Borrelia spp. Acta Veterinaria Brno 79: 319-327.
Schapira M, Despland E, Scott CF et al. (1982) Purified human plasma kallikrein aggregates human blood neutrophils. J Clin Invest 69: 1199-202.
Stillman BA, Monn M, Liu J et al. (2014) Performance of a commercially available in-clinic ELISA for detection of antibodies against Anaplasma phagocytophilum, Anaplasma platys, Borrelia burgdorferi, Ehrlichia canis, and Ehrlichia ewingii and Dirofilaria immitis antigen in dogs. J Am Vet Med Assoc 245: 80-6.
Uysal EB, Tuzcu N, Sancakdar E et al. (2015) Vitamin D status in children with Crimean-Congo hemorrhagic fever. J Vector Borne Dis 52: 36-9.
Vickers AE, Sinclair JR, Fisher RL et al. (2010) Blood cell oxidative stress precedes hemolysis in whole blood-liver slice co-cultures of rat, dog, and human tissues. Toxicol Appl Pharmacol 244: 354-65.
Ware J, Ruggeri ZM (2002) Platelet membrane glycoproteins. In: Wiley Encyclopedia of Molecular Medicine. John Wiley & Sons, London, UK.
Weeraratna AT, Becker D, Carr KM et al. (2004) Generation and analysis of melanoma SAGE libraries: SAGE advice on the melanoma transcriptome. Oncogene 23: 2264-74.
Westermeier R, Naveen T, Höpker HR (2008) Proteomics in Practice: a Guide to Successful Experimental Design. Wiley-VCH, Weinheim, Germany.
Yousef GM, Diamandis EP (2003) Clin Biochem 36: 443-52.
Yuki M, Itoh H, Takase K (2010) Serum alpha-1-acid glycoprotein concentration in clinically healthy puppies and adult dogs and in dogs with various diseases. Vet Clin Pathol 39: 65-71.
Zhou X, Ma B, Lin Z et al. (2014) Evaluation of the usefulness of novel biomarkers for drug-induced acute kidney injury in beagle dogs. Toxicol Appl Pharmacol 280: 30-5.