The project "Preserve" and the related policy of the Hellenic Ministry of Environment and Energy for the protection of tangible Cultural Heritage
---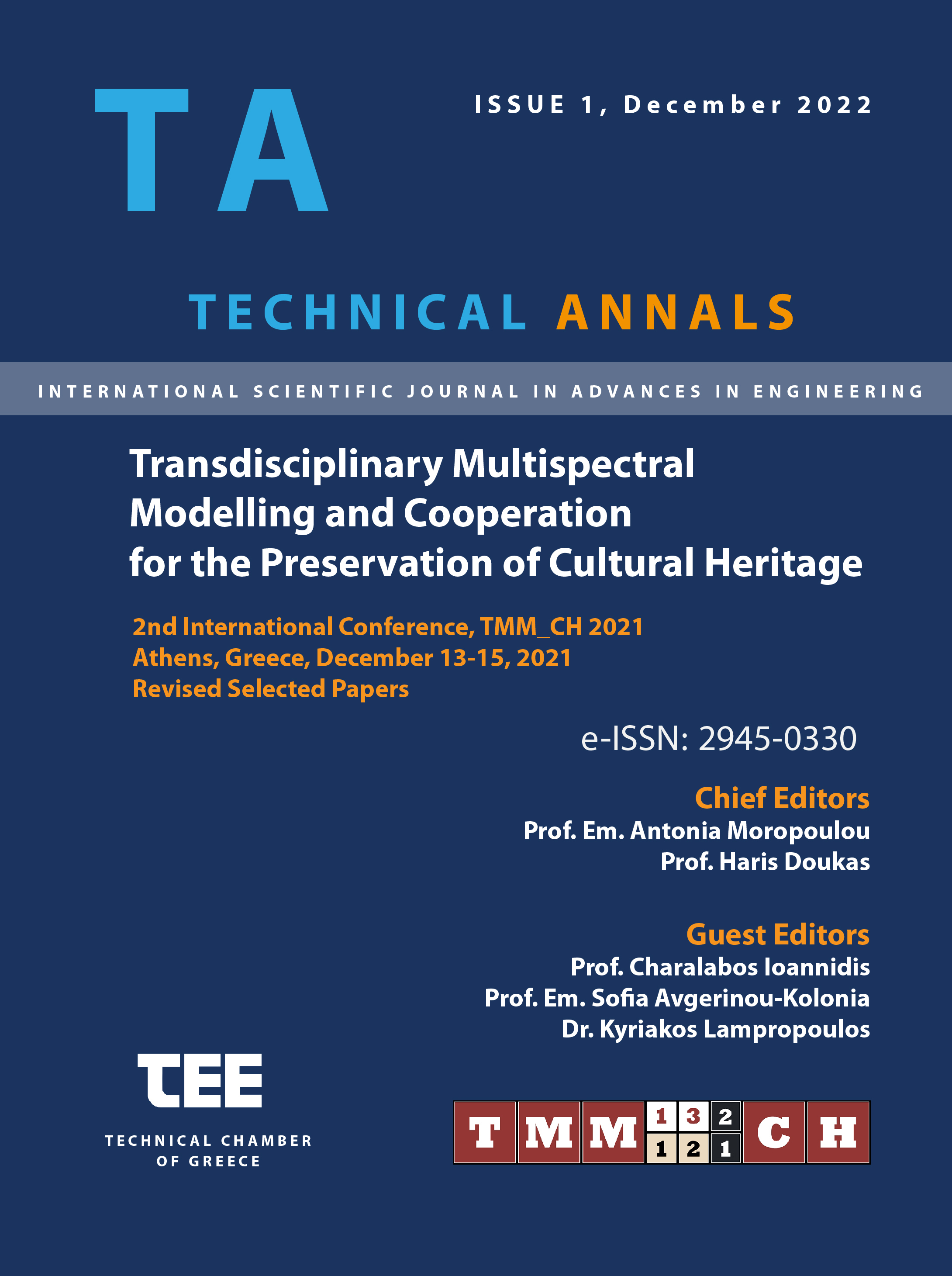 Published: Δεκ 22, 2022
Keywords:
Cultural Heritage Built Environment preservation digitization
Abstract
Nowadays, due to economic crisis, the number of "abandoned", empty or dilapidated listed or historic buildings of Greek cities and settlements is constantly increasing. In order to protect and enhance the Greek tangible cultural heritage, it is necessary to promote actions that give motives to owners or users of historic buildings to preserve them, by providing tools and financial support in the particularly increased costs of restoration and consolidation works of their necessary continuous maintenance.
The program "Preserve" introduced by the Hellenic Ministry of Environment and Energy, and more specifically the General Secretariat of Spatial Planning & Urban Environment, relates to interventions in designated as listed or monuments or buildings within historic sites and traditional settlements and historic buildings. The interventions will include facade cleaning (with gentle water jet to remove air pollutants or anti-graffiti painting for protection against vandalism), works in order to preserve the shell of the buildings so as to avoid it's partial or total collapse, restoration of facades and restoration of the interior of the buildings.
Along with the activation of the Digital Land Bank, the Building Rights Transfer, the Single Digital Map, and the Digital Building Identity etc., it will offer the owners of the listed buildings a holistic solution for the protection and enhancement of the tangible cultural heritage of Greece.
Article Details
Section
Uni and interdisciplinary approach for the sustainable preservation of Cultural Heritage
This work is licensed under a Creative Commons Attribution-ShareAlike 4.0 International License.
References
Benhamou F. (2011), «Heritage», in R. Towse, «A handbook of Cultural Economics», Elgar Publishing, 2nd edition, pp. 255-262.
Labadi, Sophia (2013) UNESCO, Cultural Heritage, and Outstanding Universal Value: Value-Based Analyses of the World Heritage and Intangible Cultural Heritage Conventions. Alta Mira Press, Lanham.
Triantafylopoulos Nikolaos, (2018), Institutional and economic view of the obligation and the possibilities of provision State aid for rehabilitation and reuse of listed buildings, ENVIRONMENT & LAW, Issue 1.
Buildings Inventory, (2011), Greek statistical Authority.
Law 3028/2002 (2002) on the Protection of Antiquities and Cultural Heritage in General.
Law 1577/85 (1985) General Building Regulation, as amended and supplemented by Article 3 of Law 2300/1995, Article 3 of Law 2831/2000 and Law 3044/2002 and Law 4067/2012, Article 4 par. 2. where the procedure for declaring a building as protected is provided.
Law 4759/2020, (2020), Modernization of the Spatial and Urban Planning Legislation and other provisions.
Joint Ministerial Decision, Government Gazette 1173 / Β / 6-4-2020. ΥΠΕΝ /ΔΕΣΕΔΠ / 31224/333/2020
Law 2039/1992 (1992)"Ratification of the Convention for the Protection of the Architectural Heritage of Europe", Government Gazette 61 / A / 1992.
Law 3044/2002, (2002), Government Gazette 197 AD / 27.8.2002 (article 14, par.3).